All season long, the refrain about Boston College has been: They're a favorite for the national championship, but …; they've got great scoring and defense if only …; they'll be playing in the Frozen Four in Boston as long as …
Other than the team's health, every but, if-only and as-long-as has concerned one player.
Goaltender Matti Kaltiainen.
Outside of the crease, the Eagles are probably the most talented team in the country. Four forwards and two defensemen earned selections to either the 2003 or 2004 All-Hockey East Team. The top-to-bottom depth is such that Brian Boyle, a first-round NHL draft pick, did not dress for the NCAA opening-round game. The team finished first in Hockey East in team offense and second in the country in team defense.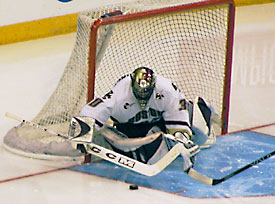 As a result, in many eyes, if BC loses, the search for a scapegoat doesn't take long.
Which conveniently ignores the fact that Kaltiainen is also an NHL draft pick (Boston, 2001, 4th round) and earned a berth himself on the All-Hockey East Second Team. In fact, his goals against average this year of 1.60 would have set a new league record if Maine's Jimmy Howard didn't top that mark as well.
"Throughout the course of the year, he's really been rock solid for us," BC coach Jerry York said after defeating Michigan in overtime to advance to the Frozen Four. "So many people say, 'Well, BC limits the number of shots and he doesn't have to make a lot of saves.'
"Tonight was a perfect example. When you look at [our shot advantage of] 45-17 you'd say, 'How much work did he do?' But I'd say there were eight quality scoring chances that Michigan created.
"It's been like that all year. His save totals aren't going to be impressive, but his save percentage has been very good and he's a winner. We've won a lot of games with him."
The engraving of Kaltiainen's name on the NCAA quarterfinal goat horns, however, appeared to be under way until late in the third period of BC's contest with Michigan. The Eagles would end regulation with a stunning 37-12 shot advantage and a similarly whopping 67-26 domination in shots attempted. Yet they still needed a Patrick Eaves goal with less than five minutes remaining to force overtime.
Which meant that the bullseye was on You-Know-Who's jersey. Especially after Michigan's second goal.
Kaltiainen had made impressive first-period stops on Eric Werner and David Rohlfe only to allow a Mike Brown shot at 12:09 to sneak under his arm and trickle over the goal line, giving Michigan the early lead.
BC would respond, however, by not allowing a single shot on goal over the next 20 minutes of play.
Zip. Nada. Bupkis.
Which is, of course, a nightmare for goalies who need plenty of action to stay focused. Especially when the first shot in 20 minutes is a major-league tester, coming from the doorstep off the stick of Jason Ryznar.
"It's tough," Kaltiainen said. "But it's happened so many times this year that I guess I'm getting used to it. [There are] so many games where I only get 10 or 15 shots and there's almost a whole period without shots just like tonight."
Five minutes later, however, came the second Michigan shot in 25 minutes and it looked to be a goal that goat horns are made of. Kaltiainen ranged out past the left faceoff dot in an attempt to win a race for a loose puck, but found himself in no man's land when he couldn't get uncontested control. Defenseman J.D. Forrest saved him on one attempted shot, but before Kaltiainen could get all the way back in net Andy Burnes buried the next one.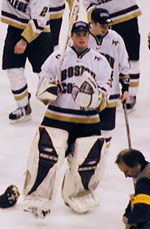 It was the sort of blunder that often leads to a loss of focus, which leads to another goal allowed, which soon snowballs into yet another.
"It doesn't help if I start to worry about those things," he said. "Just like always, after a goal I have to go through my mind what I did wrong and [see if] if I did something wrong so it doesn't happen again. After that goal, I knew it was my bad so I just decided to not let any more goals in."
Just like that. He decided not to let any more goals in.
And he was true to his word. With the Eagles still trailing and Al Montoya piling up the saves at the other end, Kaltiainen kept his team within striking range. With 11 minutes remaining in regulation he stoned Jeff Tambellini, a sophomore already with 41 career goals to his credit. A minute later, Kaltiainen stymied David Moss on a breakaway.
The goat horns were slipping away if the Eagles could just tie the game. And that they did at with 4:44 remaining.
Which didn't surprise Kaltiainen in the slightest.
"I knew we would come back," he said. "It's happened so many times this year."
BC kept up the pressure, but couldn't get the game winner in regulation. In overtime, however, Michigan rallied territorially. Outshot by totals of 9-4, 15-3 and 13-5, the Wolverines counterpunched toe-to-toe. In one flurry Kaltiainen had to make one big stop and then another on the rebound with his left pad before a stickless J.D. Forrest swatted the puck away.
"I still don't know how it didn't go in the net," York said.
The eventual hero would be Ben Eaves, who scored the game winner at 10:08 of overtime, and brother Patrick, who earned Tournament MVP honors with three goals including the game-tying one. They'd be the guys who earned the headlines. And Michigan's Al Montoya would take the goaltender berth on the all-tournament team.
Kaltiainen, much like his predecessor in the BC nets, Scott Clemmensen, was overshadowed in victory by his teammates, but would have been front and center had they lost.
"If a goalie plays well, he's a star and if he doesn't play well, he's the person to blame," Kaltiainen said. "I just trust my guys and they did a great job. That's why we won the game."
While he might go underappreciated by many media and fans alike, his coaches and teammates understand Kaltiainen's worth.
"He made phenomenal saves," York said. "We got the goaltending from Matti that we thought we needed to move on from this field."
"We always have confidence in Matti," added Patrick Eaves. "He's a huge part of our team. He played awesome tonight."
And on it goes to the Frozen Four.
Where if the Eagles win, most will applaud the exploits of Ben Eaves, Tony Voce, Ryan Shannon, Patrick Eaves, Andrew Alberts or J.D. Forrest. Or perhaps one of the lesser profile forwards or defensemen.
And if they lose? You can make a pretty good guess where the bullseye will be.
But York's words about Kaltiainen may be most prophetic of all.
"He's a winner."