Fini.
That's what Junior Lessard thought his season was. Fini. Over.
And how cruel would it have been? Lessard fell to the ice with a twisted knee on March 20 in the third-place game of the WCHA Final Five. He didn't get off the ice in good shape.
The thoughts started going through his mind. Is this injury bad enough to end the season? In the third-place game, a game that was for nothing but pride? Would it keep him from playing in the NCAA tournament, a goal he had held for four years?
It sure seemed bad enough to bring the Minnesota-Duluth senior's season, a possible Hobey Baker season, a possible NCAA championship season, to an abrupt close. At least that's what was in his head.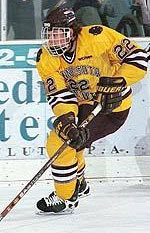 "The thing I was most disappointed about is I thought my season was maybe going to be over," said Lessard, a St. Joseph de Beauce, Quebec, native who doesn't try to hide a hint of a French accent. "It took me four years to get to the NCAA tournament, and I was just like, 'Are you kidding me? How can that happen?'"
As it turned out, Lessard's season was far from fini.
Lessard didn't practice until the day before the Midwest Regional semifinal against Michigan State, but the right winger got a pair of good signs that day: He was able to skate well enough on the tender left knee to conclude he was going to be able to play; and he won the showdown, the team's penalty shot competition at the end of the week's practices.
Then, another breakthrough. He scored two goals on four shots in a 5-0 rout of Michigan State and had more of a supporting role as the Bulldogs dispatched two-time defending national champion Minnesota.
That leaves Lessard — USCHO's Player of the Year for 2003-04 — in what has to be one of the high points of his career. On Thursday, he'll take the national scoring lead into the Bulldogs' national semifinal game against WCHA rival Denver in Boston. A day later, he'll be in the front row as one of the three finalists for the Hobey Baker Award.
If things go well for his team on Thursday, he'll play for a national championship on Saturday.
The stakes are part of the reason Lessard was able to heal so quickly from what appeared at first to be a serious injury. He fell behind one of the goals at the Xcel Energy Center in the WCHA third-place game and immediately tried to get up. But the knee wouldn't allow it.
After a few minutes, he left the ice with some help and a lot of nervous teammates and coaches. He returned to the bench for the third period but was relegated to supporting the team from the sidelines.
"There's lots of guys that might be able to shoot as hard and as quick as him, but he has the ability to know where to go on the ice, find open areas and scoring areas."
— Lessard's linemate Evan Schwabe
As the Midwest Regional approached, the talk shifted from a likelihood that Lessard would at least try to play to a strong doubt that the senior assistant captain would pull on the sweater. Every time he pushed off on the left leg in that pregame skating session, Lessard could feel the pain in his knee.
It didn't matter.
"You know what you're playing for and you know what the reward's going to be, so you can suck it up a little more and deal with it," Lessard said. "That was tough, but I just thought playing was a pretty big boost for my teammates as well."
It sure seemed like it was.
"For any player, when you have an injury, there's always uncertainty mentally," UMD coach Scott Sandelin said. "I think that gave him some confidence, which also gave us confidence that, hey, maybe he can play."
Judging from the season Lessard has had, he sure can play.
The red-haired 23-year-old leads the nation with 30 goals and 61 points this season and is bidding to become UMD's fourth Hobey winner and the first since Chris Marinucci won 10 years ago with a 61-point season.
[Note: Tom Kurvers (1984) and Bill Watson (1985) are the other two Bulldogs' Hobey winners. In a piece three years ago, Kurvers discussed being named Hobey winner the day before the national title game, and the distractions that brought, plus his remembrances of the entire 1983-84 season, the last time UMD made the national title game. — ed.]
Lessard, 6-foot and 195 pounds, is plus-22 for the season and has 16 points in his last eight games, a windup that serves notice that he scores in the critical times of the season.
But all of it — the scoring lead, the Hobey status, the Frozen Four spot — is a bonus when you consider how fortunate Lessard is to be around to talk about his harrowing experience in Lake Superior this summer.
Lessard, teammate Evan Schwabe and their girlfriends were swimming in the lake in August when they found trouble.
"It all happened so fast," Schwabe said, "it's hard to describe."
The waves were big that day — a good thing, they figured initially. They were out in chest-high water when, almost instantly, they found they couldn't touch the bottom. Waves were crashing down on top of them.
Schwabe tried to yell for help, but it was so windy no one heard him.
Lessard and his girlfriend were about 10 feet farther from shore than Schwabe, who buried his head and swam in. He got back safe, but the three others were still in the water, struggling to keep their heads above the waves.
David Israel, who was enjoying the day at the beach with his family, grabbed his boogie board and first rescued the players' girlfriends. That left Lessard out in the water alone.
Finally, Israel got back to shore with Lessard, too, ending that nightmare but not its consequences.
Lessard said he wasn't able to return to offseason workouts for three weeks, and even when he did thereafter, he felt a pain in his lungs. He recovered just in time for hockey season.
"It's behind us. We learned from it and we were fortunate enough to get out of it and be able to play again this year," Lessard said. "I think this made us realize how fragile life can be. From my point of view, now instead of complaining about hockey and the little things, I just try to enjoy it instead and be thankful to be able to play still."
Knowing Lessard's offseason background makes the success he has enjoyed in the last six months all the more impressive.
In the race for the Hobey, he's up against North Dakota forward Zach Parise and Brown goaltender Yann Danis. Lessard has what might be an advantage in that he is the only player from that trio still playing collegiately. Both Danis' and Parise's seasons were over before the Hobey voters made their final decisions.
Some of Lessard's biggest supporters in that cause happen to be people he works with every day.
"He has probably one of the best releases and hardest shots in college hockey," said Schwabe, who centers Lessard's line. "There's lots of guys that might be able to shoot as hard and as quick as him, but he has the ability to know where to go on the ice, find open areas and scoring areas.
"He always gets in good position and he always gets his shots off. You rarely see him get shots blocked. And he hits the net with most of his shots, too. And the work he does along the boards and in the corners, he's so big and strong that usually it takes a couple guys to knock him off the puck. That just opens up room for his linemates."
Said Sandelin: "From the beginning until now, he's been very good for us. To me, it's only fitting that he's there. And like every coach, I would be disappointed if he didn't win, but if he doesn't, it's still a great honor for him to be recognized as one of the top players in the country. I'm real happy that he is one of the three because that's the kind of year he has had. And I think that's what he has meant to our team."
For Lessard, however, there's a different kind of trophy he'd rather take back to Duluth at the end of his collegiate career.
"I don't really want to think about [the Hobey] too much," he said. "I would rather win the team hardware before I take individual stuff, but it's a great feeling to be up for it."
That would be an ending worth remembering.