The Boston College Eagles, a team that spent considerable time this season at the top of the national polls, are well known for possessing big weapons.
The club has such depth that any line can be deadly, but when you talk about the top line of Ben Eaves, Patrick Eaves and Tony Voce, you're talking about weapons of mass destruction.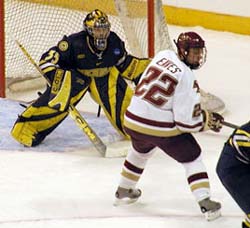 The Eagles' top trio has combined for a total of 56 goals and 122 points, but the reality is the fact that they've only played together for 14 games, total.
Though Voce has been healthy for the entire year, the brothers Eaves have been cursed by the injury bug. Ben missed a total of 16 games, most of those late in the season with a fractured kneecap. Patrick missed a total of eight games with both injury and with the U.S. team that captured the gold medal at this year's World Junior championships.
The trio was finally reunited in earnest for last weekend's Northeast Regional that propelled the Eagles to next week's Frozen Four. And with that, two opponents — Niagara and Michigan — felt their destruction.
"They haven't played together that many games with Ben and Pat's injuries," said head coach Jerry York of his top line, which combined for five goals and 11 points in the two regional games. "Now that they've been together for a couple of weeks here and they've gotten a flow going, they're really dangerous."
Michigan's Red Berenson, whose team was the biggest victim of the Eagles' top-line power, surrendering all three goals and four assists in a 3-2 overtime loss in the Regional final, wasn't shy in addressing the trio's force.
"I can't tell you that we played badly," said Berenson after his club's overtime loss to the Eagles. "[BC] played very well, and they got what they needed to get. Their best players came and played their best game."
To York, that's no surprise. The only surprise came at game's end, when Ben Eaves, lying in pain with a cramped quad in his right leg, was moments away from being sent to the locker to tend to his injury.
"[Trainer] Bert [Lenz] tried to massage the quad so he could get back out there," said York, who joked that he was worried someone would step on Ben as he was being worked on in the tight quarters behind the Eagles' bench. "I thought he absolutely couldn't go, so I'm calling the ref over to say, 'I need to get this kid to the dressing room.'"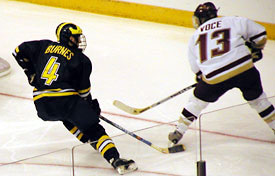 Having none of it, the elder Eaves not only came back, but as history reports, he scored the game-winning goal 11 seconds after reappearing on the ice to send his team home to Boston with the chance to have virtual home ice at the FleetCenter in the Frozen Four.
York called it a "legend in the making." But deep down, one has to believe that a part of him wasn't all that surprised.
For four years, Ben Eaves and Voce have been pacing this offense. They captured the national championship as freshmen, not as "sit back, watch and take the ring" players, but rather as "step in and have impact" guys. Voce potted 26 points that year; Eaves, 39.
When Ben's younger brother, Patrick, joined the club last season, the chemistry was apparent from day one. Their first game together, Ben set up Patrick in a 6-0 victory over Massachusetts. By the end of the year, though, injuries would be the setback. Patrick missed 20 games with a fractured vertebra in his neck.
So combining seasons, this triumvirate probably hasn't had the chance to destroy opponents quite like York expected. But reuniting to take over this year's NCAA tournament couldn't have come at a better time.
"They have a lot of feel for the game of hockey," said York, who will look to capture his third NCAA title, and second with the Eagles, next week in Boston. "The give-and-goes, and the touch passes, finding space and cycling the puck. They're just dominating. When their shifts are on the ice, they carry the play."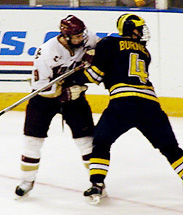 One of the ironies in Ben's recent return was the fact that Ryan Shannon, the team's second-leading scorer behind Voce, and more importantly a first-team All-Hockey East selection, has been delegated to the second line. That, though, isn't any type of controversy or confusion for his club.
"[Shannon] now gives us some depth out there," said York. "[Opposing teams] can't just say, 'We have to shut down their first line."
Another thing that sticks out to York is the size of his master line. Patrick Eaves is listed as the tallest player at 6-foot, while both Ben Eaves and Voce are 5-foot-8.
"Some people have the height and the weight, but they aren't effective because they don't have the feel on how to play hockey," said York. "They're not the biggest players in the world, but these kids just have a hockey sense. You can't teach that."
You also can't teach winning. At this point, that's something that every one of the Eagles know how to do. No doubt, the Eagles cannot live by their top line alone. But the impact of that trio's performance could be a blow that sends them out of the FleetCenter and back down the street to campus with the national championship trophy.