For the fourth consecutive year, USCHO.com is sponsoring a Town Meeting to entertain and inform college hockey fans during the festivities at the NCAA Frozen Four. This year's USCHO.com Town Meeting topic is "The State of College Hockey from the Coaches' Perspective," and the panel will include prominent members of the college hockey community.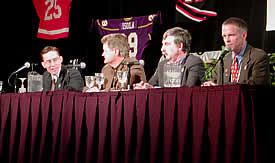 The Town Meeting takes place this year at 1 p.m. (ET) on Friday, April 9, 2004 at Boston's famed Faneuil Hall, just prior to the presentation of the Hockey Humanitarian Award and the Hobey Baker Award.
As in years past, USCHO.com's Jayson Moy will preside over a question and answer session where fans will be able to interact directly with the panel: Joe Bertagna, commissioner of Hockey East and president of the American Hockey Coaches Association; Tom Anastos, commissioner of the CCHA; and a select group of coaches which include Blaise MacDonald of Mass.-Lowell and Jim Tortorella of Colby.
"Each year, our goal is to give fans a behind the scenes look at college hockey," said Moy. "These town meetings have helped people ask direct questions to insiders, something they may not be able to do in any other setting."
The third annual USCHO.com Town Meeting was held last year, at the Frozen Four in Buffalo, New York. The event was attended by hundreds of fans, and featured the members of the NCAA Division I Ice Hockey Committee.
Faneuil Hall is located right in downtown Boston, bordering the Government Center and Haymarket. More information on directions and parking can be found here: http://www.faneuilhallmarketplace.com/VisitorInfo/Directions/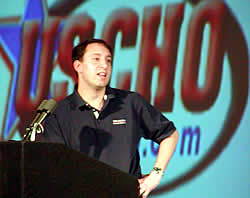 Fans will be admitted with tickets only. Unlike recent years, this year's festivities are in a much smaller venue, and seating is highly limited. Fans can pick up tickets to this, plus the Humanitarian and Hobey Baker Award presentations starting at 10:00am that day at Boston's City Hall Plaza at the NCAA Beyond The Game exhibit. Tickets are free, but are limited. No one will be admitted inside Faneuil Hall without a ticket.
USCHO is concluding its eighth full year of operation. It is the No. 1 source for college hockey news, game reports, statistics, columns and analysis. Since its inception, USCHO's readership has swelled to the tune of approximately 10 million page views per month, the highest figures for any web site in its category.
USCHO extensively covers Division I and III, men's and women's hockey. It has won multiple honors for its coverage, including the Scarlet Quill Award, given annually by Boston University to the publication that best covers its sports teams.
USCHO is also well-known for its famed PairWise Rankings, a tool that mimics the process used to select the field for the NCAA tournament. It has accurately predicted the NCAA tournament field since its inception. In addition, the Division I USCHO.com weekly Poll is the largest of its kind, with 40 contributors, and is the only college hockey poll recognized by the Associated Press.