Last week we took a look at the best regular-season games of the 2003-04 season. Now let's turn our attention to the best tournament and postseason games that this season had to offer.
While there were many terrific regular-season games, it's unfair to compare a great regular-season game with a contest played for higher stakes. In fact, there's still a fairly high degree of difficulty in judging games among the various tournaments played during the season. The early-season tournaments and the holiday tournaments always produce some great hockey, often between unfamiliar foes. Tournaments such as the Beanpot and the Great Lakes Invitational have their own tradition and unique importance. Yet it's the postseason where the big prizes are won.
In coming up with this list, I had to try to balance the importance of the game at hand with the quality of that game. I looked for games that were very competitive with interesting twists and surprising turns along the way. And I got some assistance from the writers and editors of USCHO as well. The bottom line was "Which games would I most like to have attended in person as a pure college-hockey fan?"
One complicating factor with this list was that I DID see SOME of these games in person, while others I saw on TV or read about. As previously, this article is intended to spark some debate more than pretend to be a definitive ranking. With that in mind, let's forge ahead.
First, I decided to boil down the contenders to a Top 15. As a result, there are many games in the Honorable Mention category. Some were eyebrow-raising results but perhaps not the most competitive games, such as Maine surprising preseason No. 1 Minnesota with a 4-0 whitewashing at the Maverick stampede. Alaska-Anchorage is another Honorable Mention team, as the Seawolves upset Wisconsin in the WCHA quarterfinals then knocked Colorado College out of NCAA tournament contention to reach the league Semifinals.
Then there were other Honorable Mention games that were statistical curiosities. In the CCHA Playoffs, Michigan State trailed Ferris State 3-0 and then scored five straight goals — including three by freshmen skaters — to win 5-3. There was Denver beating Niagara in the Denver Cup Semifinal with their freshman goalie Glenn Fisher making 36 saves — including some gems — PLUS assisting on a shorthanded goal.
Another unlikely freshman goaltender story was Boston College's Joe Pearce in the Great Lakes Invitational. With top netminder Matti Kaltiainen suspended due to violating team rules, Pearce — with only one dismal career appearance to date — stepped up and won the MVP for that tournament, with the 4-3 championship game over Michigan State coming close to cracking this list.
Then there were a few thrillers where the stakes were perhaps not as high. The first that comes to mind is Ohio State pulling off a 6-5 comeback victory against Notre Dame in the early going of the CCHA tournament. Another one would be from the Semifinals of the Holiday Classic, where Wayne State tied Brown on an extra-attacker goal with 25 seconds left, then one in OT. Or how about the first round of the WCHA playoffs, where Minnesota-Duluth tied Minnesota State with seconds left, only to lose in overtime.
The UConn Hockey Classic had another vastly overlooked gem, with the hosting Huskies tying Bentley 4-4, then winning the shootout. In that one, UConn star Tim Olsen had two goals in the shootout alone to go along with a goal and an assist in regulation. Another obscure gem was Alaska-Anchorage handling a Mass.-Lowell team that threw everything at them but still lost 1-0 in the Nye Frontier Classic. Do you still remember Findlay upsetting Michigan State in their early-season tournament? These are all ones that I thought long and hard about before regretfully omitting them.
Here's what I picked:
15. Hockey East Quarterfinals, Game Three: Boston University 4, Boston College 2
This three-game series was certainly a curious one, bringing back memories of Merrimack knocking off BU in the opening round in 1998. When the bottom seed in a league tournament manages to win even one game in a best-of-three series, that gets some attention. But winning two of three, all in an archrival's building? Particularly satisfying.
What was striking about this game was how impossible it was to predict the outcome after the first two games. The Eagles looked rusty in game one but came back to life in the waning moments of that one. Then they absolutely dominated the Terriers in game two, leaving their Comm. Ave. counterparts badly beaten and battered — it looked like a few Terriers would have to miss the rubber match on Saturday. Instead, they came out and won it. With the game tied 1-1 in the second, the Terriers — whose offense was anemic most of the year — suddenly struck with three goals in under five minutes.
When it was 3-1, the game's turning point came. Eagle defenseman Brett Peterson came in and clanged a shot off the crossbar. The puck bounced the other way and almost immediately Terrier freshman Eric Thomassian scored his first collegiate goal. Instead of 3-2, it was 4-1, and Sean Fields made sure the lead stood up although BC outshot BU 15-3 in the third.
14. Everblades Championship Game: Cornell 4, Ohio State 3
The Everblades has gone from being a geographical oddity at holiday tournament time to being a real showcase of excellent hockey. This year's matchup featured three teams that made the national tournament — Ohio State, Maine, and Notre Dame — but the only non-tournament team in the field won it. Given that the trophy is named after Cornell coaching legend Ned Harkness, it was particularly satisfying for the Big Red to win it after a championship game loss and two horrific last-place showings in the tournament's first three years.
The game itself was an entertaining see-saw battle with Ohio State taking the 1-0 lead, then Cornell leading 2-1, followed by the Buckeyes tying it. Cornell went up 3-2 then surrendered a third-period goal to send it overtime, as the Buckeyes showed pluck in playing hard without key player Dave Steckel. The ending featured a nice twist: Cornell's senior Greg Hornby — who suffered a terrible shoulder injury playing the Buckeyes in the championship game as a freshman — won this one in overtime.
13. ECAC Championship Game — Harvard 4, Clarkson 2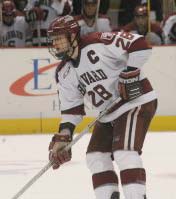 In some ways this game was a microcosm of the Crimson's season. They went down 2-0 and left their fans reflecting on some pretty talented guys playing some rather uninspired hockey, as Clarkson dominated the first. Then they got it together in the second period and tied it up — scoring the first goal just ten seconds into the period on a play drawn up in the locker room, then modified slightly as the play unfolded.
But the real excitement came in the game's last minute. After a third period in which the teams appeared reconciled to overtime, Harvard won a faceoff in the Clarkson end, with the ECAC Tournament Most Outstanding Player winning the draw back to the point. "That's a play we've been doing for a few years," said Harvard captain Kenny Smith, "but nine out of ten times the puck goes back to Noah Welch. When the puck came onto my stick, I didn't want to pass it up."
He didn't. Agonizingly, Clarkson goalie Dustin Traylen got a piece of the stick on the shot, but it went in. Twenty-five seconds later, the Crimson clinched the league championship and a rather improbable NCAA berth with an empty-net goal.
12. ECAC Quarterfinals, Game Two — St. Lawrence 4, Yale 3 (OT) 2
This game is No. 12 on the list, and it wasn't even the best game in this best-of-three series. After a thrilling 4-3 overtime win on the road in game one (see below), St. Lawrence followed it up with another great 4-3 overtime win. In this one, the Saints went up 2-0, then 3-1 — though Yale did manage to score a shorthanded goal. St. Lawrence outshot Yale 33-20 through two periods and absolutely had the Elis on the ropes, but the home team showed character in the third, bouncing back to outshoot St. Lawrence 12-3 in the last 20 minutes of regulation. They made it 3-2 with 6:10 left, then pulled the goalie and thrilled the home fans by tying it on an extra-attacker goal with 1:09 remaining.
In the overtime, Yale almost pulled off a "storybook finish" when senior defenseman Jeff Dwyer set up Ryan Steeves for a breakaway in overtime. Steeves' attempt to win the game was stymied by Mike McKenna. Then, at 5:14, senior captain Rich Peverley gave the Saints the victory. Peverley — a freshman when SLU won the ECAC tournament in 2001 — got the puck in the neutral zone and skated in alone on Yale goaltender Matt Modelski before burying the game-winner.
11. Ice Breaker Semi-Final — Boston College 2, Minnesota-Duluth 2 (BC wins shootout)
For a semi-final game of a season-opening tournament, you'd be hard-pressed to top this one. BC was my No. 1 team in the preseason rankings, given all the heavy artillery they had returning this season. Meanwhile, Minnesota-Duluth had come oh-so-close to making the national tournament last year and started the year wanting to prove that they now belonged in the top echelon.
Neither team disappointed in this one. It was a terrific back and forth, up and down game, and BC emerged with a 2-0 lead through two periods. But the Bulldogs changed the complexion of the game with a goal just 33 seconds into the third. Then, eventual Hobey Baker Award winner Junior Lessard showed his stuff on a penalty shot at 6:55, sneaking the puck between the post and Matti Kaltiainen's skate to tie it.
There were plenty of chances in the overtime, and a Stephen Gionta goal was waved off due to a man in the crease. It came down to a shootout to get to the final … and even that was tied at 1-1 after five shooters. At that point, it became a sudden-death shootout, and Ben Eaves won it.
10. CCHA Semifinal: Ohio State 4, Miami 3
While Ohio State was battling back against Notre Dame on March 18, Miami was able to kick back and watch due to their higher seed. As in the game against Notre Dame, Ohio State fell behind early and clawed back into it, repeatedly.
There were many exciting moments in this one. Unassisted, Miami's Mike Kompon went end-to-end and scored for the RedHawks first goal. Paul Caponigri's 180-degree turn with the puck set up Rod Pelley for the Buckeyes' tying score. Caponigri figured in the Buckeyes' second tying goal of the game on a real dazzler, scoring on a forehand-to-backhand move in front of Miami goalie Brandon Crawford-West.
Mike Betz had been pulled the night before, and Dave Caruso had responded with a 15 of 15 effort, so coach John Markell stayed with him in this one. With less than two minutes left in this game, Miami's Greg Hogeboom almost scored on a classic move coming from behind the net. His shot was ticketed for the corner, but Caruso made the amazing glove save to send it to OT.
Just 23 seconds into overtime, Buckeye captain J.B. Bittner won it. "I actually said, 'Let's get it done right here, first shift,' and we got lucky," said Bittner. Thus the Buckeyes went on to the championship game (see below).
9. National Championship Game — Denver 1, Maine 0
If you saw the USCHO Question of the Week on this one, you'll understand that there are some differing opinions on the quality of this game. Some saw it as a tense and exciting defensive struggle, while others thought it was a bit of a snooze until the last 150 seconds or so. Either way, I don't think anyone can dispute that those last two and a half minutes rated among the best finishes ever, and certainly I can't imagine that there has ever been a more heroic example of a team clinging to a lead amidst more adversity.
If you're reading this, you know all the details, so I won't go into the play-by-play again here. But a few things will stay with me for quite some time: Denver's Ryan Caldwell — playing on two knees in need of surgery — refusing a timeout and playing all the way through the six-on-three, establishing himself as a college-hockey legend in the process; freshman Matt Carle being out there on defense among the seniors; and the incredible calmness of coach George Gwozdecky in the face of those last two minutes — although he was looking for his first-ever championship as a coach.
I also think of a coach who showed the courage of his convictions by benching one of this top forwards for violating a team rule. Would all college coaches in all college sports do the same thing with a national championship on the line?
8. Beanpot Championship — Boston College 2, Boston University 1
This game just offered so many incredible contrasts: BU's superior record in the Beanpot versus BC's substantial advantage in talent and performance this season. Two classic arch-rivals playing in Boston for Boston's championship. And — most of all — the debate as to whether the irresistible force could overcome the immovable object.
In this case, the force in question was BC's vaunted offense, and the object was Terrier goaltender Sean Fields. After a surprise goal by Kenny Roche gave BU an early lead, the Terriers shifted into ultra-conservative mode … and almost managed to cling to that 1-0 lead for the rest of the game.
It was a game that had Eagle fans pulling their hair out while Terrier fans downed their antacid tablets. Again and again, BC had great scoring chances, only to shoot wide or have Fields thwart them. BC seemed to be cursed: They had a goal waved off in the third, then, at 5:00 of the third, a Ryan Shannon shot hit the stick-side post, hit Fields' leg, and hit post a second time before Fields kicked it away.
In the end, 3:30 was the magic number. Roche scored 3:30 into regulation, and Ty Hennes tied it with 3:30 left in regulation — an extremely timely situation for Hennes to pick up one of his two goals all season.
BC had a three-on-one opportunity at 2:30 of OT, but Shannon just missed the tap-in for picturesque game-winner. Even so, it felt like a matter of time, and Ryan Murphy finally scored at 6:07 — just the second time in ten years that BU has failed to win the Beanpot.
7. ECAC Quarterfinal Game One — St. Lawrence 4, Yale 3 (OT)
In the first of this two-game classic series, there was a little of everything. It was the longest home game in Yale's history. Yale went up 2-0, then St. Lawrence made it 2-1. Then there were two ejections — including one for Yale's starting goalie Josh Gartner, who also received a DQ for Game Two. Yale coaching legend Tim Taylor called on senior Peter Dobrowolski. After playing in just one game during the season for less than 18 minutes and nine games in his career, he played extremely well and stopped 38 of 41 shots. Meanwhile, Mike McKenna stopped 39 of 42 shots for the Saints, including 12 in OT on many quality chances.
Playing on road, St. Lawrence outshot Yale 19-6 in second and 59-42 in close to four periods. With 8:10 left to play, a Yale turnover enabled T.J. Trevelyan to break in on Dobrowolski, who made a terrific pad save that energized the Bulldog team and crowd. Yale ending up tying it with 1:29 left.
Throughout an overtime period in which the players grew visibly exhausted, Yale dominated in quality scoring chances. "A stunning NHL-caliber dangle move" by sophomore Christian Jensen late in the period nearly beat McKenna for the win, but the netminder made a stretching, flailing save. St. Lawrence finally won it at 18:42 of OT on Stace Page's second goal of the game.
6. CCHA Championship Game — Ohio State 4, Michigan 2
This was a classic championship game, as Ohio State took a page out of Princeton's 1998 book by winning three games in three days to win a league championship and an autoberth in the national tournament.
Ohio State had a 3-0 lead in two, but one had to wonder if they would have enough gas left in the tank to hang on while playing their third game in three nights on top having to come from behind to win in overtime on the previous two occasions. Sure enough, Michigan gave it everything they had in the third period, outshooting the Buckeyes 14-6. The Wolverines scored two goals within a three-minute span to make it 3-2 with almost seven minutes left.
With a power play in the last two minutes, it looked almost inevitable that the Wolverines would complete the comeback. Instead, Buckeye defensemen cleared the puck right into the empty net with 31 seconds left for a shorthanded goal that clinched the league championship for the improbable Buckeyes, giving them their first postseason league title since 1972.
5. NCAA East Regional Semifinal — Maine 5, Harvard 4
As Icelandic band The Sugarcubes once sang, "This wasn't supposed to happen." In so many ways, this game was improbable. As Adam Wodon pointed out after the first period, Jimmy Howard hadn't given up an even-strength goal since, well, "just about forever." He gave up one with 17 seconds left in the first, and Harvard — the No. 4 seed playing the top seed in Albany — had a 2-0 lead after one. They went on to make it 4-1 after two against one of the nation's best defenses and hottest goaltenders.
If Maine had an Achilles heel during the season, it appeared to be their occasionally anemic offense and woeful power play. Additionally, their relative youth was a worry. So, naturally, Maine pulled Howard and exploded for four third-period goals, including a power-play goal by Prestin Ryan … and a goal apiece for rookies Mike Hamilton and Michel Léveillé. Meanwhile, Doyle stopped seven of shots for the win in this game of Survivor.
4. WCHA Championship Game — Minnesota 5, North Dakota 4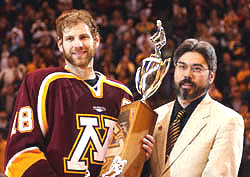 Can anyone seriously dispute the fact that the WCHA was the dominant conference this season? With five teams — almost six — in the NCAA Tournament, and several upsets pulled off by the bottom three of Alaska-Anchorage, Minnesota State, and Michigan Tech, it was a phenomenal year for this conference. So perhaps it's inevitable that the league championship was a thriller too.
Just to get here, Minnesota had to do something they had failed to do all year — beat Minnesota-Duluth. After that, they still had their hands full with the powerful Sioux. In a back and forth scoring game, Minnesota went up 2-1 but then had a goal waved off. Momentum swung, and North Dakota went into the final frame with a 3-2 lead. Gopher forward Grant Potulny kicked over a garbage can in anger during the second intermission.
"I was a little fired up," Potulny said, "because I thought we were letting the game slip away from us."
Not quite: Minnesota scored twice in the first five minutes to take the lead, only to have Brandon Bochenski tie it up — on a shorthanded goal, no less — at 9:18. Then Potulny got the go-ahead goal at 13:58.
North Dakota coach Dean Blais aggressively pulled his goalie, Jake Brandt, with over three minutes to play. It was an admirable move, but the Sioux couldn't put any more behind Kellen Briggs, who made 35 saves and was named tournament MVP.
3. Northeast Regional Final — Boston College 3, Michigan 2 (OT)
After a sluggish start against Niagara in the Semifinal, Boston College seemed sharper in this one — and they needed to be. Riding high after beating New Hampshire — the nominal home team in Manchester — Michigan didn't seem too worried about the fact that they were dressing all of one senior with a trip to the Frozen Four on the line.
One great story here was that one senior: Michigan captain Andy Burnes. The prototypical defensive defenseman, Burnes had just two assists in 38 games coming into this classic, then put up a goal and an assist to help his team lead 2-1 after two. Meanwhile, Wolverine goalie Al Montoya was stupendous on his way to a 42-save effort, including a terrific save on Ben Eaves with 38 seconds left in regulation. Would Matti Kaltiainen be able to keep pace with his heroics in overtime? This time, the answer was yes.
T.J. Hensick almost won it in overtime, but Kaltiainen made a terrific save, setting the stage for an incredible story. BC captain Ben Eaves — whose collegiate career was rather star-crossed due to injuries — cramped up badly in the overtime but refused to go to the dressing room. Lying on the bench, the team trainer worked on Eaves, and finally Eaves sprung into the game — and won it almost immediately on an amazing play.
With the puck in the air near the crease, the elder Eaves took a baseball swing worthy of Manny Ramirez to put it by Montoya and send BC to the Frozen Four. It was a legendary goal by a player who will always be remembered as an incredible talent and a class act, on and off the ice.
2. National Semifinal — Denver 5, Minnesota-Duluth 3
In response to our USCHO Question of the Week, 83 percent of our readers predicted that the Bulldogs would win this game. After one period of sheer domination by Minnesota-Duluth, that figure probably swelled above 95 percent. Junior Lessard and Tyler Brosz made it 2-0 in the first five minutes alone. Denver looked better in the second, but the teams simply traded goals, as Lessard showed that he was worthy of the Hobey with his second goal of the game at 15:35.
The turning point may have been late in the second period, when Lessard broke in alone on Adam Berkhoel for a great hat-trick bid. But he had gone high twice, and this time Berkhoel seemed to anticipate that he would try the trifecta in the same place. He threw his whole body up in the air to make the save.
Two goals in 34 seconds absolutely stunned the Bulldogs — who had swept the Pioneers at Denver earlier in the season — tying the game very early in the third period. Then Lukas Dora put the underdogs ahead before the period was half over.
In case no one had had enough excitement at that point, the Bulldogs appeared to tie it on an extra-attacker goal with 32.2 seconds left. But the officials waved off the goal because Tyler Brosz had collided with Berkhoel — though whether he was pushed into him was debatable.
Afterwards, both teams seemed positively stunned at the outcome.
1. Hockey East Championship Game — Maine 2, Massachusetts 1 (3 OT)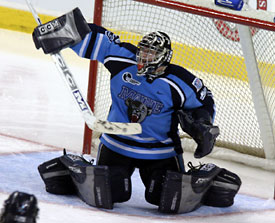 This game was suspenseful before it even started. I can't recall ever going to a championship game in which I was eager to see the line charts because I didn't know who was going to play goal … for either team. After not playing much all season, Tim Warner came out of the woodwork to star in the quarterfinal series AND the semifinal against UNH (Hmm … maybe that's another Honorable Mention game, given that Warner's brother Mike was an improbable offensive hero in that one). Surely, he would get the start again, right?
Likewise, Maine Coach Tim Whitehead had alternated goalie 1 (Jim Howard) and 1A (Frank Doyle) for much of the season. Would he give the senior Doyle a shot? That was my guess.
Wrong on both fronts. Minuteman Coach Don "Toot" Cahoon reverted to Gabe Winer in the net versus Howard. Given that those two goalies went on to stop 122 out of 125 shots in the longest game in Hockey East history — as well as the fourth-longest in NCAA history — I guess you can see why I'm writing and not coaching.
For such a low-scoring game over such a lengthy period of time, this one was surprisingly riveting. Playing for the first league championship game as well as a first bid in the NCAA Tournament, one would have forgiven Massachusetts for being a little tentative or timid. If anything, though, they were the opposite, as they took it to the Black Bears with a lion-hearted effort, outshooting them 25-17 through two periods.
Trailing for 1-0 for ages against the apparently impregnable Howard, Greg Mauldin finally tied it up at 13:47. In the first overtime, Massachusetts played like a team that had "Don't play to NOT lose" tattooed on their backsides, outshooting Maine 19-8. They almost won it at 15:00 when Thomas Pöck's shot was ticketed for the net, only to have Howard get a piece of it to knock it over the crossbar. In turn, Maine's Todd Jackson hit a crossbar in the second OT.
Gradually, the Minutemen sagged … or, rather, Maine simply outlasted them. Fittingly, Ben Murphy — voted by Maine fans as the team's Unsung Hero won it in the third overtime — at the 109 minute, 27-second mark. That's a long time, but nowhere close to 738 minutes and 13 seconds — the amount of time that had lapsed since Howard last gave up an even-strength goal.
---
Most of the facts in this article were derived from USCHO recaps, box scores, and personal accounts from USCHO staffers.