Six years since winning a national championship may not seem like a long time to a professional sports franchise, but for a college institution, that's a generation and a half of students. That was the sentiment of the seniors of the Middlebury College men's hockey Team at the beginning of this past season, when thinking about not having won a national championship in their tenure at Middlebury.
The class of '04 entered its freshman year with hopes of continuing a long-standing tradition at Middlebury: winning.
The storied Middlebury franchise began play in 1922, making it nearly as old as the National Hockey League, which began in 1917. When this year's seniors were freshmen, the school had already claimed two ECAC Championships and five NCAA championships in the past 22 years, with the national championships coming in consecutive years starting in 1995.
"Coming here knowing the legacy of five national championships in a row, makes you think sub-consciously that you're not going to be satisfied unless you win the whole thing," said captain John Dawson.
Entering as freshmen, the class of '04 was led by the current seniors–the likes of Scott Goldman and Matt Skoglund; each of whom won two national championships.
"The upperclassmen were awesome," said alternate captain, Kevin Cooper. "Scott Goldman and Matt Skoglund were unbelievable captains. They were very welcoming."
Despite feeling welcomed by the seniors the then freshmen came to a realization that there were fifteen incoming freshman and not all of them were going to make the team.
"When we came here there were fifteen recruited freshmen vying for spots, everyone got along, but there was a certain level of competition and it showed since we didn't hang out too much," explained NESCAC first-team member Mike Velez.
Even Cooper, the team's leading scorer in the last two seasons admitted, "When I first got here I didn't think I'd make the team. All the guys looked really good. Dawson and the guys still laugh at me about being nervous about making the team."
Cooper did more than just make the team. He became the modern-day goal scoring leader at Middlebury, finishing off his career one short of the century mark with 99. He also earned the NESCAC and AHCA College Division player of the year honors in his senior campaign.
Some of the players came to Middlebury knowing little to nothing about the program.
"Middlebury was a last minute decision for me," said Adam Foote. I had never been to the campus, and had never really heard of it."
Cooper was also in the same position coming from Canada. "Growing up in Canada you dream about playing division I. You don't know too much about Division III."
Meanwhile, others came to Middlebury knowing about its successful hockey program, and looked forward to continuing the tradition.
"I knew Middlebury had one of the best Division III programs in the country," said goalie Marc Scheuer.
Another player who was very familiar with the Middlebury program was Mike Kennedy. His brother Jack was a current member of the Middlebury hockey team. Mike had a difficult time accepting Middlebury because he was not sure if he wanted to be overshadowed by his older brother.
"I was deciding between Middlebury and Williams," said Kennedy. "I was originally leaning towards Williams, but changed my mind when I stayed over at Middlebury for a night."
Kennedy's decision–and decisions of the eight other seniors on this year's team–to come to Middlebury proved wise because they all capped off their careers with a national championship trophy and a brand new watch.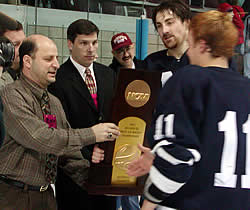 However, the road to the championship was filled with much frustration and adversity. Coming into the 2003-2004 season, Middlebury needed to bounce back from what it considered a down year. The Panthers had lost in the NESCAC championship game for the first time ever, losing the title to Trinity, and lost in the NCAA semifinals for the second straight year, getting dismantled by Oswego.
"Each year it seemed to get harder and harder to get the championship back," said Cooper.
It could have been argued that the past two seasons were an improvement compared to the two previous seasons, where they got bounced from the quarterfinals of the NCAA by Plattsburgh two years in a row. However, this year's Panthers were determined to bring the championship back to Middlebury.
"Coming into this year the mission of the seniors was to figure out how to win a championship," said Cooper. "All year we figured out how to make us better and how to make us closer as a team."
A Bumpy Ride
The season started out well for the Panthers winning the PrimeLink Great Northern Shootout for the first time since 2000. Velez even saw a new jump in head coach Bill Beaney, who was on sabbatical for a year watching his son play hockey in his final season at Princeton.
"Beaney came back this season really refreshed and energetic. This year there were a few times when someone made a good play or score a goal and you turn around and see Coach fist pumping and running up and down the bench-seeing the little kid in him come out. You didn't see as much of that our first two seasons."
However, the team's first bump in the road came in the form of a 4-2 loss against Salem State, a team the Panthers have had trouble with in recent years.
The Panthers continued to look shaky in the second game of the weekend, but two timely goals by Kennedy ensured the Panthers a victory and more ice time for Kennedy. Kennedy posted career highs in assists (9) and points (12) with his additional ice time.
The Panthers next traveled to Concordia for an intense tournament up in Canada. The Panthers did well getting to the championship game, but lost in a shootout to the tournament hosts. However, in the process Middlebury lost one of its most offensive defenseman, Ryan Cahill, for the season after receiving a concussion from a heavy hit.
The Panthers continued to face adversity after two of their leading scorers had to leave the team for undisclosed reasons.
"The adversity we faced this year helped us to come together as a team," said Dawson.
The Panthers faced one more major bump in the road, a mediocre showing at home against their two Maine rivals, Bowdoin and Colby. Middlebury was able to squeak by Bowdoin in overtime, but lost to Colby.
Insert the feel-good story of the year: Marc Scheuer.
Scheuer started playing hockey when he was 3, because, "It's pretty much the only sport to play in Canada."
Scheuer had been the back-up goaltender for the past three years at Middlebury. However, he thought it would turn out differently when he first arrived.
"Coming in I knew there was a big class and some competition, but coach told me he was going to go with me. Things went well the beginning of the season with us going 6-0 and us scoring 30 goals, and only letting up one. Carlsson and I both played well, but after break coach decided to go with Carlsson."
Carlsson went on to become one of the best goaltenders Middlebury has ever seen, earning All-American honors his senior year and posting a career 1.40 GAA, a .923 save percentage, and 15 shutouts, all Middlebury records.
Following Carlsson's graduation after the 2001-2002 season, it looked as if Scheuer would finally be given the chance to be the starter, but he lost the job to freshman goaltender Yen-I Chen, who played phenomenally, until he let in six goals against Oswego in the NCAA semifinals.
This year Scheuer had a new outlook on the team. "This year I didn't even expect to make the team, but I came in with a new attitude to be completely behind the team," said the senior goalie.
However, Scheuer got his chance to shine after he was given the nod to start in a crucial game against Williams following the defeat to Colby. At the time, the Panthers were two points behind Williams in the NESCAC standings, and could ill afford to lose more ground. The game was tied going into the final period, but a four-goal outburst by the Panthers in the 3rd gave them a 4-0 win, and Scheuer his first shutout since February 15th 2003, when he held Wesleyan scoreless.
"I think the game against Williams was the big turning point for us. It was the first game Marc Scheuer came into his own, and took over the spot as the starting goalie," said Foote.
After the Williams win the team began to roll going on with a 10-game winning streak, the longest streak of the year. Scheuer ended the season first in the nation in GAA (1.35), third in save percentage (.932), and tied for fourth in shutouts with three.
"The turning point for my season was coach giving me a chance to play," said Scheuer. "The bounces kept going my way. Yen-I could have played in any of those games, and won, but coach kept me in because we were winning."
The only bump in the road for Scheuer came against Trinity, a 2-1 loss.
The team also started playing better once Scheuer took over the starting position. Prior to the Williams game, the Panthers were scoring an average of 3.86 goals per game, compared to 5.53 goals per game for the rest of the season.
"Marc's our type of guy. We all wanted to see him do well. We played better in front of him. It helped our confidence and we just took off," said Dawson.
Another noticeable difference after the Williams game was the fact that Beaney was keeping his lines intact, and not switching around the lineup very much.
"I like how after the Williams game [Beaney] kept with the same group of guys, and didn't switch up the lines," said Kennedy.
The Panthers rode the wave all the way into the playoffs, knocking off Norwich in the final game of the regular season with a decisive 6-2 victory. In that game Cooper scored a hat trick. He ended the season with 35 goals (a school record) and tied for first in the country with Norwich's Kurtis McLean with 57 points.
Nearly every senior had career seasons, and Cooper attributes that to seniors growing over their four years.
"Every senior had their downfalls, and had things to work on, but I told [senior Andrew] Helming earlier this year we need to forget our last three years and everything you've done wrong."
Title No. 6
The Panthers reached the NCAA semifinals with relative ease, outscoring their opponents 25-4 in the playoffs en route to a NESCAC championship and a meeting with Norwich for a trip to the national championship.
"I was happy about going to Norwich," said Cooper. "I thought going on the road and fighting against Norwich would be great for us."
Despite being on the road, the Panthers had a large crowd supporting them at both the semifinals and championship game.
"I think [the fan support] are one of the best parts about playing at Middlebury," said Kennedy. "If we go to Plattsburgh or Norwich, or pretty much anywhere there will always be people there supporting us."
The Panthers fell behind 2-0 early as they did two years ago against Norwich in the semifinals game, where they ended up losing 5-2.
"I though I was going to be pulled," admitted Scheuer. "Coach told me I was playing really well, and I was surprised, so I knew I needed to step up my game. Dawson came into the locker room after the first and each period telling us to not let down. He knew we could come back and he was speaking from the heart. It really touched us all and motivated us. The leaders this year have been great. Dawson, Cooper, Foote, Velez have all stepped it up this year."
The Panthers were able to battle back to send it into overtime. If one had entered the Panthers locker room between the first and second overtime, one would not think the Panthers were playing in a game where the next goal sent a team to the national championship game.
"Coach came into the locker room between the first and second overtime of the Norwich game with a cup of coffee, and made some joke about needing to get his second wind. He wasn't even trying to coach us anymore; he just let us go. He had confidence in us, and was just there cracking jokes," explained Dawson.
The Panthers eventually scored the game-winner, and prevailed in the national championship game, winning their sixth national championship in nine years. The unofficial MVP of the playoffs was undoubtedly Scheuer who had a measly 1.00 GAA and a .967 save percentage throughout the NCAA tournament.
Cooper summed up Scheuer after the game. "Scheuer proved this weekend how good he is. He might be small, but he's quick and he'll get every single puck, and he proved this weekend just how good he is. We play a lot of teams where he only gets 15 shots a game, and he can't really show what he has. But when he gets a lot of shots he is the best goalie in this league."
"These two games were the biggest games of my life," said Scheuer. "This year we came together much better as a team. There were no freshman or seniors, just guys on the team. Freshman became good friends with seniors and that really helped us to get closer."
The seniors on the team could not stress enough that this championship was all about "team."
"You don't realize how close you need to be to win. We went into overtime twice and it shows how little the margin of error between the team is. This year we really broke down barriers between groups and grades. Everyone got along, and "team" really defined this group," explained Dawson.
"The team atmosphere at Middlebury is awesome. I've never played on a team where everyone cares for each other," added Cooper.
Foote concluded, "I can't imagine any teams being as close as we have been for the past four years."
So what were some of the initial reactions that players had after Cooper banged his 99th career, and last goal of his career at 2:58 of overtime?
"My first feeling was thank god this game is over," said Cooper. There were four or five including myself who couldn't skate anymore. We were all really tired. St Norbert was pounding us all night."
"I will always remember the look on each other's faces when we were celebrating. It was the greatest gift we could have received after working so hard all season," reminisced Dawson.
The only sad part about ending the game was that many of the seniors would never play competitive hockey again. Cooper on the other hand has other plans.
"I want to play pro hockey in Europe afterwards. I'm talking to coaches in Sweden and Switzerland, and I might look towards the AHL route," said Cooper.
Meanwhile the rest of the seniors are just trying to make it in the real world, but as Velez indicated, "Helming and Scheuer have jobs, and that's about it."
The class of '04 will certainly look back on this season for many years. While those who were able to witness this team first-hand were privileged to see a group of players that were not just teammates, but close friends. Their strong bond could be seen both on and off the ice, and it paid off in the end. Cooper summed it up best.
"I am never going to play hockey in a place that's better than here. It's impossible. There is so much love and support in this community with all the family and friends. To win it my senior year with all the great guys on the team; you couldn't ask for anything more."