Michigan goalie Al Montoya is the top rated goaltender on the Central Scouting Service's end of season North American rankings, the first such distinction for a college player since Rick DiPietro in 2000. Meanwhile, North Dakota forward Drew Stafford tops the list of current and incoming college hockey skaters on the CSS rankings.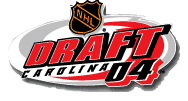 Stafford, who had to opt-in to this year's NHL Draft, ranks seventh on the list. He's followed among skaters by Michigan State defenseman A.J. Thelan (11) and North Dakota forward recruit Travis Zajac (15). There is a separate ranking for European skaters and goaltenders.
(Complete CSS List of College players)
Stafford will still only be 18 as of Sept. 15, which means he had to formally opt-in to the draft. In the past, that meant he relinquished NCAA eligibility, but thanks to a recent ruling by the NCAA, that is no longer the case. Nineteen-year olds do not have to opt in.
No. 1 on the list of North American skaters is left wing Andrew Ladd of the WHL's Calgary Hitmen, followed by Medicine Hat (WHL) defenseman Cameron Barker. The No. 1-ranked European skater is Alexander Ovechkin, who has been targeted as a potential No. 1 overall pick since he was 16 years old. The Washington Capitals own the first pick in the draft.
Though there is only one college player in the rankings' top 10, compared to three last year — Thomas Vanek, Ryan Suter and Zach Parise — there are nine in the top 30, two more than last year. In addition to the three mentioned above, there is Minnesota forward recruit Blake Wheeler (17), Dartmouth defenseman Grant Lewis (21), opt-in Notre Dame defenseman Wes O'Neill (23), recently-departed Boston College forward Adam Pineault (25), Michigan State forward David Booth (27) and incoming Minnesota forward Kris Chucko (29).
Twelve more college or college-bound players are in the next thirty on the rankings, though four of them — incoming Colorado College forward Scott McCulloch (40), incoming Denver forward Paul Stastny (49), Michigan forward and 2003-04 USCHO.com Rookie of the Year T.J. Hensick (50), and Bowling Green defenseman Jonathan Sigalet — have chosen not to opt-in to the draft. Tops among the draft-eligible in that group are Clarkson recruit Shawn Weller (32) and Cornell recruit Raymond Sawada (33).
Among goalies, only one other college-bound player is in the top ten; Boston College recruit Cory Schneider stands at No. 7. Only Notre Dame's David Brown (25) played in the NCAA last year and is on the list, besides Montoya.
(Get full NHL Draft coverage, including complete CSS Rankings and order of selections, from NHL.com)
This year's NHL Draft will be held June 26-27 in Raleigh, N.C. Last season, a record nine current or incoming college players were selected in the first round, a figure unlikely to be matched this season.