Mike Lundin and Daniel Winnik might be sharing the spotlight as the only current Hockey East players trumpeted as NHL draft material this year, but many others with ties to the league have appeared on the NHL Central Scouting Bureau's radar screen.
A pair of true 18-year-old freshmen, defenseman Steve Birnstill of Northeastern (ranked 61st among North American skaters) and defenseman Jeff Caron of Merrimack (ranked 81st among North Americans), decided not to opt in to the Draft despite projections pegging them as third-round picks.
"It was a little strange to be opting out of a draft and a selection process that I've waited my entire life for," said Birnstill while in Montreal helping coach a New York Apple Core junior team he tallied 13 goals and 42 assists for the year prior.
"But a lot of hockey people told me that I started playing my best hockey of the year toward the end of the season, and that I should wait another year and possibly get ranked higher."
The 6-foot-2, 185-pounder did some of his best blue line work down the stretch after he was paired with fellow Huskies blueliner Tim Judy (Northeastern went 9-3-2 in 14 games with Judy and Birnstill together); he potted a goal and an assist in helping Northeastern sweep Massachusetts in its final regular-season series.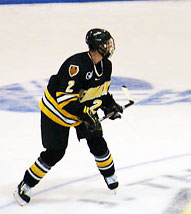 Scouts and coaches alike point to Birnstill's skating ability as one of his clear strengths, and the affable Commack, N.Y., native feels like a year of training could make a world of difference.
"One thing I think I have to improve is my size and strength," said Birnstill, who notched a goal and six assists in his first goround with NU. "I feel like both as a team and as an individual player there's a lot of room for improvement next year."
Caron, 6-foot-2, 175-pounds, similarly decided to wait after a one-goal, four-assist freshman campaign.
Both players decided against opting in despite the new ruling that allows 18-year-old college players to be selected and then continue their college hockey careers unabated. Prior to that, college players like Caron and Birnstill had to choose between opting in and forfeiting their remaining NCAA eligibility, or waiting.
"For me, it was just the feeling that I could do better next year," said Birnstill, one of 12 college hockey prospects facing the opt-in question this year.
Former Boston College power forward Adam Pineault, who announced he was leaving the Heights in April after a freshman season in which he scored four goals and four assists in 29 games, was another of the true 18-year-olds in Hockey East last season and is considered a late-first-round/ early-second-round selection.
In addition to players who have already logged Hockey East ice time, there are a slew of incoming freshmen earmarked for the draft: Maine prospects Rob Bellamy (ranked 66th) and Billy Ryan (95th); Boston University incoming freshmen Chris Bourque (74th) and Bryan McGuirk (110th); UNH forward Keith Yandle (76th) and defenseman Craig Switzer (136th); BC's Matt Greene (144th); Providence's Dylan Cox (147th) and Vince Goulet (168th); and UMass newcomers Alex Berry (134th) and Michael Kostka (ranked 165th).
"With the returning players and the incoming freshmen, we're not expecting any Hockey East teams to go backward next season," said Northeastern coach Bruce Crowder. "It's going to be a competitive year for everyone."
(This article originally appeared in this month's edition of USCHO Magazine.)