In terms of college hockey's place at this year's National Hockey League Entry Draft, right now we're looking at the power of three.
In a year that might be one of the weakest for collegiate first-rounders, three prospects stand head and shoulders above the rest. Michigan goaltender Al Montoya — the top-rated North American goaltender according to NHL Central Scouting; North Dakota power forward Drew Stafford; and Michigan State defenseman A.J. Thelen are the trio that college hockey will rest its hopes on come Saturday afternoon.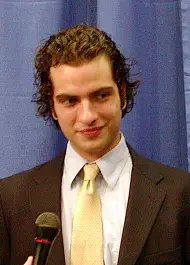 Montoya is likely to be the first American and collegiate player taken. His ability to handle the puck outside the net, along with his size, skill and proven ability to win are what most GMs consider his best qualities.
Montoya himself admitted to having some butterflies when he addressed the media Friday afternoon. Those, though, will be settled when he hears his name called in what he hopes is the early part of the afternoon on Saturday.
"I hope I'll be able to [sleep tonight], but I doubt it," laughed Montoya, who arrived fashionably late to Friday's Media Prospects' lunch. "I wish tomorrow were today so that this would be over with."
Montoya acknowledged on Friday that his performance at this year's World Junior Championship, leading the U.S. team to the gold medal, was a steppingstone that improved his value heading into the Draft.
"It helped a lot," said Montoya. "It builds confidence and shows just what you're capable of."
With Montoya earmarked for a top position, possibly as high as the third pick, the question that will come after Saturday is what his future will hold. Montoya, who was 18 years old as a freshman at Michigan — and back then, unable to opt in to last year's Draft (previous legislation that was removed this year did not allow 18-year-old college players to keep eligibility once they opted in) — has already played two full seasons at the college level.
Halfway through his college career, staying longer may not be in the picture.
"It's day-to-day right now," said Montoya. "I've looked at both options on leaving and staying and I realize that I can't go wrong with either choice.
"I have a great relationship with coach [Red Berenson], so we've talked quite a bit about it."
Berenson has been a vocal supporter for players remaining in college for their full four years of eligibility, and recently said that he hopes Montoya will follow in the footsteps of the goalie who Montoya says he models his own game after, former Wolverine Marty Turco.
After Montoya, the next likeliest collegians to hear their names called are Thelen and Stafford. Thelen has a high stock value as a two-way defenseman, and according to The Hockey News both Carolina, drafting in the eighth spot, and Anaheim, picking ninth, have their eye on him.
The sophomore-to-be Thelen is best known for his skating ability. His long, smooth strides give both speed and agility to this Shattuck St. Mary's product whom NHL Central Scouting says is "rarely caught out of position."
Stafford, ranked higher than Thelen, might fall a bit due to the overflow of talented forwards from Europe this year. Still, Stafford is confident and, at this point, simply happy to be here.
"This is one of those things where you never really know what's going to happen," said Stafford, who describes himself as a "mixture of power and finesse."
"You may talk to teams and they have interest, but anything can go down tomorrow. I'm flattered to be drafted at all in the first place, let alone in the first round."
And so makes the top trio for college hockey at the Draft. Beyond that, it's a bit of a coin toss as to what might happen (according to one NHL general manager, there is a falloff this year after about the 10th pick).
Those who have the best chance of seeing first-round daylight are Notre Dame defenseman Wes O'Neill, incoming Minnesota freshman Blake Wheeler, and possibly even surprise goaltender Cory Schneider, who led the U.S. Under-18 team to a silver medal at April's World Championship in Belarus. Schneider, who played his prep hockey at Phillips Academy (Andover, Mass.), is headed to Boston College in the fall.
Saturday Specials
Saturday features the first three rounds of the Draft, followed by the final six rounds on Sunday. Obviously, every player would prefer to hear his name called on Saturday. Here is a compact look at collegians who might look forward to the answer of "which team" on Saturday:
Al Montoya, G, Michigan
A.J. Thelen, D, Michigan State
Drew Stafford, RW, North Dakota
Wes O'Neill, D, Notre Dame
Blake Wheeler, RW, Minnesota, incoming
Cory Schneider, G, Boston College, incoming
Grant Lewis, D, Dartmouth
Travis Zajac, C, North Dakota, incoming
David Booth, LW, Michigan State
Kris Chucko, LW, Minnesota, incoming
Shawn Weller, LW, Clarkson, incoming
Mike Lundin, D, Maine
Chris Bourque, C, Boston University, incoming
Casey Borer, D, St. Cloud State