Less than 24 hours after USCHO.com first reported that North Dakota head coach Dean Blais was headed to the NHL, the news is official.
The Columbus Blue Jackets announced Blais as their associate head coach under newly-appointed head coach Gerard Gallant Friday, one day before this year's NHL Entry Draft begins in Raleigh, N.C.
Blais had the best winning percentage among active head coaches in college hockey, with a 262-115-33 record in 11 years with the Sioux. He led North Dakota to two national championships (1997, 2000), making the NCAA tournament on seven occasions and the Frozen Four three times. Blais' Sioux won five WCHA regular-season titles and two postseason tournament championships.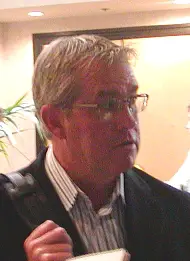 According to Columbus president and general manager Doug MacLean, landing Blais for this position was an incredible accomplishment.
"I'm absolutely thrilled to get him," said MacLean. "He's a great fit for Gerard [Gallant], a coach with limited head coaching experience.
"Dean's probably the most qualified coach outside the NHL. He's a winner, a national champion. I just think it's an unbelievably great acquisition for us."
According to MacLean, talks began with Blais two weeks ago, but the relationship goes back much further.
"We've had a relationship for a while," MacLean said, whose head scout in Columbus is former North Dakota assistant Don Boyd. "I interviewed him when I hired Dave King originally and we've maintained a relationship.
"I phoned him and asked him if he'd consider it a couple of weeks ago. He was interested and I think he really likes our group of young players. He just thinks it's a great fit for him."
With the move officially announced, now the question is what type of fallout this could have on the North Dakota program.
Sophomore-to-be Drew Stafford, who is also in Raleigh this weekend earmarked as a first-round draft choice, said that Blais' departure could have impact on whether he'll return to Grand Forks for his sophomore year.
"It's a surprise," said Stafford. "It definitely does change things a little for me.
"But we still have two good coaches [in Dave Hakstol and Brad Berry] and we'll have a competitive team that is capable of winning national championships, so we'll focus on playing well next year."
Though Stafford would've have liked to return under Blais, he understands that this is a major step for a coach he respects.
"[Blais] feels that's what is best for his career I wish him nothing but the best of luck," Stafford said. "The one year playing under him was great and I looked forward to playing for him next year, but if he feels this is right for him and his family, we wish him luck."
Check back with USCHO.com as this story continues to develop.