Seeing a professional hockey player swapping sweaters is no surprise in these days of free agency and big money contracts. In fact, it's almost expected for the average NHLer to make a move at the end of the season rather than return to his former club.
It's much less common for a collegiate player to follow a similar route. Transfers are more the exception than the rule, and most skaters will spend four years at a single school.
And that makes the NCAA career of Kurt Wright all the more unusual.
The 23-year old Wright is among the leading scorers on the Robert Morris roster this season, having recorded a team-best four goals and five points through the team's first nine games. That brought his goal and point totals for his NCAA career to eight and 11, respectively, as of November 18.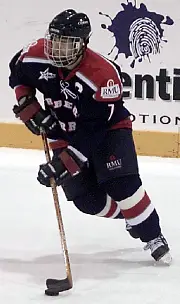 And while those numbers are hardly earth-shattering, they are the best career marks of any player to pull on a Colonials' uniform. You see, the junior forward is the most-experienced player on the least-experienced team in Division I, having spent time with two other schools prior to arriving at the Pittsburgh-area institution.
A native of Barnstable, Mass., Wright spent four seasons at Cushing Academy in the northern portion of the state. His 188 points (76-112) in 140 games helped to catch the eye of college recruiters and, after a year in the Alberta Junior Hockey League, Wright returned to New England to join New Hampshire.
But coming to one of the top teams in the nation is a double-edged sword. While UNH was terrorizing the country with 30 wins and a trip to the Frozen Four in 2001-02, Wright found himself sitting on the sidelines, redshirted behind the likes of Sean Collins, Steve Saviano, Colin Hemingway and Darren Haydar.
Wright's position didn't improve the following season, as he failed to crack the lineup once again.
"They had recruited a lot of guys at that point. I had a talk with [head coach] Dick Umile and said I wasn't going to be happy with being a third- or fourth-line guy, being a penalty killer going into my sophomore, junior, senior year," Wright recalled. "I wanted to have a larger impact."
The little fish in the big pond swam to Ohio, where he joined fledgling Findlay. After sitting out a year due to transfer restrictions, Wright finally saw his first game action with the Oilers on Dec. 12 of last year. But, just four games into his College Hockey America career, Wright and the rest of the team had the ice pulled out from underneath them.
The Oilers put on impressive showings against North Dakota (3-1 loss) and Brown (1-1 tie) at the Subway Holiday Tournament in Grand Forks, and dropped a hard-fought 1-0 decision to Notre Dame in early January. And while Wright failed to pick up any points during the road trip, he was finally getting a chance to show his stuff.
"I was in a good position. I was playing a lot and getting a lot of power-play time. That was the reason I had transferred. I felt like I had found a home," he said. We had a good coach and a lot of guys that really cared about the program. I thought we were on our way up."
But just three days after the defeat at the hands of the Fighting Irish, the Findlay program fell victim to budgetary constraints and the team's demise, effective at the end of the season, was announced.
To say that the decision to drop the program was devastating for Wright might be an understatement.
"I remember the day they told us about it. The athletic director came in and met with the women's and men's hockey teams, and I couldn't stay in the room. I had to get up and walk out," Wright said. "Because I had turned my life upside down for hockey, emotionally it was a real hard thing for me.
"Being there for a year and just waiting for a year to play, it was probably the longest year of my life. And then after my third or fourth game to come home to that, it was very disappointing. But I was really proud of the guys at Findlay, the way we finished out the year. I thought we had a lot of class."
Wright and the Oilers could have easily thrown their arms up and surrendered the season. But instead of lying down for the competition, Findlay finished up the year with a 7-7-2 record, which included impressive wins against Niagara (6-2 and 8-3) during the CHA regular season, and a 9-1 drubbing of Air Force in the league tournament.
"I think [head coach] Pat Ford did an unbelievable job of rallying the guys together. We said we're going to go out and show them," Wright stated. "We had a real good club and we were a resilient bunch of guys."
They were also a bunch of guys looking for homes. The final 15 games of the season were basically an open tryout for the Findlay players, as they showcased their skills for a plethora of visiting coaches. Derek Schooley was one of those keeping his eye on the team down the stretch, looking for experienced players for his first-year squad.
"Being a team of all freshmen, I wanted to get some veteran leadership, so I went in and watched Findlay practice, went in and watched them play a couple games," Schooley said. "Craig Barnett, the former coach at Findlay, was a friend of mine, and mentioned that we should look very hard at Kurt Wright.
"I expected Kurt to come in and work hard, play with a lot of energy, and kind of show our players how to be a Division I athlete. He's very mature for his age. He's seen a top 10 program and he's seen a program that was dropped. I wanted him to come in and show our guys about being a Division I athlete. I think he's done a good job of that. "
The decision to join the Colonials was an easy one for Wright.
"A couple of other schools I was talking to didn't have my major, so it would have taken me three years to graduate. I'm not the youngest guy in the league, so that was definitely a part of it," said Wright, noting Robert Morris' reputation as a top school in his field of finance . "I had two years of eligibility left, I wanted to play those two years out, get my degree and hopefully move on and play some pro hockey.
"The way I've always looked at it is the education and the hockey go hand in hand. If one ever goes, you have the other. That was a big reason. I had explored the option of just leaving and going to play pro and try to finish my degree at Findlay, but this was the perfect fit."
Along with the academics was the comfort level which he established with Schooley during the decision process.
"He was real honest. He said 'You're coming to a team where we don't have anybody on the power play, we don't have anybody on the penalty kill, and there's no one on our first, second or third line,'" Wright said. "I really liked what he had to say, and was really interested in building a program from the bottom up. He said that I was going to be a leader."
That's certainly turned out to be the case so far. Schooley instituted a rotating captaincy prior to the start of the season, with the players voting for the teammate they believe should lead them. Wright has twice been selected by his peers.
"The players respect Kurt and know he has been around. They kind of look at Kurt as an older brother," Schooley said.
Wright has accepted the responsibility with humility.
"That's a huge honor. I take it real seriously," he said. "We're blessed with some really good guys that listen, they love to be here and we have real good team chemistry. We're very open communication-wise with the captains and the coaches, we all work very well together. I'm taking joy in helping some of the younger guys get acclimated to Division I college hockey.
"Starting at New Hampshire when I was there, we had guys like Darren Haydar and Colin Hemingway. I got a taste of success really quickly — we were in the Final Four and we went to Minnesota. I got a taste of it pretty quickly. Then when I transferred to Findlay, I kind of went from the top to maybe more down to the bottom tier of Division I.
"So I've seen both spectrums, and I think it's helped me out in being a leader on this team."