In the wake of the Miracle on Ice's 25th anniversary last month, fans of the Mercyhurst Lakers are hoping for something like a repeat.
The Atlantic Hockey champion Lakers take on the top overall seed in the NCAA tournament, Boston College, in the first game of the East Regional — and the national tournament as a whole — Friday. It goes without saying that the Eagles are the overwhelming favorite, but lest anyone forget, Mercyhurst is the team that put a scare into Michigan back in 2002, leading in the third period of a regional semifinal before falling 3-2.
Hoping to help the Eagles avoid a worse fate this weekend will be the return of some injured members, including Hockey East Player of the Year Patrick Eaves, and the goaltending of newly-minted go-to goaltender Cory Schneider, who BC fans will hope can handle the pressure as a freshman.
As one-sided as the BC-Mercyhurst matchup looks, the other semifinal is pretty much a coin toss. Boston University, the eighth-place finisher in Hockey East a season ago, completed its return to the spotlight despite a disappointing loss in the league semifinals last weekend.
The Terriers will face North Dakota, which enters the NCAA tournament on the heels of a spirited performance in the WCHA Final Five, beating Minnesota in the third-place game after battling through the trauma of Robbie Bina's neck injury against Denver the day before.
Should Boston College top Mercyhurst as expected, either potential regional final carries intrigue. It goes without saying that a BC-BU contest in Massachusetts for the right to go to the Frozen Four would pique fans' interest, while a North Dakota semifinal win would set up a rematch of the 2001 NCAA championship game, won by the Eagles for their first national championship in a half-century.
Boston College vs. Mercyhurst
Friday, 4:30 p.m. ET, Centrum Centre, Worcester, Mass.
Boston College Eagles
Record: 25-6-7, 14-3-7 Hockey East (1st)
Vs. 2005 NCAA tournament teams: 11-3-3 (.735)
Seed: No. 1 overall, No. 1 East
How in: Hockey East tournament champion
2004 NCAA tournament: Lost in national semifinal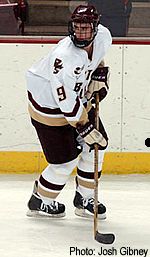 Any coach will tell you that there's a lot of glitz and glamour that goes along with having a job in athletics. But for every moment where you may feel famous, there's an equal, if not tougher, moment during which you're faced with a difficult decision.
Boston College's Jerry York has recently experienced the latter.
Heading into last weekend's Hockey East championship, York turned to rookie goaltender Cory Schneider. Schneider had recently returned from a knee injury but was back to 100 percent and ready for action.
In choosing Schneider, though, York realized that unless the rookie was unable to perform well, it likely would mean the end of a career for senior netminder Matti Kaltiainen, who has carried the Eagles for three-plus seasons but has not shown the incredible consistency that Schneider has this season.
That is a decision that no coach wants to make.
"Matti and Cory have emerged as two of the leading goaltenders not only in our league but in the nation," said York, the winningest active college hockey coach, making his seventh NCAA appearance with the Eagles and his 12th overall. "That being said, we felt we needed to pick one goaltender to play in the nationals.
"It was a hard decision, but it was a win-win situation. Whomever we picked we knew we were getting a great goaltender, similar to what [coach Bill] Belichick had with the Patriots a few years ago."
York is hoping that his decision to go with Schneider can help the Eagles follow in the Pats' footsteps, which culminated that season as well as twice since then with Super Bowl championships. To do that, though, the Eagles will first have to go through Atlantic Hockey champion Mercyhurst, a team that York and his coaching staff know little about.
"We have really had to scurry around get tape to look at their club," York said. "We've done our homework and what it has revealed is that [Mercyhurst] has a team that is very quick."
York said what concerns him most is that the Lakers are in the middle of an eight-game winning streak, and that Mercyhurst's non-league results, though not showing much success, did display competitiveness.
"If you look closely at their schedule, with one-goal losses at New Hampshire, Wisconsin and Colgate, they have established that they can play with NCAA [tournament]-caliber teams."
York can take solace, though, in his own team. After winning last weekend's tournament shorthanded due to illness and injury, the Eagles will return two of their top forwards to the lineup in Patrick Eaves, who was suffering from bruised lungs, and Stephen Gionta, who suffered a shoulder injury in last weekend's semifinals.
Still missing will be junior defenseman Peter Harrold, with acute mononucleosis.
One thing that excites York is simply the venue in which he plays. The Eagles have good memories of playing the regional tournament in Worcester, having won there in 2001 on their way to the national championship.
"Worcester is special, just because of 2001, our path to Albany and the national title, we played a very strong Maine team here," said York. "Back then there were byes, you could win one game and go from there, so it is more difficult now that you have to win two games."
That difficulty begins Friday against Mercyhurst, but many pundits feel that this could be the year for the Eagles to return to national glory.
"It's an exciting time for all of us," said York. "The kids are all upbeat and have smiles on their faces.
"In September it seems like a long time away."
Mercyhurst Lakers
Record: 18-15-4, 14-7-3 Atlantic Hockey (t-second)
Vs. 2005 NCAA tournament teams: 0-5-0 (.000)
Seed: No. 16 overall, No. 4 East
How in: Atlantic Hockey tournament champion
2004 NCAA tournament: none
For Mercyhurst, a team that is making its third NCAA appearance in five years, familiarity is good. Very good.
"It's something that never gets old," said head coach Rick Gotkin. "And frankly the way our year was going here it's a little bit surprising to be here in the first place."
If you talked to Gotkin in late January or early February, the thought of qualifying for an NCAA tournament was almost nonexistent. Still, the coach, in his 17th year behind the Mercyhurst bench, recognized that his team had potential.
"We were playing pretty good in most of those games and just couldn't seem to get on the right side of the win column," said Gotkin, whose Lakers are 6-10 in one-goal games — but after a two-game series at Quinnipiac in the first week of February, they were 1-9.
That weekend became the turning point in the Lakers' season. Mercyhurst lost, 4-3 and 7-2, to the Bobcats, and with some time to spare, did some soul-searching.
"It was a series we'd flown in for so we had all of Saturday night at the hotel," said Gotkin. "All of the coaches got together and sat and talked for about three hours in the hotel and just sat around trying to figure out what's wrong.
"I think the thing that jumped out at me more than anything was how calm the captains were and how much they believed in what we're doing and where the team was."
The following Monday, back in Erie, Pa., the captains held a players-only meeting to talk things over.
"I don't know what was said to the team at that time," said Gotkin of the closed-door meeting. "They just told me it was very productive."
It must have been of evangelistic quality. From that point, Mercyhurst is 10-1-0 and enters this weekend with the nation's third-longest winning streak, eight games.
"If you want to give credit to anyone you have to give it to the players," Gotkin said.
The Lakers will face the tournament's number-one overall seed, Boston College, in the opening round. It'll be the first time the Lakers and Eagles have ever played, and Gotkin, similar to BC head coach Jerry York, hasn't had too much time to prepare.
"We haven't learned anything new about BC but what we know about them is they're a heck of a hockey program," Gotkin said. "Obviously the kind of year they had this year and the tradition that they have, we know that they have a great team."
Gotkin, enjoying the experience, jokingly admitted that BC has a slight edge.
"We know we enter this game a slight underdog," said Gotkin, holding back a laugh. "We're going to have to play pretty close to perfect hockey to have a chance.
"We've had a chance to watch a little videotape on BC. But for us, I'm not sure if we can change at this point. We just have to play our game."
Gotkin and his club believe that if they can play within their system, things could go their way.
"The beauty of this tournament, and we've gotten to see it in basketball, in these one-game scenarios really anything can happen," said Gotkin. "I'm sure BC talks about that with their players and I have no doubt we'll have our hands full."
North Dakota vs. Boston University
Friday, 8 p.m. ET, Centrum Centre, Worcester, Mass.
North Dakota Fighting Sioux
Record: 22-14-5, 13-12-3 WCHA (fifth)
Vs. 2005 NCAA tournament teams: 7-10-1 (.417)
Seed: No. 7 overall, No. 2 East
How in: At-large
2004 NCAA tournament: Lost in regional final
North Dakota got the good and the bad all together last weekend.
The Sioux showed they could persevere in a tough situation, something that will come in handy during the NCAA tournament. They played three games in three days and saved their best for last in a third-place victory over Minnesota.
In their ninth regulation period of the weekend, they outshot the Gophers 12-5 and outscored them 2-0 to take the game.
"We found a way to win," UND coach Dave Hakstol said, "and that's a great statement."
But North Dakota also endured some significant negatives at the WCHA Final Five. Last Friday, just seconds after losing Brady Murray with a shoulder injury that will keep him out of this weekend's games, Sioux forward/defenseman Robbie Bina suffered a neck injury when he was checked from behind by Denver's Geoff Paukovich.
Bina had a vertebra removed and also had two others fused in surgery Monday. The Sioux players went to see him at Regions Hospital in St. Paul before last Saturday's game, an emotional experience, to be sure.
Also a motivational one.
"It makes you push a little harder when your legs are running dry," Sioux captain Matt Greene said.
Playing for Bina, which the Sioux did against Minnesota, might be something that can unify and carry them through the NCAA tournament.
And it doesn't hurt that North Dakota is going into the national playoffs on a good note and with good goaltending to boot. The Sioux have lost only once in their last nine games, that coming against Denver in last Friday's WCHA semifinals. They're getting offensive contributions from a number of sources, which should be a benefit, especially with Murray out of the lineup again.
Sophomore goaltender Jordan Parise has stepped up and taken over the starting spot with an eight-game unbeaten streak going into the NCAA tournament. In that span, he has a 1.47 goals against average and a .943 save percentage.
Parise's efforts have started to become a secondary story with the Sioux. "When you get those type of performances, you start to expect them," Hakstol said.
If you can expect them, you probably have a decent shot in the NCAA tournament.
Boston University Terriers
Record: 23-13-4, 15-5-4 Hockey East (t-second)
Vs. 2005 NCAA tournament teams: 5-10-2 (.353)
Seed: No. 12 overall, No. 3 East
How in: At-large
2003 NCAA tournament: none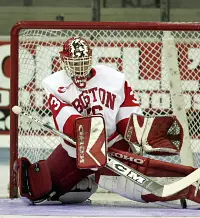 One year after barely qualifying for the Hockey East quarterfinals, Boston University ascended the standings nicely this season, finishing just one point behind Boston College. The emergence of walk-on goalie John Curry as the starter, along with a freshman class of quality and quantity were keys, along with the development of the top line of David Van der Gulik, Brad Zancanaro, and John Laliberte.
That said, the Terriers go into their matchup with North Dakota on a down note. It wasn't just that they lost to a good team in New Hampshire; they looked slow and uninspired. BU coach Jack Parker acknowledged that the coaching staff erred on letting the squad watch the interminable first semifinal between Boston College and Maine.
"We were interested in that other game too much instead of getting ready for our game," Parker said. "We won't make that mistake again. Usually you don't go to double overtime. It caused us a problem, and it was a bad mistake on our part letting them watch the game on TV while the game was going on. So BC will not be on our mind [during BC's game on Friday afternoon]; the only game on our mind will be North Dakota."
After practice on Wednesday, Parker had reason to feel better. "We've had three real good days of practice," Parker said, shortly after his team completed practice at Walter Brown Arena in anticipation of the smaller ice surface in Worcester.
"It was a real lack of mental preparation for that last game. We've had some tough games, but that was the worst game we played, and it was the most important game in a tournament like that. But every time we've had a game like that, we've turned around and come back real hard, so I'm expecting us to play hard on Friday night."
When the matchup with the Fighting Sioux was announced on ESPN2 Sunday, Parker admitted that he knew little about his opponent. By the end of practice Wednesday, though, the coach clearly had done some prepping for this hockey exam.
"I know a lot about them now," Parker said. "They're a real physical team, real big on defense, so it's tough to get to their net. So we're going to have to work real hard on getting the forecheck and controlling the puck down low.
"I also think that they're a terrific team on the power play. They don't score a lot of goals five-on-five, not quite in big numbers, but not only do they get power-play goals, they look great doing it. They have great composure and move the puck around real well, so staying out of the box is real important and killing penalties will be too, as we will get some."
Fans unfamiliar with the Terriers will be intrigued by their top line. Centerman Zancanaro is a fan favorite, a diminutive 5-foot-5 sparkplug who plays with great energy and can pass and shoot. Winger Van der Gulik is the team's best sniper, leading the team with 18 goals. Zancanaro and Van der Gulik also see considerable time on the penalty kill. John Laliberte is a power forward that Massachusetts-Lowell coach Blaise MacDonald has likened to Keith Tkachuk.
Freshmen Peter MacArthur and Chris Bourque have made a big splash this season and have been linemates for much of it. MacArthur has a quick-release shot and the ability to take his speed up a gear to make things happen. Bourque is a small but physical player with strong playmaking and shooting skills. Together they can make things happen in a hurry.
The Terrier defenseman — especially Bryan Miller, who has played a good amount of forward over his four-year career — like to get active on offense and can cause problems for opposing teams when they do. As for Curry, the sophomore netminder has played well in big games, seemingly relishing the challenges.
A key for the Terriers will be the play of Curry, especially early. In the team's biggest wins this year against Minnesota and BC, the typical pattern has been Curry making some great saves early, holding the team in it until the offense gets on track.
After a flu bug slowed several players during the quarterfinal series, freshman forward Ryan Weston is the only question mark health-wise for this weekend. He has "a little bit of a wrist problem — we'll see if he can play or not," Parker said.
If he can't, Eric Thomassian will replace him on the line with MacArthur and Bourque. The coaches also have yet to determine whether Kevin Kielt or Tom Morrow will be in the lineup on defense.
With North Dakota ranked 11th in the nation — just ahead of BU in 13th — it would be a surprise if this one is a blowout either way. At their best, when they're playing with emotion, the Terriers are capable of beating any team in the nation with goaltending, team defense, physical play, and forechecking. With a string of good efforts they could go far in this tournament. They also could be gone by midnight on Friday.