The North Dakota Fighting Sioux have endured a season that began with defections to the NHL and was followed by a plague of injuries, bad breaks and bad bounces.
As difficult as the season has been, nobody was prepared for what happened last Friday during the WCHA Final Five in St. Paul.
UND's players and coaches watched helplessly as sophomore defenseman Robbie Bina was carried off the ice, immobilized and on a stretcher at the Xcel Energy Center during a playoff game against Denver.
Later, they learned that Bina had a broken neck as a result of a check from behind by Pioneers freshman Geoff Paukovich. On Monday, Bina underwent surgery to repair a shattered vertebra and is expected to fully recover.
The game became a moment of truth in what had already been a long, difficult season for first-year head coach Dave Hakstol and his players.
"When you see something like that happen, the only person on the bench who can say something is Coach Hakstol," said senior forward James Massen. "He kept us from going out there and either packing it in or making it an ugly game.
"His maturity as a coach is why we have him back there and why we want him back there. He made us play through that game and come back for the Minnesota game and play just as hard.
"We're used to it now," Massen said. "We're used to having a couple of guys banged up and going back to it. It's been our trademark this year."
Under the circumstances, many teams might be tempted to cut their losses and limp into the offseason for some rest and recuperation. Instead, the Fighting Sioux are thinking about a potential eighth national championship, focusing on their NCAA tournament game Friday against Boston University in Worcester, Mass.
"I feel more comfortable about this team's chances in the playoffs than I have since I've been here," said senior forward Brian Canady, whose play on the team's fourth line has given the Sioux postseason momentum.
It's a bold statement, considering that last year's Sioux team went 30-8-3, won the WCHA regular-season championship and featured two high-scoring Hobey Baker candidates, forwards Zach Parise and Brandon Bochenski. This season, UND finished fifth in the WCHA with a 13-12-3 record (22-14-5 overall).
"We were pretty loaded last year with Brandon and Zach," Canady says. "But we really weren't clicking as a team as we are now, offensively and defensively. We have a lot of confidence going into this weekend."
Andy Schneider, senior defenseman and assistant captain, believes the team is better because of its season-long hardship.
"It's made us closer, and maybe all that stuff has happened for a reason. Maybe there's a bigger picture," he said. "I think we have plenty of guys who are capable of stepping up. We've stared adversity in the face all year. It's made us closer as a team and stronger as individuals. Going into the playoffs, we're on the roll that we want to be on."
This season's saga extends back to March 27, 2004, the day Denver upset the top-ranked Sioux 1-0 in the NCAA playoffs. A few days later, Parise, a sophomore and number-one NHL draft choice, was on his way east to join the New Jersey Devils.
In June, head coach Dean Blais announced that he was resigning to take an associate head coach position with the NHL's Columbus Blue Jackets. During his 10 years at UND, Blais won two national championships and five WCHA titles. Hakstol, a 36-year-old Sioux associate head coach, was named Blais' successor in July.
A month before the 2004-2005 season began, Bochenski announced that he would turn pro and signed a contract with the Ottawa Senators. Despite those losses, UND was picked to finish second in the WCHA in a poll of the league's coaches.
After beginning the season 4-0-1, it appeared that the transition from the Blais era to the Hakstol era would be seamless. But as the season wore on, the Sioux found that it wasn't that easy. Massen noted that it took time for players to learn that this team was different from the Blais-coached teams of the past.
"Our team had to find its own identity this year," he said. "It's knowing that we have to win tight games because we're not going to score six goals a game. That was the main thing about our adjustment period, the realization of what kind of team we are, who we are and how we're going to have to play to win games."
And then there were the injuries. Different players were in and out of the lineup nearly every week.
"I've played on teams where we've had guy go down with an injury for maybe two weeks," Schneider said. "But with the rash of injuries and all the changes this year, I've never seen anything like it."
Besides Bina, the Sioux have lost two other players for the season. One is Brady Murray, last year's WCHA rookie of the year. The other is freshman wing Rylan Kaip, who played regularly on the third line before being diagnosed with post-concussion syndrome at mid-season.
"We have three injuries right now where guys can't play, but we also have many guys who are wrapping things up, icing up or doing therapy on a daily basis just so they can stay in the lineup," said team captain Matt Greene, whose elbow is swollen and looks like a roadmap from the number stitches it's received.
Not all the team's troubles have occurred on the ice. Greene was arrested for driving while intoxicated in Warroad, Minn., which led to a two-game suspension. Backup goalie Jake Brandt broke his collarbone in a snowmobile accident. In early February, Hakstol's father died following a long battle with cancer.
"We've been through a lot of ups and downs throughout the year, and I think it's made us mentally tough," said associate head coach Brad Berry. "There's nothing that really upsets us or gets us down right now."
"I think when you start feeling sorry for yourself, you're not dealing with that adversity in the proper fashion," said assistant coach Cary Eades. "We have met that challenge and have grown because of it."
From Jan. 8 to Feb. 19, UND went through a nine-game stretch in which it was 2-6-1, averaging 2.44 goals per game and giving up an average of three goals per game. The Sioux were dropping in the PairWise ranking and in danger of losing home ice for the WCHA playoffs.
But since their Feb. 26-27 series against Wisconsin, the Sioux have gone 6-1-2. The only loss was in overtime to number-one ranked Denver at the Final Five. During this stretch, UND's goals-for average improved to 3.44 while its goals-against average fell to 1.55.
Among the reasons for the turnaround is the play of sophomore goalie Jordan Parise who's riding a nine-game unbeaten streak. Another reason is offensive production from the third and fourth lines and the defensemen.
Hakstol believes leadership from the team's nine seniors is another contributing factor.
"Some our seniors are at the top of our scoring and some are role players," he said. "Everyone has accepted whatever role they have and are playing that role. We'll go as far as our upperclassmen will take us. They've done their roles and they're the reason for our success."
That the team has dealt so well with the adversity it's faced doesn't surprise Hakstol.
"Every season is different. There are things that happen that you can't predict. But as a team, you have to deal with whatever comes," he said. "We felt right from the beginning of the season that we had real good character in the locker room. When you start with that as a base, you have some chance for success."
The real test of UND's character came at the Final Five. As the fifth-seeded team, the Sioux played and beat the fourth-seeded Badgers in a Thursday night play-in game.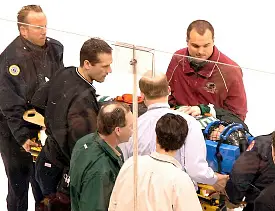 Friday afternoon, the Sioux took on the top-seeded Pioneers. The game was tied 1-1 when Paukovich's hit knocked Bina out of the game and sent him to the hospital.
"In your mind, when it happens, you're thinking that, hopefully, he's all right," said senior forward Rory McMahon. "You get a lot of anger inside, obviously. Everybody on the bench was thinking 'Let's get this guy,' but you can't. "
"We had too many injuries," Canady said. "We were already short-benched."
"You just can't stoop to that level," McMahon added.
It fell to Hakstol to keep the situation under control and his team focused.
"It comes back to the players," he said. "They have a job to do. Their job is to play and win a hockey game. There's nothing at that particular time they could do to help Robbie, other than go out and win the game for him.
"On a scale on what Robbie was dealing with injury-wise, a game is of small consequence. But it was the one thing our guys could try to control."
The Sioux gave the Pioneers all they could handle through regulation, but Gabe Gauthier's goal 42 seconds into overtime gave Denver the 2-1 victory. The next day, UND played the Gophers for third place in what some considered a meaningless game.
"It was a tough weekend with Prpich going down, Brady getting hurt and then the incident with Robbie," Massen said. "It was our third game in two and a half days, and everybody thinks they're tired. In your mind, you're tired."
Behind 2-1 halfway through the second period, the Sioux played uninspired. Then freshman Rastislav "Sparky" Spirko scored a highlight-reel shorthanded goal. Suddenly it was a different game.
"Once Sparky made that play and tied it up 2-2, it was like, 'Guys, we're here, so why don't we go out and win this thing?'" Massen said.
UND scored two more goals to defeat Minnesota 4-2 and capture third place in the Final Five. The win moved the Sioux up in the PairWise rankings and into a number-two seed in the NCAA East Regional.
"There's never a game that doesn't count," McMahon said. "We're coached that way. Every game counts. Every shift counts. People can say that Saturday game didn't mean anything, but it did. We were playing for a number-two seed."
Like most on the team, freshman Travis Zajac is philosophical about the trials and tribulations the Sioux have faced.
"You go through adversity throughout the season. It happens with every team," he said. "Ours just seems to happen more often. That's just going to bring us closer together and help us in the end."