There's a lot to like Colorado College's chances in the Midwest Regional.
The top-seeded Tigers feature the WCHA Player of the Year (Marty Sertich), the league's Defensive Player of the Year (captain Mark Stuart), and a total of three first-team all-conference picks (Sertich, linemate Brett Sterling and goaltender Curtis McElhinney). And there's plenty more where that came from on the Tigers' roster.
That's the task facing Colgate, which got into the NCAA tournament by winning last weekend's truest do-or-die game, the ECACHL's third-place contest, where a win over Vermont put the Raiders in the national field. Colgate's appearance this year is a contrast from last season's NCAA fortunes, when the Raiders were left out of the field of 16 despite the ECACHL regular-season championship.
Friday's other game features familiar opponents in Michigan and Wisconsin. For the Wolverines, making their 15th straight NCAA appearance, it's same old, same old after CCHA regular-season and tournament championships. And the Wolverines will almost certainly have the crowd on their side, just a couple of hours away from home in Grand Rapids, Mich.
Michigan's semifinal opponent, Wisconsin, doesn't have as much to cheer about entering the NCAAs. The Badgers endured a brutal stretch run against the WCHA's top teams, then bowed out in the play-in game at the Final Five against North Dakota, leaving Badger fans holding their breath until a lack of upsets in other conference tournaments sent Wisconsin into the field of 16.
But before you mark down Michigan's spot in the regional final, consider this: the teams have already met this season, as they always do in the College Hockey Showcase. The result? A 3-1 Badger victory.
Colorado College vs. Colgate
Friday, 5 p.m. ET, Van Andel Arena, Grand Rapids, Mich.
Colorado College Tigers
Record: 29-8-3, 19-7-2 WCHA (t-first)
Vs. 2005 NCAA tournament teams: 11-6-1 (.639)
Seed: No. 3 overall, No. 1 Midwest
How in: At-large
2004 NCAA tournament: none
There are plenty of reasons to be in a state of anticipation when it comes to the NCAA tournament. Colorado College has one more.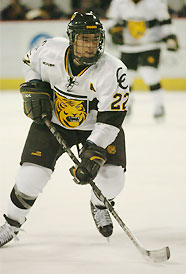 The performance with which they'll enter the NCAAs left a bad taste in their mouths. A 1-0 loss to Denver in the WCHA Final Five championship game last Saturday was the second time in 15 days the Tigers, who feature the top two scorers in the nation, had been shut out, both times by the Pioneers.
Worse yet, while they were trying to rally in the third period, they got only three shots on goal.
"That's definitely not a good stat," Tigers forward Marty Sertich said. "We needed to be more desperate."
And they'll need to be more desperate in the Midwest Regional, starting with a first-round game against Colgate. In CC's last eight games against NCAA tournament teams, they have an average of just 1.5 goals scored per game.
That comes from the team that features 61-point scorers in Sertich, the WCHA Player of the Year, and Sterling, the Final Five MVP in a losing cause. It isn't exactly an offensive crisis with the Tigers because they have to potential to break out and score goals in bunches, but the recent trend has to be concerning for the CC coaches.
The game against Denver may have been a motivator. "Our guys don't feel like they left it all on the ice," CC coach Scott Owens said.
Said CC captain Mark Stuart: "We need to play better than we did. We're looking forward to [the NCAA] tournament."
But don't let that fool you into thinking all was lost from the Final Five. The Tigers got two notices out of the pair of games: their defense is in order and goaltender Curtis McElhinney can play on consecutive nights and be effective.
"There's some good, positive things," Owens said.
McElhinney had split time with Matt Zaba for most of the season, but made his first back-to-back starts since Dec. 3-4, 2004, at the Final Five. He allowed three pucks past him, but only one counted because of video review.
That leaves McElhinney, who has a 19-3-1 record, a 1.93 goals against average and a .934 save percentage, in line to be the go-to goalie this weekend.
Colgate Raiders
Record: 25-10-3, 14-5-3 ECACHL (third)
Vs. 2005 NCAA tournament teams: 4-2-1 (.643)
Seed: No. 14 overall, No. 4 Midwest
How in: At-large
2004 NCAA tournament: none
The last two years have been far from typical for Colgate. Just before the start of the 2003-04 campaign, longtime head coach Don Vaughan stepped up into an interim athletic director's role, leaving experienced associate head coach Stan Moore to take over behind the bench. The result was a 22-win season and a regular-season title.
This year, Vaughan and Moore each returned to their previous roles and the team was forced to adjust again. Luckily for Colgate, this is a veteran team with excellent leadership. They didn't miss a beat. The Raiders have won 25 games to date and earned their first NCAA tournament bid since 2000. It's also the program's first-ever back-to-back 20-win seasons.
"It means quite a bit for our program," said Vaughan. "With the inclusion of scholarships (last year), we're trying to be more consistent. Stan, [assistants] Andrew Dickson and Shep Harder did a great job last year. I had nothing to do with that; I was on the sidelines."
Vaughan has had a much better view of Colgate's success this season.
It's a campaign in which a nine-member senior class has been the team's cornerstone — from Steve Silverthorn in goal to rock-solid blueliners Joey Mormina, Justin Spencer and Eamon DelGiacco to tri-captains Adam Mitchell, Darryl McKinnon and Dave Thomas. Forwards Anthony Masotto and Dmitry Yashin have also played important roles.
"Leadership is a big part of what we've done all year," said Vaughan.
That was never more evident than in last weekend's ECACHL final four, where the Raiders lost a grueling double-overtime semifinal to Harvard on Friday only to bounce back with one of its most inspired games the next day to secure the at-large bid with a win over Vermont.
"They came through last weekend," Vaughan said about his seniors. "It was a tough loss Friday. Then we played the most important game of the season on Saturday. They took control of the team.
"Mormina was unbelievable. I'll never forget it. He refused to let the [Friday] game end. After scoring to tie it once, they came down and took the lead and he did the same thing again. It was an unbelievable effort. He really stepped up.
"I don't even want to know how many minutes he played Friday."
Given the difficulty of the loss, which included late-game line-juggling by Vaughan because players were cramping up all over his bench, the coach deserves credit for getting his team ready for a challenge the next day.
"We were disappointed to lose," said the bench boss, "and pretty emotionally drained. I let the guys sit with that."
And then Vaughan reached into his motivation toolbox.
"I found out that if we won [Saturday] we'd probably be in [the NCAA tournament]. I took a bit of a risk saying that because you never know what the committee will decide, but I told them we needed to win to get in. It was something else to look forward to.
"I knew I could prepare them emotionally, but I wasn't sure physically."
The players took care of that, never showing fatigue as Mormina scored the game-winner and Silverthorn made 34 saves against UVM.
"It was one of the most memorable games ever during my coaching career at Colgate," acknowledged Vaughan. "It worked, we're in."
Silverthorn's performance went a bit unheralded, but he had one of the better weekends, making critical saves at big moments.
"He's done it all year," explained the coach. "That's who we are. We play under the radar screen … maybe some of it is where we're located.
"But it's all about Steve. We've come to make it a part of our game."
The seniors will need to step up again this weekend, as will rookie Tyler Burton, who leads the club with 19 goals and 34 points.
"We feel good," said Vaughan. "We're healthy and excited to be one of only 16 teams left. We feel we deserve it."
The Raiders proved throughout the year that this is exactly where they belong this weekend, but they'll have their hands full against Colorado College, which comes as no surprise to Colgate's coach.
"We knew that," said Vaughan. "We're not going to play any easy teams now. I watched them on tape this week; they are a very dangerous team. They are explosive offensively and skate really well.
"We're going to need to be on top of our game. We'll try to counter them and be patient … take our chances as they come."
The Tigers lead the all-time series against the Raiders, 3-2-1, but Colgate won the last meeting, 3-0, on October 23, 1999.
Michigan vs. Wisconsin
Friday, 8:30 p.m. ET, Van Andel Arena, Grand Rapids, Mich.
Michigan Wolverines
Record: 30-7-3, 23-3-2 CCHA (first)
Vs. 2005 NCAA tournament teams: 3-3-1 (.500)
Seed: No. 6 overall, No. 2 Midwest
How in: CCHA tournament champion
2004 NCAA tournament: Lost in regional final
Fresh off their third CCHA Super Six championship in four years, the Michigan Wolverines (30-7-2) are making their 15th consecutive appearance in the NCAA tournament as a No. 2 seed in Grand Rapids, a mere 132 miles from Yost Arena.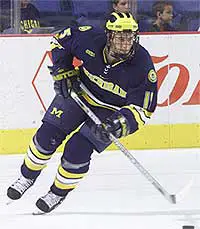 Head coach Red Berenson understands that this is an advantage.
"I think it's the purpose of regionals, really, is to have regional teams there so that their fans can go to the games. The implications of travel for teams and fans are easier if you can go on a bus two hours down the road.
"The convenience of it is good, and it's convenient for our fans. Obviously, we have to show up and play well."
Given the dominance of the Wolverines in the CCHA for the last 15 seasons, there's no doubt that Berenson and Michigan's 10-member senior class will prepare the Wolverines to do plenty beyond showing up.
This has been an interesting season for the 30-win Wolverines. Late in the campaign, Michigan solidified its hold on first place in the CCHA with a win against second-place Ohio State in Columbus, and from that point on there was no question that the Wolverines would earn the regular-season title.
When it came to the CCHA championship game, a rematch against 2004 Mason Cup winner Ohio State, the Wolverines were so overpowering in the first 10 minutes that the Buckeyes could scarcely catch their collective breath. The game turned out to be a 4-2 decision with an empty-net goal, one in which Michigan's big players stepped up, including senior Milan Gajic and junior Jeff Tambellini.
And struggling goaltender Al Montoya played a highlight-reel game, the only gaffe a loose puck that found its way into the net — luckily for Michigan, after the referee had blown the whistle.
Because of the two wins in the Super Six, Michigan enters the Midwest Regional "on a bit of a roll," said Berenson, who added that the level of play in the title game prepared the Wolverines for NCAA action.
"Every team that went down to Joe Louis really wanted to win that tournament for obvious reasons. I think playing in a game like that game helped us. I think just playing at a higher level, against a tough opponent like Ohio State, is a big help.
"Number one, our power play was a factor in the game against a good penalty-killing unit. I thought we scored timely goals, whether you can call them lucky, but both Gajic's goals were big goals from a big player.
"Our penalty killing did a pretty good job against what I consider the best power play in the league."
Beyond preparation, the Wolverines are loaded with talent, with more 10-goal scorers than any other team in the CCHA — eight — have a solid defense, and a goaltender who can rise to the challenge, even if his statistics are less than stellar.
Montoya (2.52 GAA, .895 SV%) is the only tournament starting goalie with a save percentage below .900, but according to Berenson, "The only statistic that counts is his number of wins." Montoya has 29 of those.
The Wolverines have shown that they are capable of overcoming defensive lapses with one of the most high-powered offenses in the country. T.J. Hensick (22-30–52), one of the most creative forwards in the CCHA, leads Michigan in scoring. He's fast and skilled with the puck; watch for his signature move of circling the zone with the puck to set up his own scoring opportunity.
Jeff Tambellini (21-31–52) had a slumpy sophomore season but is back in full force this year, making something out of nothing every chance he can, as Ohio State found out last week when he bounced the game-winning goal off Buckeye Jason DeSantis' chest.
Freshman Chad Kolarik (18-16–34) has 11 power-play goals, and the Wolverine PP is sixth in the NCAA, converting at 22.6 percent.
There are a host of other Wolverines worth mentioning, including senior defenseman Eric Werner (8-21–29) and senior forward David Moss (10-19–29), who has been out with an injury but is expected to play this weekend.
With four goals and four assists, senior captain Eric Nystrom (12-19–31) leads all Wolverines in NCAA scoring, and is one of the best two-way forwards in the nation.
Berenson said that he sees Wisconsin "as similar to Ohio State. Their penalty killing is number-one in their league, and they score a lot of goals.
"They're a physical team, a blue-collar team, and [freshman] Joe Pavelski is a great player. They've got their share of high-end players. They've had a tough [year]. When you look at their record, they're better than their record. They've had a bear of a schedule."
The Wolverines are riding a 10-game win streak and are 6-2-1 at neutral sites this season. They average 4.28 goals per game, tops in the nation.
They've also won at least one game in the NCAA tournament in each of the last 10 years, and captured the national title under Berenson in 1996 and 1998.
Even with all that league and NCAA success, Berenson knows that anything can happen in Grand Rapids, especially since Wisconsin beat Michigan 3-1 when they last met, in the College Hockey Showcase Nov. 27, 2004, in Madison.
"When you look at Colorado [College], they're probably the best team in the West," said Berenson. "They've got everything. We'll see. We hope we get a chance to play them, but right now we're focusing on Wisconsin."
Wisconsin Badgers
Record: 23-13-4, 16-9-3 WCHA (t-third)
Vs. 2005 NCAA tournament teams: 8-8-2 (.500)
Seed: No. 11 overall, No. 3 Midwest
How in: At-large
2004 NCAA tournament: Lost in regional final
The cold, hard facts are tough for Wisconsin to avoid. The Badgers won just four of their last 14 games before the NCAA tournament, playing a tough schedule that put them through a series of tournament-esque challenges.
They could have just packed it in, if not for the fact that they've been so close in most of those games that they have a belief that they can compete with, and beat, anybody.
The Badgers' last seven games all have been decided by one goal — if they were decided at all — and that streak is a program record.
"We've had so many lessons that we've learned down the road these last five, six, seven weeks in these close, one-goal games," Wisconsin captain Adam Burish said. "If you take all those lessons we've learned and if we have been filing them away and storing them, we can use all this stuff at the end of the year here. We've been in these situations, we've been in these tight games, we've been in these rowdy environments. When you put that all together, you can do something special."
To do that something, the Badgers will have to start getting production out of their offense, starting with a first-round game against Michigan.
Since a 5-1 victory over Colorado College on Feb. 18, Wisconsin is averaging just 2.11 goals per game of offense.
"The results haven't been there, but the fact is we've outchanced our opponents," Badgers coach Mike Eaves said. "The biggest thing is we haven't put the puck in the net. So you have to go on the fact that we're doing things well when we don't have the puck.
"We've done a lot of good things, and I think the players understand that when you're on the inside out, [we're] disappointed in the outcome, [we're] disappointed that we didn't put the puck in the net, but there are other things we did well that indicate that we're OK."
Wisconsin will have to get a good performance out of its defense and senior goaltender Bernd Brückler to advance past the Wolverines. But that's not out of the question — the Badgers defeated Michigan 3-1 both this season and last season.
Brückler appears to be close to, or all the way back to, form after being pulled from a start for the first time in his career in Game 1 of a WCHA first-round series against Alaska-Anchorage. He said he's ready for what Michigan's potent offense will throw at him.
"As a goaltender, obviously, you know what's coming then," Brückler said. "If you know you have a high-powered offense coming against you, you just have to really be on top of your game, always be ready for a shot, prepare early."
Wisconsin isn't apologetic about getting into the tournament despite its late-season swoon. It just gives the Badgers a little bit more to prove, and playing in front of what should be a pro-Michigan crowd in Grand Rapids is as good an opportunity as any,
"I think it fuels the guys to play in front of a crowd that you know is going to be against you," Brückler said. "You know you have to come out and prove to them that you're the better team on the ice."