Four teams, four conferences, with a pair of intriguing matchups to kick off the action.
Defending national champion Denver sneaked up on everyone last season en route to the NCAA title, beating Maine in a 1-0 thriller in the title tilt. And the Pioneers are on a roll after their run to the WCHA tournament championship, deservedly the No. 1 seed in the Northeast Regional, and showing all the signs of being able to make it back to the Frozen Four for a shot at a repeat.
But the Pioneers' first game Saturday is your standard David-and-Goliath affair against CHA tournament champion Bemidji State, and sports fans everywhere know how those can turn out.
The Beavers, the favorites to win the CHA in the preseason, did just that, then persevered through the one-bid league's playoffs without the services of league Player of the Year Andrew Murray to get to the NCAA tournament for the first time. Their reward? A semifinal game against the nation's top-ranked team in the 2004-05 season's final USCHO.com/CSTV poll.
Meanwhile, the other semifinal features old hand Dick Umile and New Hampshire against rookie head coach Ted Donato and Harvard. The classic immovable-object-against-irrestistible force pairing will test whether UNH's powerful offense can overcome goaltender Dov Grumet-Morris and Harvard's stifling D.
Both teams are coming off losses in their respective conference championship games, meaning that one will enter the offseason with consecutive defeats to close out the year, and one will move within a game of the Frozen Four.
Denver vs. Bemidji State
Saturday, noon ET, Mullins Center, Amherst, Mass.
Denver Pioneers
Record: 28-9-2, 19-7-2 WCHA (t-first)
Seed: No. 2 overall, No. 1 Northeast
Vs. 2005 NCAA tournament teams: 10-6-1 (.618)
How in: WCHA tournament champion
2004 NCAA tournament: NCAA champion
Many look at Denver's 2002 and 2005 playoff teams and see similarities. George Gwozdecky sees differences, or at least what the Pioneers coach would like to be different.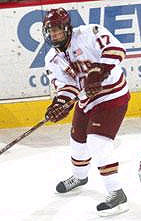 The 2002 Pioneers won the WCHA regular-season and playoff titles. So did this year's team. But there's another way of looking at things with this group.
"What a difference it is," Gwozdecky said. "This team is proud and happy, but I look back on that '02 team and we extended ourselves to win the regular season and even more to win the playoff title. We were tapped pretty good and we ran out of gas by the time we got to the [NCAA] tournament."
That year, Denver lost to Michigan 5-3 at Yost Arena in Ann Arbor, Mich., in the semifinals of the West Regional.
"It's different this year," said Gwozdecky. "I don't see this team emotionally spent."
With something left in the tank, Denver is ready to make a run at its second straight national championship, and this year it does so as a No. 1 seed, with a first-round game against CHA tournament champion Bemidji State.
Gwozdecky looks at that 2002 team and also would like to have some things to do over again. Like his goaltending situation. He rotated Wade Dubielewicz and Adam Berkhoel all season before going with Dubielewicz alone for the playoffs.
Now, he questions the decision not to "dance with the one you brought," as he put it. Taking that as a lesson, the Pioneers appear set to continue the Glenn Fisher-Peter Mannino rotation as long as they can.
Mannino has three straight shutouts, two against Colorado College, going into the NCAAs, and he'll likely remain the second-game starter if Denver gets past Bemidji State.
The 1-0 victory over Colorado College that Mannino and the Pioneers engineered last Saturday to take the WCHA Final Five championship was a reminder of the 1-0 victory over Maine for last season's national title.
A year ago, people were calling Denver a defensive team even though they were eighth nationally in offense and 22nd nationally in defense. This season, the Pioneers are third in offense and 19th in defense, but having good things going on defense can't be overlooked at this point of the season.
"We work all week, every week on defense," Pioneers forward Luke Fulghum said. "We just concentrate week by week on the little things, and it's benefited us so far."
During the Final Five, Denver captain Matt Laatsch told his teammates that winning a championship brings a team together. The WCHA regular-season title may have been the start, and the Final Five crown may continue that.
It has given the Pioneers a pretty good feeling going into the NCAA tournament.
"I don't think it can be any better," Mannino said.
Bemidji State Beavers
Record: 23-12-1, 16-4-0 CHA (first)
Vs. 2005 NCAA tournament teams: 0-1-1 (.250)
Seed: No. 15 overall, No. 4 Midwest
How in: CHA tournament champion
2004 NCAA tournament: none
When Bemidji State won the CHA championship and an NCAA autobid, the naysayers wasted no time coming out of the woodwork. Some even questioned the value of autobids for conferences like the CHA and Atlantic Hockey, hockey's equivalent of basketball's mid-majors.
Unsurprisingly, Beavers head coach Tom Serratore has a very different view.
"You can never convince the naysayers because you can't change their mentality," said Serratore in a Tuesday online chat. "The bottom line, though, is that you need the autobids for the growth of our game. How is our game ever going to grow if the mid-major conferences aren't going to have a reason to compete? The players in the CHA and Atlantic Hockey put as much effort into the game as the players in any other league.
"Hopefully you will see 20 more teams in the next 20 years. If that is the case, it is because of CHA and Atlantic Hockey, or future D-I leagues, so that these newer schools can be part of this proud sport."
Lest we misunderstand his focus on the future, Serratore is not thinking of his team in the abstract, not with the Beavers' first NCAA bid in hand. And BSU trod a difficult path to get there.
After losing the CHA championship game each of the past two seasons, the Beavers rolled to the 2004-05 CHA regular-season championship, then watched leading scorer and CHA Player of the Year go down with a broken collarbone on the last day of the regular season against Air Force. Murray will miss the NCAA tournament with the injury.
Once again, adversity loomed for Serratore's crew.
But with Murray shelved, the Beavers found a way to overcome the odds in the CHA tournament final, a 3-0 win over Alabama-Huntsville. Playing on the first line in Murray's absence, Jean-Guy Gervais scored the first goal — the game winner — against UAH.
"We have worked very hard all year and faced a lot of adversity," Serratore said. "Our guys have overcome that. These guys won the league and they won the conference championship and that's a hard thing to duplicate, to win two championships within a week and we accomplished that."
Matt Climie, who manned the BSU nets in both games of the CHA tournament, was another player raising his play. He stopped all 41 shots in the Beavers' pair of victories.
On offense for Bemidji this weekend, expect to see Brendan Cook (19-20–39) and Luke Erickson (11-27–38) in starring roles. Each was among the CHA's leading scorers during the season, and if the Beavers are to pull the upset against Denver, it's hard to imagine it happening without substantial contributions to the scoresheet from one or both.
Harvard vs. New Hampshire
Saturday, 3 p.m. ET, Mullins Center, Amherst, Mass.
Harvard Crimson
Record: 21-9-3, 15-5-2 ECACHL (second)
Vs. 2005 NCAA tournament teams: 5-5-0 (.500)
Seed: No. 9 overall, No. 3 Northeast
How in: At-large
2004 NCAA tournament: Lost in regional semifinal
Stop us if you've seen this before.
Harvard, fresh off playing in the ECACHL final four, heads into one of the eastern brackets of the NCAA tournament for a first-round game against a Hockey East opponent.
It is the fourth consecutive season the Crimson have followed such a postseason path.
In 2001-02, Harvard defeated Cornell for the conference championship, then lost to Maine in overtime, 4-3, in the NCAA East Regional. In 2002-03, the Crimson lost to the Big Red in the ECAC title tilt and then allowed three goals in the third period en route to a 6-4 loss to Boston University in the NCAA Northeast Regional.
Last season, Harvard ousted Clarkson for the ECACHL's Whitelaw Trophy before allowing four third-period goals to Maine in a memorable 5-4 loss at the NCAA East Regional.
That brings us to this weekend's contest. Fresh off another loss to the Big Red in the conference championship game, the Crimson return to the NCAA Northeast Regional to face off against New Hampshire — a team Harvard's senior class has yet to face.
"We put ourselves into the position to play [this] week," said netminder Dov Grumet-Morris, who is tied for first in the country in save percentage (.947). "We earned it. We still have an opportunity to make an impact."
But this is a different Crimson team than the versions of the past three years. While former coach Mark Mazzoleni played a more conservative style, his teams consistently boasted powerful offenses.
This season, first-year head coach Ted Donato has preferred a more wide-open attack. But the results have not been promising. While it is true that Harvard boasts six NHL draft picks on defense, led by captain Noah Welch and Ryan Lannon, and a Hobey Baker finalist between the pipes — leading to the most single-season shutouts in school history — the offense has struggled.
Overall, the Crimson has not looked like itself in the last few weeks, struggling to put up goals and even making some defensive mistakes in last weekend's ECACHL final four.
Donato admitted as much afterward.
"At times, things got scrambly," said the bench boss. "There were plenty of things we can improve upon. We did some things we don't normally do."
Unfortunately for Donato and his squad, it was more of the same the next night against Cornell. If Harvard makes it three inconsistent games in a row, it'll be another one-and-out NCAA journey.
As the Crimson faceoff against the Wildcats this Saturday, seniors Tom Cavanagh and Brendan Bernakevitch will be in the spotlight once again. They are the duo Harvard relies upon for big goals, despite having disappointing point totals thus far in 2004-05.
An X-factor against UNH may be their linemate, sophomore Ryan Maki, who has steadily improved this season.
"He's been an excellent player over the last month or so," Donato said recently. "He's been a key contributor on the offensive end all year and he's been great for us all year in other aspects."
Against UNH, the Crimson will need to control a high-powered offensive attack, the second best in the country with 4.03 goals per game. It is far from unfamiliar territory for Harvard, though, having held other top offenses — Dartmouth, Cornell and Boston College — to fewer goals than those teams average. Overall, the Crimson has the third-best defense in the nation.
Harvard leads the all-time series against New Hampshire, 17-10-0, but has not beaten the Wildcats since 1993-94.
New Hampshire Wildcats
Record: 25-10-5, 15-5-4 Hockey East (t-second)
Seed: No. 8 overall, No. 2 Northeast
Vs. 2005 NCAA tournament teams: 5-5-4 (.500)
How in: At-large
2004 NCAA tournament: Lost in regional semifinal
New Hampshire may have tied for second in Hockey East behind Boston College during the regular season, lost to BC in the tournament's title game, and then become the Northeast Regional's number-two seed, but don't be too quick to relegate the Wildcats to second-banana status. This is a dangerous team loaded with weapons and it wouldn't be a surprise to see UNH in the Frozen Four.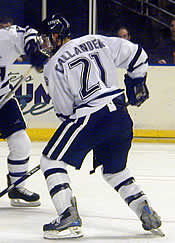 Until coming up short against BC, the Wildcats didn't just beat their Hockey East playoff opponents, they obliterated them. Facing Northeastern in the quarterfinals, UNH left no doubt, winning 6-1 and 4-0. Mind you, Northeastern had counted seven wins and four ties against nationally-ranked opponents.
New Hampshire then embarrassed Boston University, a highly-regarded defensive team, 5-2, in the semifinals. Even the 3-1 loss to BC in the title contest was a one-goal game until the final minutes and could have easily turned out differently.
"I thought we played extremely well from the quarterfinal round right up until the championship game," UNH coach Dick Umile said. "We became a better team during the playoffs.
"I like where we're at right now. I like everything about them, the chemistry and the way that the guys are playing."
Fans outside of Hockey East won't take long to notice one thing about New Hampshire. The Wildcats create opportunities by the boatload and they can bury the puck. They rank second in the country in scoring (4.03) and on the power play (24.6 percent). Sean Collins (18-36–54), and Preston Callander (24-29–53) lead the scoring, but the scary part is how much sniping depth they have. It can just as easily be the third line as the first that buries you in a blitzkrieg of transition opportunities.
Team defense, considered UNH's Achilles' heel after surrendering nine goals to Dartmouth and seven to Massachusetts-Lowell earlier in the year, is a big reason why Umile is so bullish. In the 15 contests since the Lowell disaster, UNH has allowed more than three goals only twice. Brian Yandle is the leader on the blue line.
In goal, freshman Kevin Regan appeared to have seized the job, starting nine straight games heading into the playoffs, but Umile reverted to a rotation of Regan and Jeff Pietrasiak that included the junior playing in the Hockey East championship game.
The first-round contest shapes up as UNH's juggernaut offense against Harvard's exceptional defense, which is ranked third in the country (1.85 goals against per game).
"Those are always the challenges," Umile said. "That was the sense with Boston University [in the semifinals], a very, very good team defensively. Their goaltender [John] Curry had played well and they take pride in defense, [but] we had some success against Boston University.
"Defensively, Boston College is as good as anybody. So it's not like we haven't seen teams like that. I would say Harvard is very much like a Boston College and I thought we played well against BC."
The exception to the great offense vs. great defense theme will be on the power play, where both teams excel. UNH may be second in the country, but Harvard's 22.7 percent conversion is fifth-best.
"Well, hopefully, we won't get too many penalties, to be quite honest," Umile said. "It just tells you the level of skill they have on that team. They have some forwards and defensemen who have great stick skills. You have to have smart players to have that kind of a power play.
"That's going to be an important part of the game. It always is when you get into tournament play."
With Denver playing longshot Bemidji State in the other half of the bracket, the East Regional championship could pit two of the best offenses in the country if UNH can get past Harvard.
"There's no question that both teams are capable of [a high-scoring barnburner]," Umile says. "But the challenge will be for both teams to play extremely well defensively because that's what happens this time of the season.
"Typically these aren't high-scoring games. They're going to be low-scoring so you have to make sure you challenge to get those scoring opportunities, knowing that you're not going to get as many as usual. [Denver's] focus is going to be on slowing us down defensively just like our focus will be on slowing them."