Minnesota hosts the West Regional Saturday and Sunday on home ice as the No. 1 seed — a scenario that didn't come without some controversy.
The Golden Gophers, who lost 14 games this season including two on their way to a fourth-place finish at the WCHA Final Five, were seeded ahead of ECACHL regular-season and tournament champion Cornell, which sported the fewest losses in the nation this season with a scanty four. That didn't sit well with fans of the Big Red, needless to say.
But if the seeds hold, Cornell will get the perfect chance for revenge, as the second-seeded Big Red would face the Gophers in the regional final. Before that happens, though, both teams would need to win games against opponents who have plenty going for them.
Maine, which endured a difficult first half before getting the taste of victory late in the season — including four wins over Massachusetts-Lowell that tipped the NCAA selection scales — took Boston College to the limit in the Hockey East semifinals before bowing out.
The Black Bears will face Minnesota in a rematch of the teams' thrilling 2002 NCAA championship, in which the Gophers won their first national title since the 1970s.
Challenging Cornell is Ohio State, which had to sweat out the weekend leading up to Sunday's selection show despite an impressive season that included a second-place finish in the CCHA and an appearance in the league's playoff title game. The Buckeyes and the Big Red are well-acquainted, having played often over the past few seasons.
Minnesota vs. Maine
Saturday, 1:30 p.m. CT, Mariucci Arena, Minneapolis
Minnesota Golden Gophers
Record: 26-14-1, 17-10-1 WCHA (t-third)
Vs. 2005 NCAA tournament teams: 10-9-0 (.526)
Seed: No. 4 overall, No. 1 West
How in: At-large
2004 NCAA tournament: Lost in regional final
From a number of angles, there could be concern with Minnesota as it attempts to make the Frozen Four for the third time in the last four seasons.
The immediate issue that has come to the forefront involves top scorer Tyler Hirsch, who put on a somewhat haunting display after last Friday's shutout loss to Colorado College in the WCHA Final Five.
But there also might be worries about the team's goaltending situation, which has been solid going into the NCAAs in recent years but now is up in the air. And a pair of losses in the Final Five last weekend raised a few eyebrows, but not those of Gophers coach Don Lucia.
"I'm not really concerned about that," Lucia said. "We'll have a good, hard week of practice. Now it's one and done from here on out."
The last time Minnesota went into the NCAA tournament coming off a pair of losses was 2001, when, coincidentally, the semifinal loss also was 3-0, just like it was this season.
In the first round of the NCAAs in 2001, the Gophers lost 5-4 in overtime to Maine, the same team they'll face in the first round this year.
But the advantage Minnesota has this year is home ice. The Gophers advanced to the Frozen Four through Mariucci Arena in 2003, then won the national title.
If they repeat that performance, it'll be a big turnaround from the fortunes of last weekend. Following a 3-0 loss to CC in the Final Five semifinals, Hirsch charged an open net, slapped a puck into the net and bowled over the cage. He then left his stick at center ice on his way off the ice.
Hirsch returned home after the game and did not appear at Saturday's third-place game. On Wednesday, the school issued a release saying Hirsch had been cleared to practice. His playing status, however, is in the air.
Lucia characterized it as "personal issues," but did not elaborate further.
Minnesota also has some goaltending decisions to make, without the benefit of having anyone step forward last weekend and grab the starting assignment for the national tournament. Justin Johnson stopped only 19 of 22 shots last Friday and Kellen Briggs, making his first appearance since Feb. 12 because of knee and hand injuries, made 18 saves on 22 shots in the third-place game against North Dakota.
Briggs said he got back to midseason form during Saturday's game, but it remains to be seen whether that will get him a start Saturday against Maine.
"We need to buckle down and get focused," Briggs said.
That's a statement that could apply to the entire Minnesota team.
Maine Black Bears
Record: 20-12-7, 13-6-5 Hockey East (fourth)
Vs. 2005 NCAA tournament teams: 3-9-2 (.286)
Seed: No. 13 overall, No. 4 West
How in: At-large
2004 NCAA tournament: NCAA runner-up
A month ago it didn't look as though Maine fans would even have the opportunity to complain about a tough draw. The Black Bears were in dire PairWise straits as a result of a lackluster first half.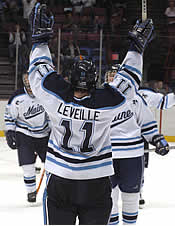 You could pick the cliché out of a hat and it would apply. Their backs were to the wall. It was do or die. The season was on the line. They had to play it one game at a time. Their playoff lives were at stake.
Well, when the going got tough, the tough Black Bears got going. Although they did run into the brick wall known as Boston College both at the end of the regular season and in the playoffs, they still picked up enough wins down the stretch to earn an NCAA berth. Especially impressive were 7-2 and 5-1 wins over Massachusetts-Lowell in the quarterfinals. And as for BC, only an extra-skater goal by the Eagles prevented a road split to end the regular season and it took a deflection at 9:09 of double overtime to knock Maine out in the Hockey East semifinals.
Besides, if the Black Bears face BC again, they'll be happy to roll the dice and take their chances — because that would be in the Frozen Four, reprising last year's national semifinal game.
"We do feel that we're playing our best hockey in the second half of the season," coach Tim Whitehead said. "I do think that we can play better and I know we have to play better if we're going to advance.
"But I think we're ready to make the step and ready to take our game up [to the next level]. We've been steadily improving throughout the season and I do think that we will play better. Hopefully, it's enough of an edge so that we can advance."
Those who will be seeing Maine for the first time shouldn't have trouble figuring out its style of play. It's defense first, second and perhaps even third. The Black Bears' defense is ranked fifth in the country, allowing an average of exactly two goals per game. Scoring comes in the form of offense-by-committee with 10 players in the 18-to-27 point range.
Maine's marquee player, however, is goaltender Jimmy Howard. The Black Bears rode his broad shoulders into the national championship game last year despite a team with similar offensive limitations to this year's squad. Howard was dominant.
Western fans might reasonably ask, "So why didn't he at least make Second Team All-Hockey East? Was he just a fluke last year?"
No fluke. Early in the season Howard battled physical problems, some stemming from a bout with mononucleosis and some not, and was decidedly average. He regained his form down the stretch, however, and remains the standard by which Hockey East goaltenders, if not those outside the league, are measured.
"We're very confident and very proud of our goaltending," Whitehead says. "Jimmy has been fabulous down the stretch here. Like our team, he's had a very strong second half and is playing his best going into the tournament.
"I've said before that [a great goaltender] is like good pitching in baseball or a strong quarterback in football. [He can dominate.] Jimmy is our defensive catalyst so we're excited that he'll be our backstop."
Howard's prowess, not to mention the tight-checking intensity of the entire team, will be put to the test in this regional. Not only does it consist of four very strong teams, but Maine opens against top-seeded Minnesota in front of the Gophers' passionate home crowd.
"It is a tough challenge, but our guys have had a lot of tournament experience," Whitehead says. "We've been in some of these similar situations before. We had Boston college last year in Boston at the FleetCenter in the NCAAs, we had Michigan two years ago at Michigan and three years ago we were against Minnesota in [St. Paul].
"So we've been in this situation before. We know it's a tough challenge. It's going to be us and our families against the building. But at the same time we also know it's going to be a great college hockey atmosphere. Our players are used to playing in front of great crowds here at home so I think we typically play well in that type of exciting environment."
Whitehead hastens to add, "Obviously, we'd rather play on a neutral surface. I'm not going to lie about that.
"But we're excited about this challenge. If we knock them off, we'll know that we've done something. If we advance past them, then we'll know we're a team to be reckoned with."
Minnesota's home-ice advantage goes beyond the vocal crowd and general comfort level of familiar surroundings. Mariucci Arena is also an Olympic sheet, which probably isn't ideal for a close-checking team like Maine. Combine that with Minnesota's highly-ranked offense and power play and the matchup begins to look like Maine playing at New Hampshire.
"[Adjustments for the big sheet] are something we'll work on this week in practice," Whitehead says. "But you want to be careful not to overdo it. In the end it's still a game with six guys on the ice for both teams, two nets and you have to score on the other one while you keep the puck out of yours.
"But it is true that it's a slightly different game so we do need to adjust that way. Obviously, they're very comfortable on it; it's their home ice. So we're going to have to get up to speed quickly there. We don't have a three-game set to adjust; it's a one-game situation.
"On the flip side, we've had some success this year on the Olympic sheet. We split with UNH at their rink and at UMass we got three out of four points on their surface. So those are some positive experiences that we can bring to the table."
If Maine should knock off the Gophers, the path to the Frozen Four will then go through either Cornell or Ohio State.
"We certainly respect all the teams in this tournament," Whitehead says. "It's a very strong regional, much like the one we were in last year. We were in a very tough regional last year and we were fortunate to get out of it."
Cornell vs. Ohio State
Saturday, 5 p.m. CT, Mariucci Arena, Minneapolis
Cornell Big Red
Record: 26-4-3, 18-2-2 ECACHL (first)
Vs. 2005 NCAA tournament teams: 4-2-1 (.643)
Seed: No. 5 overall, No. 2 West
How in: ECACHL tournament championship
2004 NCAA tournament: none
It's difficult to know where to begin when describing the accomplishments of the Big Red. The national numbers are just that impressive.
• Longest current undefeated streak (17-0-1)
• Best power play (25.1 percent) and penalty killing (89.1)
• Best scoring defense (1.24 goals per game)
• Best scoring margin (+2.03)
• Best combined special teams (57.5)
• Highest winning percentage (.833)
Individually, Hobey Baker finalist David McKee leads the country in wins (26), shutouts (10), goals against average (1.20) and save percentage (t-.947).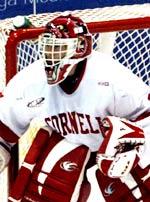 "He's deserving of the Hobey Baker," said head coach Mike Schafer, who will be making his school-record fifth appearance in the NCAA tournament as bench boss. The coach's record is 4-4-0 in those showings.
"He's done it all year," Schafer continued about his netminder. "The numbers that he's put up are near the best that any goaltender has put up in the history of college hockey."
But wait, there's more.
With its 26 victories thus far, Cornell has posted 25 or more wins in three of its last four seasons. Most teams would be thrilled to reach the 20-win plateau that often, never mind 25. Over that period, the Big Red has captured three regular season titles, two tournament championships and made three trips to the NCAAs.
In addition, the Big Red has held opponents to fewer than three goals per game a school record 20 straight contests. Heading into Saturday's NCAA West Regional match-up against Ohio State, Cornell has skated in 136 games since the 2001-02 season and has allowed fewer than two goals in more than half those games. The Big Red has posted 29 shutouts and 42 games with just one goal against.
And here is Cornell, riding as much momentum as any team can have, looking to make amends for the failures of recent postseasons.
"Going to the Frozen Four (in 2003) and getting so close," said ECACHL Tournament Most Outstanding Player Charlie Cook about what has driven Cornell. "Obviously, last year was disappointing and we've used it as a motivator. By no means are things settled."
"You only get so many chances," added Schafer.
It was obvious last weekend that the Ithaca sextet had no desire to let another opportunity slip away. They shut down a feisty Vermont squad and then thoroughly dominated Harvard, especially in the second and third period.
The team's work in the middle frame was no surprise. This season, Cornell has owned the second period, outscoring opponents 46-9. To make matters worse for opponents, if the Big Red score first, the game has been all but over.
They are 20-0-2 when scoring first, but just 6-4-1 when their opponent notches the first tally. It will be an important detail to watch for against the Buckeyes, who 20-1-2 when they score the opening tally.
For Cornell, though, they'll look to their balanced attack and leading power play to strike first. Junior Matt Moulson (eight points in his last five games) is always the most likely candidate to make an impact, but he's not alone. Rookie Topher Scott has six points in the last four contests, while junior Daniel Pegoraro and senior Mike Iggulden (four shorthanded goals) have been dominant forces at both ends of the ice.
OSU holds a 6-5-0 advantage all-time against Cornell. The teams played twice last season, with the Big Red losing at home (4-3) and winning in the championship game of the Everblades College Classic in Florida, 4-3 in overtime.
Ohio State Buckeyes
Record: 27-10-4, 21-5-2 CCHA (second)
Vs. 2005 NCAA tournament teams: 1-3-1 (.300)
Seed: No. 10 overall, No. 3 West
How in: At-large
2004 NCAA tournament: Lost in regional semifinal
The Buckeyes are carrying a big monkey on their collective backs into the West Regional.
Ohio State (27-10-4) hasn't scored a goal in NCAA tournament play in over 136 minutes, dating back to Brandon Lafrance's goal at 15:21 in the third period against Maine, in the 1999 East Regional. OSU lost that game, 4-2.
Last year, the Buckeyes lost to Wisconsin, 1-0 in overtime, in Albany, and two seasons ago, it was a 1-0 loss to Boston College in Providence.
That's a three-game NCAA regional losing streak, for those of you counting, and a four-game NCAA tournament streak, counting the 1998 loss to BC in the Frozen Four.
"We're just going up there to spend time," quipped head coach John Markell. "Nobody thinks we can win."
Nobody except Markell and the Buckeyes, that is.
"That was then," said Markell. "This is a different team. Our young kids don't know that [losing in the NCAA tournament]. That was 10 different seniors, and we have 10 different freshmen."
The surprising Buckeyes are balanced and have depth at every position, and through every class but one — the senior class. OSU plays just two seniors on a regular basis, Lee Spector, a big physical forward, and captain JB Bittner, one of the best two-way forwards in the country, and the heart and soul of the Buckeye team.
"I think we like the position we're in," said Bittner. "Our team all year has bounced back after tough losses. We had a tough one [in the CCHA championship game], kind of emotional, and I think it will just fire the guys up a little more."
The Buckeyes handily beat Michigan State 4-1 in Super Six semifinal action, but lost a close game to Michigan, 4-2, for the title. With the exception of the Ice Breaker tournament in the beginning of the season, OSU has not posted back-to-back losses this year, being one of the most consistent teams in the CCHA.
Of course, those consecutive losses to open the season were played in New Hampshire's Whittemore Center, which has an Olympic sheet — as does Mariucci Arena. And the Icebreaker was the last time the Buckeyes saw time on a big sheet, having played both Alaska-Fairbanks and Northern Michigan — the two CCHA teams with big ice at home — in the Schottenstein Center in Columbus.
The size of the ice surface is certainly something that will have an impact on OSU's opening game against Cornell, given how physical each team plays on regulation ice.
"It will be something different for us, because we haven't played on the big ice surface [recently] and I don't think they have either, so it will be an adjustment period for both teams, but I think we have an opportunity, and that's what you look forward to, an opportunity to play for a national championship."
"In the past," said Bittner, "we've had maybe a bigger, more slower team. I think it benefits us more this year playing on the open ice surface, with the kind of team speed we have."
And the Buckeyes are fast, with forwards like freshmen Tom Fritsche (10-33–43) and Dominic Maiani (11-22–33), sophomores Andrew Schembri (4-19–23) and Matt Beaudoin (23-11–34), and juniors Dan Knapp (12-23–35) Rod Pelley (22-19–34) able to motor with the best of them.
"You've got some young kids that can play on the big ice — Maiani, Fritsche — these guys can skate," said Markell. "It's different, but I think we're a good-skating hockey club, and I'm sure Cornell is, too. We'll have to make adjustments. There will be a premium on puck protections, not giving it up, so that teams don't find lanes.
"There's a way of playing on it, and hopefully in the past we've played enough games on it to understand it; there's a few adjustments, but not that many. It still comes down to one-on-one battles, timely goal scoring, and staying out of the penalty box."
Ah, the penalty box, a spot in every rink with which the Buckeyes are familiar. Ohio State is second in the nation in penalty minutes this season, averaging 24.7 per game. The misconception about OSU, however, is that the Buckeyes spend all their time on the penalty kill and their opponents spend every minute on the power play, and this simply isn't the case; OSU's style of play draws nearly as many penalty minutes as the Buckeyes take, and nearly every contest becomes a special-teams special event.
"If we take six, they take five," said Markell. "We have the capability of forcing teams into penalties. If you've got the puck, they have to chase you … but we have to make sure that we have the puck."
That may be a moot point on the large ice surface, and the good news for OSU fans is that if the longer the Buckeyes play even-strength hockey, the better their chances; Ohio State can roll four very good lines, each capable of scoring and defending, and if every defender has a chance to play, keeping the blue line fresh, junior goaltender Dave Caruso (2.11 GAA, .919 SV%) will see every shot, and he stops what he sees.
The Buckeyes are the youngest team in the tournament, regularly dressing as many as eight freshmen skaters, but Markell thinks that OSU's recent experience has seasoned the squad.
"It's one and done, and we knew that going into [the game against] Michigan State," said Markell, whose team was on the NCAA bubble going into last weekend.
"The leadership comes from within," said Markell. "These guys know what each brings to the table. They don't want to let each other down. They have to be intrinsically motivated, and that's what these guys are."
The Buckeyes are familiar with three of the four teams in this regional, given that OSU, Maine, and Cornell are the founding members of the Everblades College Classic in Estero, Fla. OSU is 6-5-0 all-time against Cornell, and prior to this year, the Big Red and the Buckeyes had met at least once in the past six consecutive years.
So the Buckeyes have a lot to overcome going into Minneapolis — youth, a big ice surface, the inclination toward penalties, very stiff opposition. But Markell is wrong if he thinks he and his team are the only ones who can see Ohio State advancing beyond Minneapolis to home ice in the Frozen Four.
"I think they have a good chance of getting out of that regional." That's high praise, considering it came from Michigan head coach Red Berenson.