Minnesota will get leading scorer Tyler Hirsch back in the lineup for Thursday's NCAA semifinal against North Dakota.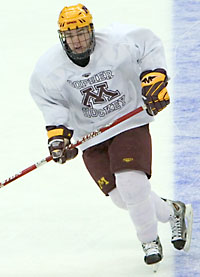 Hirsch has missed the last three games, including last weekend's two NCAA regional games, for "personal reasons."
Hirsch was sent home, and later briefly hospitalized, in the aftermath of his bizarre behavior before, during and after the WCHA Final Five game loss to Colorado College on March 19. He began practicing with the team again before the regionals but was held out of the games.
Having scored just five goals in their last four games, Hirsch's return is welcome to the Gophers.
"Obviously it's important we generate offense," Minnesota coach Don Lucia said Wednesday. "Tyler will come right back in. He may need a few shifts to gain the pact, but he's been practicing and he's excited to get back in, and we're excited to have him."
Hirsch, a junior, leads the team with 44 points in 40 games. He was mum about the situation Wednesday.
Freshman defenseman Alex Goligoski will also play. Goligoski broke his hand at the WCHA Final Five consolation against North Dakota. A member of this year's U.S. World Junior team, Goligoski has five goals and 20 points in 32 games.
Lucia said that a decision will be made about Goligoski prior to Thursday's game (7 p.m. ET).
Hirsch's playing situation is more clear, though his time off was more tenuous.
After everyone cleared the ice following that game, Hirsch stayed on, placed a puck at center ice, and skated in alone on an empty net. He got within 10 feet, ripped a slap shot, went into the crossbar and fell head first, with the net, into the end boards. He then skated to center ice, placed his stick on the red line, and left.
Afterwards, Lucia alluded to personal issues Hirsch was having.
According to USHR.com, Hirsch and his family are deeply religious, and that his actions may have been related to religious symbolism. He reportedly told teammates that there was a need to exorcise demons from the building, according to USHR.com.