Boston College's Sarah Carlson says that she's made volunteering a lifestyle. It's that lifestyle and her commitment to helping others that has earned her this year's Hockey Humanitarian Award presented annually to "college hockey's finest citizen."
Carlson was presented the award at a ceremony held Friday as part of Frozen Four weekend in Columbus — though only after she sang "The Star-Spangled Banner" at Nationwide Arena to kick off Friday's festivities.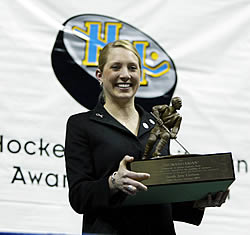 A senior for the Eagles, Carlson is a leader on the ice and a human being who goes above and beyond the call off the ice, volunteering as everything from a Bible school teacher in Mexico to the organizer of a dance marathon in Boston with proceeds benefiting the Children's Hospital. She annually organizes a fundraiser at BC that pits the women's hockey team against a group of disabled athletes in a game of sled hockey.
Carlson is a native of Kenny Lake, Alaska, where she says here mother taught her at a young age the value of helping people.
"We lived in a small town in the middle of nowhere and the nearest McDonald's is like five hours away," said Carlson, a four-year member of the dean's list at BC. "We were one of the only homes that had running water, so we would have [neighbors] do laundry and take showers at our home. That was when I first started to realize what it's like to help other people."
Even while in high school, Carlson began extending herself to others. The only female member of a boys' hockey team, she motivated her teammates to join her in visiting patients at nursing homes both in her hometown and on the road when the team would travel.
She fought 30-degree below-zero weather with a face-full of Vaseline to help build a local hockey rink for the town.
Carlson played as part of Hockey Night in Boston, an annual festival that brings players from all over the country to Boston during the summer to compete in an all-star tournament. There she was spotted by the BC coaches and decided it would be a great transition for this small-town girl to move her life.
"I knew I wanted to go to school in a place that was different from where I grew up and I ended up choosing [someplace that is] the complete opposite [of Alaska]," Carlson said.
Still, her altruistic attitude towards life made the transition to the major metropolis much easier.
"Even though I live in such a small town in Alaska, the shift to Boston didn't feel that different," said Carlson. "I've found that wherever you are, people are still the same. A smile still means a lot to somebody. If your life focus is helping people, you're going to be happy no matter where you are."
Carlson currently majors in nursing and will receive her degree from BC this May. She plans to remain in Boston, a Mecca of hospitals, to become a nurse practitioner. For such a first-class citizen, it comes as no surprise that her professional career will focus on what she does best: helping others.
Diane Hagan, a member of the Boston College faculty, related a story that displays Carlson's ability to carry her dedication and love for helping others into her professional career.
"At a Boston medical center, Sarah was caring for a young man paralyzed from the neck down after a sports injury," said Hagan. "He was angry, depressed and had stopped communicating with the nursing staff. His physical and emotional needs were enormous.
"Sarah never left his room for the entire day. He refused to speak so she sang to him as she provided care. As the hours went by, he gradually began to talk to her and she listened. He responded to her when none of the medical and nursing staff was able to reach him.
"Sarah reached out and formed a bond with this young man that helped heal his grieving soul. She's is just remarkable."
Carlson is the second consecutive women's hockey player to receive the Humanitarian Award, following in the footsteps of Chanda Gunn, who played for crosstown rival Northeastern. She is just the third woman ever to receive the award, first given in 1996.
Ever humble, Carlson doesn't see what she does as remarkable — rather, just part of what should be done in life.
"Doors open in life and I just try to take advantage of that," said Carlson. "My greatest joy and pleasure is serving others. It's what I'm passionate about. And when you're passionate towards others, it's a neat way to just meet people and live life."