If this were a story about the 2005 Hobey Baker winner, Marty Sertich of the Colorado College Tigers, you'd have all the ingredients of great cinema, all the potential of a legend in the making.
Sure, Sertich's numbers are impressive — 64 points with 27 goals and 37 assists in 43 games — but hardly dramatic. At 5-9, 163 pounds, Sertich — who as a freshman played on the same line as Peter Sejna, CC's 2003 Hobey Baker winner — is hardly imposing.
So Sertich's story is about much more than the standard stats.
First, there was the winner himself on the podium and after the ceremony, looking and sounding much younger than his 22 years with his head newly shorn of slightly longer playoff locks and face shaved clean for the first time in over a month.
"Thanks. Thanks again for everything. This is awesome."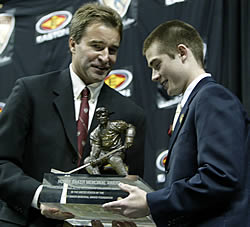 In extending his gratitude, Sertich mentioned several people by name, including CC trainer Richard Quincy — whom he called "Mr. Quincy" — former governor of Ohio and current CC president Dick Celeste, and Rob Masters, "the best equipment manager in the country,"
In thanking his family, he said, "I love you guys more than anything. It's been great having you follow me around the country this last month here."
Then there's the buddy aspect to this year, with linemates Sertich and Brett Sterling vying for the award.
"It was a lot of fun," said Sertich. "I think we were pulling for each other. It's great to be nominated, to be part of this three, and it's even more special to have your linemate, your good buddy right there next to you."
Sterling was an affable presence in the post-ceremony press conference with the three Hobey finalists, which also included Cornell goaltender David McKee, giving the event an even greater charm.
"I guess we had a two-out-of-three chance of winning," said Sterling. "I feel I've won it too, with him, just watching him out there [during the ceremony] — either one of us just makes us happy. I'm real proud of him."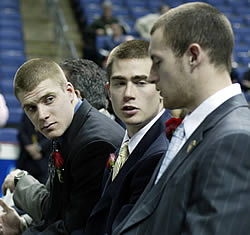 And of course, there's Sertich's hockey pedigree. His grandfather, Tony Frasca, was an All-American for the Tigers in the early 1950s and a Spencer Penrose Award winner as the CC coach in 1963. Sertich's father, Steve, was a Tiger in the 1970s and played for the 1976 U.S. Olympic team.
Sertich's uncle, Mike, coached at Minnesota-Duluth and Michigan Tech. His younger brother, Mike, is his teammate at CC, and his cousin — also the grandson of Tony Frasca — is Minnesota's Chris Harrington.
By now everyone knows of his mother's battle with cancer. Diagnosed nearly a year ago with a brain tumor, Patty Sertich — daughter of Tony Frasca, aunt of Chris Harrington — hasn't seen much improvement in her condition, in spite of a stay at the Mayo Clinic.
"It's been a tough 11 months for us," said Sertich. "My mom and my dad have handled it great, and sure this is real exciting for them as well."
And finally there's the Curse of the Hobey, which has five of the last nine Hobey winners playing for teams that made it to the Frozen Four without winning the tournament. Sertich is the second consecutive Hobey winner whose team bowed out in Frozen Four semifinal action. Junior Lessard of Minnesota-Duluth started the current streak last year.
But even in alluding to that — making it to Columbus but watching two other teams play for the national title — Sertich was pleasant and upbeat, again saying all the right things.
"You know, it's been quite a ride. I think we all wish were still playing, but it's fun just to make it this year."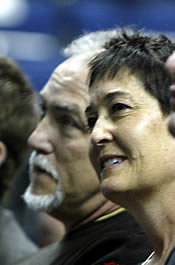 Yes, if this were a story about Marty Sertich, the 2005 Hobey Baker winner, here is where the story would end. But this story doesn't belong to Sertich alone.
This story also belongs to Boston College's Sarah Carlson, who shot her first moose at 13 while perched on her father's shoulders, and who won this year's Hockey Humanitarian Award.
This story is about Denver head coach George Gwozdecky, whose Pioneers will defend their national championship tomorrow, and who said that this year's Frozen Four venue seems nice, but conceded that it's always pretty nice when you win that first game.
This story is about the Hobey Baker award ceremony itself, where the annual showing of a video about Hobey Baker has been mothballed because the sport of college hockey has grown to the point where fans themselves can tell you all about the man for whom the award has been named.
This story is about Columbus, Ohio, and the two state-of-the-art arenas that host the events of this year's Frozen Four, Nationwide Arena — home of the NHL's Blue Jackets and site of today's ceremonies — and Value City Arena at the Schottenstein Center, home to the Ohio State University Buckeye men's ice hockey team.
This story is about the two guys wearing Sioux gear — all the way from Grand Forks — at the check-in desk at the Hyatt on Capitol Square, who quipped, "They don't call it 'Cowlumbus' for nothing."
This story is about the photographer from Colorado Springs who said, "I'm pleasantly surprised. Columbus is a whole lot cooler than I thought it would be."
This story is about the local media giving more attention to college hockey in one week than it has all year — than it has, ever.
And this story is about the perfection of the weather — cloudy during the games, dazzlingly sunny on Wednesday and Friday — the boisterous crowds at the Schott even with the all-WCHA cast, the little girls clutching stuffed tigers and sporting tiger ears, the diminutive professional figure skaters staying loose "backstage" at the Hobey in anticipation of tonight's "Champions on Ice" at Nationwide, the faces of the fans as they blink — a reaction to that cooperative sun, or to the unexpected pleasure of Columbus' Arena District — and the buzz about the great game that North Dakota and Denver will undoubtedly provide Saturday night.
This story is about college hockey. And today, college hockey is just perfect.