If you score a highlight-reel goal in the national semifinals, you expect to turn the TV set on later to relive your moment of glory. Your buddies will congratulate you on a truly "sick" move while the sportscaster extols your virtues for millions of viewers.
So imagine Luke Fulghum's surprise when ESPNews didn't show him faking a Colorado College defenseman into the cheap seats to score a goal that gave Denver a lead it would never surrender.
Instead, Fulghum's moment of glory, so to speak, was his other goal, one scored when Brett Skinner's shot from the point caromed off Fulghum's butt into the net.
Not exactly the highlight that you dream of.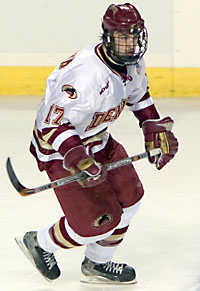 "They probably showed that one because it's kind of comical," Fulghum said. "It's good for TV to show something like that.
"Sure, it's disappointing, but that doesn't matter. The people who needed to see it, saw it. That's all that matters."
Unfortunately, Fulghum has had to get used to slights. If you asked 10 WCHA fans which player finished with the most goals in league games, you might not get a single correct response. You'd hear the names of Colorado College's Marty Sertich and Brett Sterling, which would hardly be a surprise since the duo formed two-thirds of the Hobey Baker "Hat Trick," with Sertich the eventual winner.
And if you offered the hint that the player came from Denver, most fans would instinctively answer Gabe Gauthier. Which would be another reasonable, but incorrect, response.
Fulghum's 20 goals in WCHA games led the league, but you'd be wasting your time looking for him on the first, second or third all-league teams.
"I led the WCHA in goals so it was disappointing not to get any individual honors, but the team honor is better," Fulghum says. "It's all about the team in this sport, not about the individual. To win another national championship would mean more to me than any individual award I could receive."
There's no question whether Fulghum has earned the respect of his teammates.
"I've heard him called the most underrated player in the WCHA," Skinner says. "You can't really argue with the type of season he's had and the numbers he's put up, and, especially down the stretch here, what he's done in the tournament."
Fulghum has not only put the puck in the net, he's done so in uncannily clutch fashion. Last year, his game-winner in Denver's 1-0 victory over North Dakota put the Pioneers in the Frozen Four. Once they were there, his goal began the comeback against Minnesota-Duluth in the semifinals.
This year, he scored the game-winner in another big 1-0 victory, over Colorado College in the WCHA championship game. He assisted on the late-third-period game-winner over New Hampshire to help lift the Pioneers to this year's Frozen Four. And his two goals against Colorado College have Denver within one win of a second straight national championship.
"I like getting up for big games," Fulghum says. "I like being on that stage in front of a lot of people. It's really exciting. It's the dream for any hockey player to play in those big games and get those big goals."
Denver coach George Gwozdecky dismisses the concepts of "rising to the occasion" and "elevating your game" as impossible, but agrees that players like Fulghum thrive in the spotlight while others fold under the pressure.
"A lot of players wither on stages like this or in the playoffs or in big games," Gwozdecky says. "It's guys like Luke Fulghum who, from experience, learn not to be distracted by things that they can't control, to just concentrate on their game.
"What you've seen in Luke Fulghum over the course of this season and especially through the playoffs is an athlete who has been able to not elevate his game, but keep his game at the level that he's expected to keep it at. [While] others are getting distracted by anxiety or stress or officials' calls or whatever it is, he's been able to develop that consistency where he shows himself as one of the top performers for us."
As impressive as his contributions to the boxscores may be, Fulghum's impact on the Pioneers goes beyond that. Perhaps best exemplifying this was when he took a shot in that most sensitive of areas in the Northeast Regional against New Hampshire, but returned to assist on the third-period game-winner.
"I took that one right in the beans," he says. "I was off my shotblocking area so I had to scramble and my legs were a little spread open. I saw the shot coming and I just hoped that it would hit me in the leg or something, but it hit right in the bad spot. I just dropped.
"I honestly never felt any pain like that in my life. I could barely see. I could barely breathe. I thought I was going to die. But I caught my wind about 20 minutes later and I was able to come back out."
Gwozdecky adds, "The ultimate statement any teammate can make is by sacrificing his body to help the team. [Anyone] who saw that shot that he took against New Hampshire knows what I mean.
"That says an awful lot. It tells you a little bit more about Luke Fulghum and what he's meant to the team and the kind of leadership he's given to this team."
With one game left in his collegiate career, Fulghum will be striving to help the Pioneers win back-to-back national championships. Perhaps by taking one in the beans. Perhaps by deflecting a puck into the net off his butt. And perhaps by scoring a "sick" goal like the one in the semifinal.
Fulghum grins at that possibility. "Maybe they'll play it on the highlights this time."