The fifth annual USCHO.com Town Hall Meeting kicked off the festivities on "Frozen Friday" before a crowd of 650 at Nationwide Arena.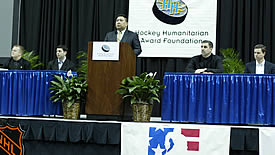 This year's topic was the Ice Hockey Rules, and the panel featured Enrico Blasi, the head coach at Miami and chair of the NCAA Men's and Women's Ice Hockey Committee; Tom Anastos, the CCHA Commissioner and one of the spearheads in the NCAA's Rules of Emphasis; Frank Cole, the NCAA's Supervisor of Officials; and Ty Halpin, the NCAA's liaison to the Rules Committee.
The meeting opened with a question from J.R. Bria, a forward for Massachusetts-Lowell, pertaining to a better emphasis on hitting from behind and on interference. Blasi indicated that this is an issue that continues to be questioned by the committee, and that there would be a serious look at it.
Anastos added that this is a big problem in all of hockey, not just college hockey, and that the NCAA and each individual league would be looking to make a better effort in terms of calling penalties, and to ensure that players are safer on the ice.
The next question involved the notion of safety netting in arenas. Comments from the panel included the fact that the NCAA was going to try to write it into its rules, but that it is still up to each individual arena to install netting. The wide range of venues around college hockey make it a near-impossibility to try to enforce such a mandate.
The question of instant replay in the NCAA tournament came up as well. Cole answered that, this season, the NCAA utilized a different replay system than in previous years, when replay was based off television in a video mode. This season a DVR/TiVo system was implemented, so that replays could be performed more quickly and efficiently.
As the crowd continued to file in, the next question dealt with protecting the goaltender, another hot topic of comment. Anastos spoke on talks relating to expanding or limiting the area within which a goaltender is protected. He suggested that perhaps the AHL's system of using a "zone" in which the goaltender cannot be hit could be a consideration.
"Rules of emphasis" were also brought up. Cole went through the manner in which all NCAA referees were educated on this season's emphases, and what was done to make sure that the emphasis was enforced. It was indicated that the feeling is that the current emphasis was working.
A final question dealt with the difference in officiating from league to league, and whether and how it might be leveled across the nation. Cole said that an effort was ongoing, and that the current rules emphases would help to unite officials around the country.