It takes six and a half hours to fly from Anchorage, Alaska, to Grand Forks, N.D. If you add in connections, plus the time it takes to get to the airport and home again, you're looking at a 12-hour trip.
On February 20, those 12 hours must have felt like an eternity for the North Dakota Fighting Sioux. That was hell. That was the low of lows.
A night earlier, the Sioux blew a 2-1 third-period lead against Alaska-Anchorage, surrendering four goals in the game's final 10 minutes to lose, 5-2.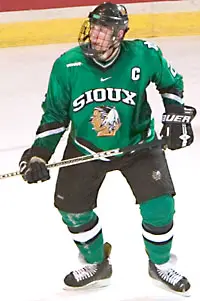 The loss dropped the club to 15-13-3. The talented Sioux had plenty to worry about. There was no guarantee that they would even host a first-round series in the WCHA tournament.
And there was definitely no guarantee that there would be life after the WCHA playoffs, regardless of the outcome, as the PairWise Rankings listed the Sioux outside the NCAA tournament, something the players on this club just were not used to. North Dakota had made the tournament eight of the last nine seasons and this year's senior class had never missed one.
As senior captain Matt Greene put it, that trip back to Grand Forks represented the lowest of lows.
"[The loss to Alaska itself] wasn't the lowest point — rather, it was the flight home afterwards," said Greene. "You had a long time to think about the game, and after that, we were out of the tournament."
One thing was clear to the Sioux: things couldn't get worse. Also clear was the fact that no one on the club had any quit in him. Everyone still believed that there was time to turn the season around.
As rookie head coach Dave Hakstol said, "It was put up or shut up time.
"It was coming to a critical point in the year and we'd been up and down and up and down," said Hakstol. "The Friday night in Alaska we had probably what was our best performance of the year. It was actually the first night that we'd been healthy since mid-October and we played extremely well.
"It was just so disappointing to come back Saturday night and not have 100 percent effort."
Once the club arrived back in Grand Forks, it was time to talk, time for the leaders to stand up. It was time for everyone to tell the truth, no matter how ugly it might have been.
"There were a couple of meetings," said Greene. "One was with a few guys and the coaches, and that meeting wasn't too uplifting, but it was a very honest meeting, just letting us know what was on the table, what was going on at that point, and just told people we're not doing our jobs out there — we're not doing what we're supposed to be doing to win hockey games.
"Through that meeting things began to filter back to the team."
One thing that filtered back was the need for points. Series splits wouldn't work. North Dakota needed to win regular-season series from that point on for there to be hope for an NCAA bid.
It began the following weekend against Wisconsin. On home ice, the Sioux took three out of four points. The following weekend against St. Cloud State saw a repeat — three of four again, and the Sioux had locked up home ice in the WCHA playoffs.
In the opening round, a quick sweep of Minnesota-Duluth included an 8-2 win coupled with a 6-1 victory to move on into the WCHA Final Five.
The Sioux didn't win the Final Five title, losing to eventual champion Denver in the semifinals, 2-1 in overtime. It was the only hiccup in the schedule since that fateful day in February.
Forty-eight days later, you'd almost believe that we're not talking about the same Sioux. After Thursday's 4-2 victory over Minnesota, the Sioux are one win away from completing a remarkable comeback by winning the school's eighth national championship.
Their opponent in Saturday's title game is the hiccup along the road, the one blip on the radar screen, league rival Denver. The Pioneers will look to defend their national title — one that head coach George Gwozdecky says came in a similar fashion to what this year's North Dakota team has experienced that it's frightening.
Last year Denver had its own rock bottom, struggling to play consistent hockey but turning things on at the right time to pull off a shocking national championship.
If anyone can, Gwozdecky can relate to what Hakstol and his team have experienced. And he can remember back 365 days to what drove his team: passion and character.
"It speaks to the character of your team," said Gwozdecky of the North Dakota turnaround. "I'll tell you, it's tough from a coach's standpoint. I have no idea what the North Dakota staff has gone through this year, but I can just speak for what we went through last year.
"Last year was a very, very challenging, difficult, exhausting year. Emotionally exhausting. It seemed like there were issues to deal with almost on a daily basis, and, you know, you're almost glad to have the season over not only because you won a national championship, but because you won't have to face those issues hopefully for another six months.
"There's no question about the pride and the confidence that you can develop from being able to battle through a season like that, I think you can really tap into and develop momentum from it. I think it can really solidify a team — that no matter what happens, we can battle through it."
With the shoe on the other foot this season, Denver would seem to have its hands full with this year's Cinderella. That term, though, may not apply to North Dakota. "Cinderella" indicates a surprise, but anyone who has watched the Sioux for the last six weeks understands full well that its success is no surprise.
This is a club that wins, and wins with conviction. All three of its victories in the national tournament have come after the Sioux opened up a three-goal lead. The Sioux are hot — red-hot. When you think of February 20, you'd figure this club to be the antithesis.
Sunday morning, the Sioux will might think back to February 20. They'll board a flight once again to Grand Forks. It won't take 12 hours, but maybe they'll wish it did, as a victory Saturday night would make for one pleasant trip home.
If this trip feels like eternity, it will be because the Sioux find themselves feeling like they're not in hell, but in heaven.