Denver has crafted a 3-0 record against North Dakota this season, with a key reason being that the Pioneers have been able to stay a step or two ahead of the Sioux.
Translating that to Saturday's national championship game, the start will be critical to both.
The Pioneers have scored first in all three games — two in Grand Forks and one at the WCHA Final Five — and have responded to the Sioux's challenges quickly.
They earned a pair of 4-2 victories in early February by protecting their lead.
On Feb. 4, Nick Larson scored just 38 seconds after a UND goal to give Denver a 3-1 lead. Later in that game, Geoff Paukovich restored the two-goal lead 3:01 after the Sioux cut it to one.
A night later, Luke Fulghum broke a 1-1 tie just 97 seconds after North Dakota forged it, then Jeff Drummond made it 4-2 only 53 seconds after the Sioux climbed within one.
"The biggest factor in those games was that we were able to take leads in both games and every time North Dakota was able to respond with a goal, we were uncanny in being able to respond almost immediately by scoring again to give us that cushion, and really were able to keep the momentum and the crowd out of the game," Denver coach George Gwozdecky said. "But both games were very close, very tight, hard-fought, similar to the game we played them in the Final Five."
As North Dakota languished at the end of a five-game WCHA losing streak at the end of that series against Denver, Gwozdecky still saw potential.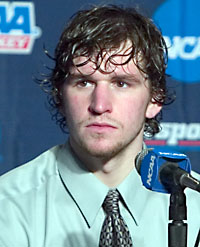 "I don't think at that time I thought that they were as poor as perhaps the PairWise [Rankings] had them," he said. "I remember going in there and perhaps in my own mind having a perception of the kind of team we were going to play against and absolutely changing my mind rapidly after the first five minutes of that first game — where all of a sudden I'm thinking, 'Wow, these guys are a lot better than I watched on tape,' or that I had some kind of image or impression in my mind. I had a feeling that they were going to make some noise before the end of the season."
The teams met once again in the semifinals of the WCHA Final Five on March 18. Gabe Gauthier scored 42 seconds into overtime to send the Pioneers into the WCHA championship game with a 2-1 victory over the Sioux.
That game also was the setting for the hit that gave North Dakota's Robbie Bina a fractured vertebra. Denver's Paukovich was suspended for two games — one by the WCHA, one by the team — for that check from behind.
North Dakota goaltender Jordan Parise said his team holds no animosity toward the Pioneers for the hit.
"Some of the events that happened in that game were I think a little bit unfortunate," he said. "It was just one of those things that happened and I don't think there's any bad blood. It was just two guys playing hard, and what happened, it's very unfortunate. The only bad blood there is just that they beat us three times, and we know that we have to come out with a solid performance and a flawless performance in order to take this game from them."
Missing Murray?
It has been easy to overlook, with North Dakota's offense scoring at least four goals in each of its last four games, but the Sioux have made it to the national championship game despite playing without playing without productive forward Brady Murray.
Murray's season has been an exercise in frustration thanks to a series of injuries. He played eight games before missing eight with a knee injury. He suffered a shoulder injury in January that cost him another five games.
And another shoulder injury in the WCHA semifinals against Denver put him out for the rest of the season.
"It's pretty frustrating," the soft-spoken Murray said. "I've never had to deal with this before."
That has cost the Sioux one of the most dynamic players in college hockey, UND coach Dave Hakstol said.
"He's one of those guys that can change a game in one play," he said. "He has dynamic speed and dynamic playmaking ability. Obviously, it's something that any team would miss and we're certainly no different."
Hakstol said it's probably killing Murray to be out of the lineup, maybe more so during the NCAA tournament. He watched Thursday's victory over Minnesota with fellow injured players Bina and Rylan Kaip.
"When we got up 4-0 there it was pretty easy to watch," Murray said. "If it was a close game, I don't know what I'd do."
Murray, who was third on the Sioux only to Brandon Bochenski and Zach Parise last season with 19 goals and 46 points, faces four months of rehabilitation on his shoulder to get ready for next season.
Back To Mannino
North Dakota goaltender Parise is deservedly getting plenty of attention at the Frozen Four for his late-season success. But Denver's Peter Mannino has put together a solid stretch run himself, one that earned him a start in Saturday's title game.
Gwozdecky said Friday that his coaching staff decided to give Mannino, a freshman, a second straight start for the first time this season. He has normally traded games with sophomore Glenn Fisher, but the Pioneers broke from the usual order on Thursday and will break with the rotation altogether for the title game.
Fisher played in two of the three games between UND and Denver this season and was the Pioneers' best player in the WCHA semifinals, Gwozdecky said. He stopped 29 shots in the 2-1 overtime victory.
"I think the decision was made more because no matter the outcome, this is the final game," Gwozdecky said. "This is the last game of the season and I think with a day off, to be able to give Peter the rest and with knowing Peter's approach and how he feels about his game, we felt that probably it was better to go with Peter."
In the six games since he allowed five goals after replacing Fisher early in an 8-5 loss at Minnesota State on Feb. 25, Mannino has given up a total of six goals, with three shutouts.
It's a high-pressure situation he's going into, but he's not looking at it that way.
"My approach is [it's] just another game," Mannino said. "It's a new level; it's definitely going to be the best game I've ever played in. I want to approach it as another game because I don't want to heighten it and put too much stress on it, because we played North Dakota before and just want to approach it as another game. But obviously this is going to be a big stage and they're going to come out very hard and they're going to play a big game, and I'm just going to try and backstop them and help my team out in any possible way."
One-Timers
• Denver and North Dakota have met for the national championship three times, with the Pioneers winning twice. Denver beat UND 6-2 in 1958 and 4-0 in 1968, while the Sioux won 6-5 in 1963.
• If the Sioux win Saturday, Hakstol will become the first person to win the national championship in his rookie season as head coach.
• North Dakota's goaltenders were awarded the victory in the team's penalty-shot showdown in Friday's practice. Only three of the UND skaters scored in the first round.
• Denver finally got the one thing that was missing from last season's Frozen Four. "We got our police escort," Gwozdecky said. "So I'm happy."
• Bina's No. 28 jersey is hanging from the ceiling in North Dakota's locker room.
• Gwozdecky, on Parise: "Jordan, I think, is starting to make some people forget about Zach."