At long last, here is the second annual list of the best high-stakes games of 2004-05. First, though, bear in mind what qualifies games for this list. A "high-stakes" game is defined as any in-season tournament game (i.e., Icebreaker, Great Lakes Invitational, Beanpot) or as any postseason game in league or national tournament play.
That said, it's much harder to define what makes a "best" high-stakes game, as this is very much in the eye of the beholder. Although one factor is the relative importance of the game — I didn't really consider any consolation or third-place games, for example, and there's no question that an NCAA Tournament game is much more important than, say, a win in the Dodge Classic Holiday Tournament, my top criterion is just how entertaining the game was to watch. So before there is much weeping and wailing and gnashing of keyboards with letters protesting my decisions, let me emphasize the following:
a. Yes, I do know that several of these games were sloppy games with plenty of mistakes … but they also were exciting, entertaining games.
b. Given that I saw only a small percentage of the hundreds of qualifying games, I have no doubt that I have overlooked some 2-1 games that were absolutely amazing. This is not always easy to tell from a box score or a recap.
c. No doubt I also am biased toward games that I did see and believed to be excellent, although others could have seen the same games and thought them mediocre.
With all of these caveats aside, let's run through an overview of some great games that did not quite make the Top 15. First off, there was Northeastern's stunning 4-2 upset of preseason No. 1 Michigan in the Lefty McFadden Invitational in Dayton, the first game of the season for both teams. This deserved consideration due to how shocking the win was, but it wasn't really that exciting of a game. I was there for that one, and it was never really in doubt that NU would win. That's a statement in and of itself, of course, but not supporting evidence for making the list.
UNH's 4-2 win over St. Lawrence in the Ice Breaker Championship was another close-but-not-quite alternative. With UNH tying the game with 1:04 left in the second … and then going ahead on two Sean Collins goals in 25 seconds in the first 1:20 of the third period, I would say that there were two and a half amazing minutes in that one, but that wasn't going to be quite enough to make the list.
Michigan State's 2-1 overtime win over archrival Michigan in the Great Lakes Invitational must've been thrilling, especially for Spartan fans, who got to see MSU win on a bizarre goal when Michigan goalie Noah Ruden got caught out of the net on the game-winner. This one was mitigated by Michigan being without Al Montoya, among others, due to the World Junior Championships.
The most amazing beginning for a game had to be in Alaska-Fairbanks' 6-3 road win at Bowling Green in the first round of the CCHA playoffs. Imagine the scene: The home crowd is hyped up for the opening of the postseason, and the visitors come out and score just five seconds into the game. And then they score eight seconds later! Ryan McLeod and the Nanooks set two records that night, scoring the fastest goal and the fastest second goal in NCAA postseason history. For good measure, they went up 3-0 at 3:19. But with the game effectively over at that point, it's hard to include in this list.
The best in-season tournament of the year, game for game, would have to be The Florida College Classic. Featuring three ranked teams in Boston College, Cornell, and Maine, this series lived up to its billing — lots of great goaltending and tight defensive play. Only one of the three games made the list, but both semifinals and the championship were quite entertaining.
Okay, now for the rankings: I have to say that it was fiendishly difficult to put these in order. There was not much to separate, say, No. 3 and No. 13 on my list. In any event, this list is meant to start debate rather than end it, and I'd love to see what people think on the USCHO Message Board.
15. (tie) Hockey East Semifinal: BC 2, Maine 1 (2 OT)
At 89:03, this was the longest semifinal game in league history. It was a gritty effort by BC, going against one of the top goalies in the nation in Jimmy Howard while playing without Patrick Eaves and Peter Harrold … and then losing Stephen Gionta to injury during this marathon.
There were only two goals in regulation time … but they came within a 12-second span of the second period. Although there were not an amazing number of scoring chances, there were some doozies: Late in the game, BC captain Ryan Shannon sent an amazing long pass from his own end to spring Chris Collins for a breakaway. Collins fired a wrist shot, only to have Howard stack his pads and pluck the puck out of the air with his glove. BC ultimately won it, but that didn't take away from two amazing performances in goal, as Cory Schneider made 39 saves for BC while Howard stopped 36 shots.
15. (tie) Florida College Classic Semifinal: BC 4 Cornell 2
I could have just as easily picked the other semifinal here, a 1-1 tie between Maine and underdog St. Cloud, as the Huskies edged the favored Black Bears in the shootout. But given that this game featured two powerhouses going head-to-head, I'd have to go with this one. Much beleaguered BC goalie Matti Kaltiainen had a terrific game here, especially when making some terrific saves early in the third period with the game tied and BC shorthanded for over three minutes due to a five-minute major penalty.
There were five five-on-three power plays in this game, and BC scored twice this way. It also was a back and forth game, with BC going up 1-0 and 2-1, only to have the Big Red tie it twice. After going up 3-2, BC was penalized late in third, and Cornell looked poised to tie until the Eagles notched the shorthanded empty-netter to clinch it with 1:09 left. Kaltiainen bested Cornell's touted David McKee on the stat sheet, as Kaltiainen stopped 27/29 versus McKee's 17/20 performance.
14. Hockey East Quarterfinals Game 1: BC 3, UMass 2 (OT)
When I did the Best Regular-Season Games ranking a few months back, I got some critical e-mails and message board postings about how I clearly was biased toward the western teams — especially those in Alaska. There also was some feeling that I shortchanged BC. Now I'm not trying to make up for that list — I stand by it — but in reviewing all of the tournament games this season, BC did emerge several times … and here the Eagles are again.
Of all the Hockey East quarterfinal series, this was probably the only one in which no one gave the underdog a chance to win. So it was amazing to see the Minutemen take a 2-0 lead, and even more surprising that it could've been 3-0 or 4-0 if UMass had capitalized on a few more terrific scoring chances.
A huge hit by David Spina cleared the way for him to set up Patrick Eaves for BC's long overdue first goal. And then Brian Boyle blasted a shot that hit Gabe Winer in the chest before bouncing over his head and in to tie it.
Both teams played well in the OT and had chances to win it before Stephen Gionta put it away on a crowd-stirring breakaway.
13. ECACHL Semifinal: Harvard 4, Colgate 3 (2OT)
Another great toe-to-toe battle, this game featured some admittedly sloppy play but also an incredible third period and a long stretch of white-knuckle overtime before the Crimson pulled it out. The first two periods featured tight, defensive-minded playoff hockey but were otherwise innocuous; Harvard led 1-0 through 40 minutes.
Colgate tied it on Jon Smyth's goal just 27 seconds into the third frame. With four minutes left, all hell broke loose: Charlie Johnson gave Harvard a 2-1 lead at 16:01, only to have the Red Raiders tie it 45 seconds later on a long shot by Joey Mormina that took a bounce off the shoulder of Dov Grumet-Morris and into the net.
The game stayed tied for all of 77 seconds. Harvard reclaimed the lead at 18:03, seemingly clinching it on Tom Cavanagh's amazing individual effort. The forward fought off two defenders to get off a shot and get his own rebound for a heroic goal … although it had to be reviewed, as Cavanagh, a Colgate defenseman, Colgate goalie Steve Silverthorn, and the puck all ended up in the net.
The goal stood, but the lead didn't. Thirty-six seconds later, Mormina scored again to tie it on a one-timer. In the second overtime, Kevin Du — who had been stopped on a breakaway earlier in the game — had a chance at redemption and capitalized on it to send Harvard into the league championship game.
12. Nye Frontier Classic Championship Game: Alaska-Anchorage 3, Minnesota 2
Not many teams had great success against the Golden Gophers, but the Seawolves went 2-0-1 against Minnesota in 2004-05 thanks to some great goaltending. In this early-season tournament game, Minnesota outshot Alaska-Anchorage 38-19, only to have Nathan Lawson make 36 saves.
It was also a game with odd moments. After the Seawolves went up 2-1, they got called for a penalty because their celebrating fans threw debris on the ice. Sure enough, this led to Gopher power-play goal to tie it 2-2. Ultimately, though, the Seawolves got the game-winner halfway through the third period. Thus starting off the season 1-0-1, Alaska-Anchorage had already matched its win total of two seasons ago.
11. Dodge Classic Holiday Tournament Semifinal: Northern Michigan 0, Harvard 0 (NMU wins shootout 3-2)
Who says a 0-0 draw can't be exciting? Well, I suppose that many people would say that. Not me, though — not in a game like this one. With as many as 15 Harvard players on antibiotics, this was a gut check for the Crimson. The offense was not as anemic as the score would indicate: The game was peppered with scoring chances, especially in the waning minutes. Harvard's Dov Grumet-Morris and Northern Michigan's Tuomas Tarkki combined for 70 saves in 65 minutes. In overtime, Wildcat Alan Swanson skated in and rang a wrister off the left post.
The teams went to a shootout to determine who would advance … and even that was tied 2-2 after five shooters apiece before NMU finally won it. Refreshingly, this game also featured only five penalties — a rarity in the first half of the season.
10. NCAA East Regional Final: Denver 4, New Hampshire 2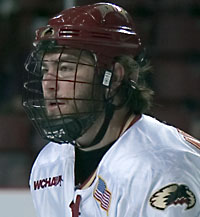 Although the Frozen Four games were generally disappointing unless you were rooting for Denver, the NCAA Regionals had plenty of excitement. This game was a terrific back-and-forth battle. Denver led 1-0, then UNH went up 2-1 … on a Daniel Winnik penalty shot, no less — always a thrill but especially true with a Frozen Four berth on the line.
This one remained a nailbiter with four minutes left until Ryan Dingle got the go-ahead goal with 3:43 left, followed by Gabe Gauthier capping things off with an empty-netter to complete a hat trick. The game also featured a pair of freshman goalies who absolutely rose to the occasion in the biggest game of their lives to date. Freshman Kevin Regan played great in the Wildcat net, stopping 42 of 45 shots, and counterpart Peter Mannino stopped 31 of 33 shots. Mannino's biggest moments came just seconds after Dingle's go-ahead goal, when Sean Collins stole the puck and took a shot that Mannino saved. Brett Hemingway had a backhanded sweep at the rebound; it hit the post.
9. Beanpot Championship: Boston University 3, Northeastern 2 (OT)
This game would've ranked higher if the Huskies had won it, as it would've been their first 'Pot since 1988. It appeared that if the Red Sox could win their first title since 1918, why not the Huskies ending their comparatively short-lived one?
Actually, they deserved it this year. For 60 minutes, Northeastern was the better team against the perennial champs. The Huskies outshot BU 10-6 in the first period but came out of that frame down 2-0. They clawed back in the second, with Jon Awe getting just his fifth career goal in 103 games. They followed that up with some thrilling five-on-three chances before tying it up with just 2:05 left in regulation: Mighty mite Jared Mudryk poked in a puck that John Curry didn't know he had covered before shifting slightly.
The game went on to become the longest championship in the tournament's history. The Terriers snapped out of their malaise in OT, playing better and finally winning it on freshman Chris Bourque's goal — almost a carbon copy of his father's All-Star game-winner from years before.
8. CCHA First Round, Game Two: Michigan State 5, Miami 4 (OT)
With a berth to the Super Six on the line–and with Miami's season on the line after losing the first game of this series–the Spartans and RedHawks put on quite a show. Miami went up 2-0, then 3-1, and then seemed to clinch the game by making it 4-2 with just 7:16 remaining in regulation.
Just 43 seconds later, though, the Spartans made it 4-3. Then they tied it a minute and a half after that, and the game went to overtime. Miami dominated for a stretch in overtime, culminating in Spartan Ash Goldie picking up the puck and throwing it out of the zone to clear it — not the best idea, as he was called for delay of game.
Miami very nearly won it on the ensuing power play. Facing great offensive pressure and the reality that the season would be over if he surrendered a goal, Spartan goalie Dominic Vicari made a sensational save to keep hope alive for MSU. "What a rubber-band leg," Spartan star Jim Slater said. "It was probably the best save of the year, maybe out of anyone when you of the things that were on the line."
Ultimately Colton Fretter won it for Michigan State at 7:45 — the first time the Spartans had led in the game.
7. NCAA West Regional Semifinal: Minnesota 1, Maine 0
In one of many thrilling Regional semifinals, Black Bear goalie Jimmy Howard put on an amazing goaltending exhibition. Playing against a partisan crowd in Minnesota's home arena, Howard stopped all 37 shots that the Golden Gophers put on him in regulation, overshadowing the 25-save shutout victory by Kellen Briggs.
Two of Howard's best saves came midway through the second. Gino Guyer stole a pass and dropped it to linemate Kris Chucko, only to have Howard flash a high glove to make the save. Just moments after that, Howard dove across the crease to stop a shot by Evan Kaufmann, bidding to knock home a loose puck to Howard's right. A minute after all that, Jon Jankus hit a post for Maine, only to have Minnesota go the other way with another great chance for Chucko — Howard saved it again.
In the third period — on their ninth power play of the game and just after hitting the post during the delayed call — Minnesota almost got its first goal with three minutes remaining. Danny Irmen passed across the crease to Derek Peltier, only to have Howard make the unthinkable save.
Howard finally proved to be mortal at 1:46 of overtime, when Kaufmann scored on a point-blank one-timer that led to as many sighs of relief as celebratory whoops in Mariucci Arena.
6. Beanpot Semifinal: Boston University 2, Boston College 1
Despite the Terriers' amazing track record in this tournament, there was no great optimism going into this year's February classic. Yes, BU had beaten BC in a terrific game in December, but the Terriers played startlingly uninspired hockey while getting swept by their Comm. Ave. counterparts just three weeks before this matchup. Even worse for BU, sophomore goaltending sensation John Curry was hurt and could not play, leaving the netminding duties in the hands of Stephan Siwiec, who had been horrible in his two biggest games of the season to date.
When BC got the game's first goal, few suspected it would be the Eagles' last of the night. John Laliberte got a momentum-changing goal with just 15.2 ticks left in the first period, and then the young power forward put BU ahead in the second period. Meanwhile, Siwiec was stellar, stopping 36 of 37 shots — including a great bid by Joe Rooney in the third period. He also was a little lucky when Ryan Shannon hit a post in the second period.
The whole game was a white-knuckle affair, as the onlookers kept wondering when and if the Boston College juggernaut would erupt. It never happened, and BU reached the championship game for the 21st time in 22 years.
5. Great Lakes Invitational Semifinal: Michigan State 4, New Hampshire 3 (OT)
Many of our Midwestern readers complain that the GLI is overlooked in comparison to the Beanpot. Certainly this game was one that deserved more national attention that it received. For starters, it would be hard to see a more exciting scoreless first period than this one: The teams combined for 32 shots — with the Spartans holding a 21-11 advantage — without scoring, thanks to the heroics of Wildcat Jeff Pietrasiak and Spartan Dominic Vicari.
UNH fell behind three times in this battle but came back to tie each time. Eleven seconds after falling behind 1-0, the Wildcats tied it 1-1 … only to have the Spartans regain the lead 51 seconds later! For variety, fans got to see a shorthanded goal, as Preston Callander did the honors to knot the game 2-2. In the third period, Colton Fretter gave the Spartans another lead at 11:12 … and Callander tied it again — just 48 seconds later.
Fittingly, the game went to overtime, where Jim Slater won it at 4:14. Pietrasiak ended up with 41 saves, while Vicari stopped 39 shots.
4. WCHA First Round: Wisconsin 5, Alaska-Anchorage 4
If anyone were to call this one an artistic masterpiece, it would have to be a Jackson Pollock original. It wasn't a pretty game, but it was a bizarre and vastly entertaining contest. Host Wisconsin took a 2-0 lead, only to surrender four consecutive goals to the characteristically upset-minded Seawolves.
The Badgers started off tied 2-2 in the third period but managed to give up a power-play and a shorthanded goal within a span of 82 seconds early in the third period — no easy feat. Robbie Earl responded with a pair of goals to tie it before Adam Burish got the game-winner with 3:20 left.
Along the way, both teams pulled their goalies: For Alaska-Anchorage, John DeCaro was yanked after playing all of 270 seconds, surrendering two goals on four shots. Bernd Brückler managed to last into the third period, but that fourth goal was his downfall. With his team on the power play, Brückler went to field a long clearing shot out of the Seawolves' zone. Instead, the puck bounced over his stick and into the net, eluding his dive. Seawolves coach John Hill admitted that it was the biggest fluke goal he had ever seen.
Brian Elliott replaced Brückler and got the win. For good measure, the game also included a linesman needing to be replaced due to injury. Not your typical game.
3. ECACHL First Round, Game Two: Yale 5, Dartmouth 4 (OT)
This one reminds me of the 1960 World Series, in which the New York Yankees outscored the Pittsburgh Pirates by a 55-27 margin … and lost. Yale got blown out in the first game of this series, losing 7-2. Through the three periods of regulation in game two, the Big Green outshot the Elis by the whopping margins of 21-9, 18-9, and 24-6. Yet Yale never trailed — in fact, Dartmouth trailed 4-2 with just over minutes remaining. Thrilling the home crowd, the Big Green got two goals to tie it, including a tally with just 1:56 left.
There were many improbable developments in this one. Yale scored just 1:01 into the game and had a goal waved off 29 seconds later. Just 68 seconds after scoring a power-play goal at 2:25 of period two, Yale surrendered a shorthanded goal on a Lee Stempniak breakaway. Junior goaltender Josh Gartner had not won a collegiate game in over 13 months, but he came up with an astonishing 60 saves in this one. Best of all, though, freshman Will Engasser came into this game without a single point in his first 20 collegiate games. With his team's season facing an end, Engasser scored a go-ahead goal to make it 3-2 … and then won it on a screened 40-foot wrister at 2:41 of overtime for his second career goal.
2. NCAA Northeast Regional Semifinal: Boston College 5, Mercyhurst 4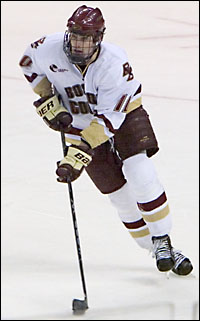 In attempting to predict the outcome of each game in the NCAA Tournament, this one appeared to be the biggest slam-dunk. Most of the experts had BC winning this one by at least four goals. So even when Laker forward David Wrigley caused many an eyebrow to raise by scoring the first goal — all of 27 seconds into the game, the third-fastest goal in NCAA Regional history — it seemed plausible that the top-seeded Eagles might win 6-1.
Instead, those in attendance were treated to a stunning barnburner. BC tied it 1-1, then saw Mercyhurst take a 2-1 lead, only to end the frenetic first period down 3-2 thanks to power-play goals by Brian Boyle and Greg Lauze. But then in the second period T.J. Kemp tied it 3-3 on one of the game's 19 power plays and five power-play goals.
BC got the next two goals to make it 5-3. The fifth goal was an amazing one by freshman Mike Brennan — just his second collegiate goal. He went in around a teammate setting a pick and roofed a backhander in such a way that one would have thought he was a 30-goal scorer. Yet again it seemed the game was over. However, Rich Hansen scored with 59 seconds left in the second period to make it 5-4.
With six minutes left, Laker goalie Mike Ella looked to be hurt and was pulled in favor of Andy Franck, who hadn't played in more than a month. Shortly thereafter, Kemp nearly tied it when he came out of the penalty box to receive a home-run pass for a breakaway on Cory Schneider, who made a game-saving stop. Meanwhile, Ella turned out to only have a cramp and came back in net, winding up with 52 saves — third-most in regulation of an NCAA tournament game. Some of his best moments included huge saves on partial breakaways by Ryan Murphy and Joe Rooney in the third period.
Mercyhurst never gave up or in, mounting three great shots with the extra attacker. Scott Champagne had a great bid with 24 seconds left, and the result was in doubt right up to the last few seconds. The expected victor pulled it out, but Mercyhurst gained respect on that day.
1. NCAA Midwest Regional Final: Colorado College 4, Michigan 3
In a season dominated by the WCHA, it's fitting that we have a WCHA victor as the top choice for the Best High-Stakes Game of 2004-05. Remember that Michigan was the preseason No. 1 — a team that many thought would win it all despite a few stumbles during the regular season. Also remember that this game was played in Grand Rapids, Mich. — not a home game but still a home-state advantage for the Wolverines. For good measure, the Tigers were ousted by the Wolverines the last time they played in Michigan during the postseason.
Indeed, the planets appeared to align for the first 25 minutes of this game. On power-play goals by Jeff Tambellini and Brandon Kaleniecki and then an even-strength goal by Eric Nystrom at 1:32 of the second period, Michigan took a seemingly insurmountable 3-0 lead against Colorado College — only to see it all unravel.
Penalties were the first nail in Michigan's coffin, as eventual Hobey Baker winner Marty Sertich converted on a five-on-three advantage at 6:13 of the second period. Then junior Trevor Frischmon scored on — of all things — a three-on-one shorthanded rush. This was just the beginning for the unheralded second line of the Tigers, which figured in the last three goals of the game.
Joey Crabb tipped in a Frischmon shot to tie it, and then Frischmon knocked home a rebound at 10:06 of the third period for the game-winner. It was the first time since 1987 that Michigan had blown a three-goal lead.
Given all that was at stake and how the odds were stacked against CC, this is my choice for the best high-stakes game of the year.
So now let the debate rage on as to whether you agree or disagree with some or all of these selections. Hopefully it will be fun to ponder while we wait for college hockey to return in October.