If Hollywood made a movie about T.J. Oshie's hockey career, would anyone believe it?
Three years ago, the 18-year-old North Dakota freshman was a West Coast kid hoping to follow in the footsteps of his relatives who played for the storied Warriors high school hockey team in Warroad, Minn.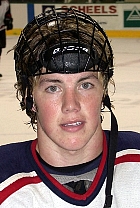 Today, the 5-11, 185-pound forward is a 2005 first-round draft pick of the NHL St. Louis Blues and one of the primary reasons why UND's class of incoming freshmen is considered one of the best in college hockey. Fighting Sioux defensemen Brian Lee (Ottawa Senators) and Joe Finley (Washington Capitals) were also first-round picks in the 2005 NHL draft.
Former Sioux player Cary Eades, now UND's assistant coach, was the head coach at Warroad when Oshie and his father Tim moved from the Seattle area to Minnesota in 2002 with the goal of making T.J. a better hockey player.
"When he first arrived, he hadn't skated a lot. He was more of a roller hockey player with good stick- and puck-handling skills," said Eades. "I remember watching him the first two weeks of practice and wondering whether or not he'd make our varsity."
When he steps on to the ice at Ralph Engelstad Arena Oct. 2 for UND's season-opening exhibition game against Manitoba, Oshie will begin another chapter in his career, one that he hopes will prepare him to move from the ranks of college amateurs to NHL professionals.
"It's so much easier to get bigger and stronger here and become a better hockey player," Oshie said of his decision to attend UND. "There's such a great atmosphere. In a way, it's like pro hockey because we get a good amount of fans."
The remarkable aspect of Oshie's rise from relative obscurity into the ranks of the nation's elite young hockey players is his role in engineering it beginning at age 10. To understand how that happened, it helps to understand his family's heritage and background.
Tim Oshie's family is Ojibwe (Chippewa) and from a tribe with roots in the Warroad area. His parents were born and raised in Warroad. As a baby, Tim lived in the town for a short time before his family moved to Anoka, Minn. When he was in eighth grade, his family moved to Everett, Wash., near Seattle. There, he attended college, played basketball, got married, started a family and ran a successful business as a sports promoter.
T.J. grew up listening to stories about the Oshies and their relatives who were among the hockey legends of the Warroad Warriors. Tim's father Buster, his stepfather Richard and his uncle Max starred for Warroad. His cousins Henry Boucha and Gary Sargent played there and went on to careers in the NHL. T.J.'s grandfather told his grandchildren about Ojibwe culture and entertained them with traditional Ojibwe songs and drumming.
In the winter of 1995, Tim Oshie and his family spent a week in Warroad while attending his grandmother's funeral. They stayed with Boucha, who played hockey for Warroad before going on to play with the U.S. National Team and the 1972 silver medal-winning U.S. Olympic team. Between 1971 and 1977, the teams he played for in the NHL included the Detroit Red Wings, the Minnesota North Stars and the Colorado Rockies.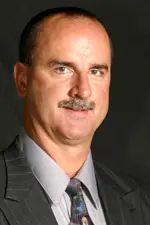 It didn't take long for young T.J. to see the advantages that a town like Warroad offered a budding hockey player. Boucha remembers Tim and Tina Oshie arriving with their three children late at night after a long train trip from Washington. They checked out the skating rink in Boucha's back yard, ate and went to bed around 3 or 4 in the morning.
"Tim and the boys were up on my outdoor rink before sunrise," Boucha recalled. "It was about 30 below and we had three feet of snow. They thought it was great."
In the Seattle area, ice time was expensive and very limited. But in Warroad, then-Warriors hockey coach Eades told the Oshies that they could skate in the high school arena for free from 9 a.m. to 3 p.m.
"Every day from 9 to 3, T.J. dragged us to the rink and all of our family was out there skating," Tim remembered. "I think that's where the love of Warroad was instilled upon us. The town is so rich in tradition with all its hockey legends. Because of my family — my uncles, my father, my cousin Henry — it was very special being in that arena."
That experience convinced T.J. that to become the hockey player he wanted to be, he needed to live in Warroad and play for the Warriors. But it wasn't that easy. His parents had successful businesses, family and friends in Washington. Although T.J. frequently talked to his father about moving to Warroad, it wasn't until 2002 that Tim seriously considered the idea.
As T.J. explained, "Around my second year in bantams, I didn't really think the competition was there. I felt like I could become a lot better hockey player if I moved to Warroad — Hockeytown, USA — as opposed to Stanwood, Wash., where I was the only hockey player in my whole school."
Tim has nothing but praise for the coaches in Washington who helped his son become the player he is today. But there was no disguising the fact that when it came to developing hockey players, Washington wasn't Minnesota and it wasn't Canada, either.
"My last year in Washington, we had only two bantam teams in the state tournament, and that was everyone in the whole state. Our parents were our only fans," T.J. said.
Playing against Canadian teams just across the border made Tim realize how good his son could become under different circumstances.
"That was T.J.'s saving grace. Even though he played in Seattle, he played in a league that was in Vancouver, B.C. Some of the best players in North America are from British Columbia," Tim said. "He would hang with these guys, even though they were bigger, stronger and faster. But it was just the fact that they had so many more resources and could skate every day that made them better."
While in Washington to operate summer hockey camps, Boucha had the opportunity to watch T.J. play. He was impressed with what he saw.
"With T.J.'s vision on the ice and his competitiveness — even playing against kids twice his size — you could tell right then and there that he had a gift," Boucha said. "He's just a natural athlete and has that uncanny instinct that will help him make it in the NHL."
In July 2002, the Oshies returned to Warroad for a two-week vacation. T.J. attended a hockey camp there and an Ojibwe powwow. Boucha arranged for a medicine man to conduct the traditional Ojibwe naming ceremony for Tim and his children, which is similar to the Christian practice of baptism.
But T.J. wasn't an infant. He was 15 when he received his Ojibwe name of Keeway Gaboo, which means "coming home." To Boucha it was a sign. While living in Idaho in the late '70s, he said the Great Spirit used a golden eagle as a messenger to tell him to return home to Warroad.
"Henry told me that it was also my calling to come back home," Tim said. "He said the Spirit that spoke to him wanted me to come back with my son. Native Americans are very spiritual in that respect.
"He really wanted both of us to come back, not only because T.J. wanted to play hockey, but also because he wanted us to be part of the rich culture and traditions of the Ojibwe that are part of our family."
And so, a month later, Tim and T.J. moved back to Warroad with no guarantees of what the future might hold. Tim didn't have a job until he went to work for the Minnesota Indian Education Association a few weeks after arriving in Warroad.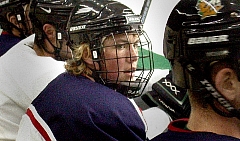 T.J. was a sophomore at Warroad High School and went out for the Warriors hockey team under the watchful eye of Eades, who considered him an unknown quantity. Despite being the all-time leading scorer of the Seattle Junior Hockey Association, Eades said, "Some didn't consider him that good of a youth hockey player."
Nonetheless, he made the team as a fourth-line wing. When a first-line wing went down with an injury during the opening game of the season, Eades moved Oshie into the position.
"He never looked back," Eades said. "By the end of the season, he was All-State and helped us to a state championship."
Eades calls Oshie "a tremendous athlete" who would excel at almost any sport he chose to play. Between the increased ice time at Warroad and Oshie's outstanding work ethic, he improved by leaps and bounds.
"Even on our mandatory day off, T.J. would find a way to get into the arena. I had to tell him to get off the ice," Eades said. "It typifies the type of player he is. He really, truly enjoys the game, and that's evident in his play."
T.J. admitted that he wasn't a good skater in Washington. "Coming out here, we skated every day for the whole season," he said. "I got a lot of confidence in my skating, got a better stride and got a little bit faster. I think that really helped me make the jump up to the next level."
By the time his three years at Warroad ended, Oshie captained the school to a second state championship as a senior and became the Warriors' all-time leading scorer with 104 goals and 137 assists. All-tournament, all-conference, all-state and MVP honors followed.
After Minnesota's high school season ended, Oshie played 11 games for the Sioux Falls (S.D.) USHL Stampede and attended the NHL Combine Camp in Toronto. Heading into the 2005 NHL draft, he was listed 43rd among North American player prospects by NHL Central Scouting.
On July 30, the day of the draft, T.J. was in Rogers, Minn., attending a hockey camp, Tim was in Warroad and his mother was in Washington (the couple separated in 2000 and divorced in 2002). All were following the draft over the Internet. But when St. Louis used its first-round pick to select T.J. as the 24th player overall, T.J. was on the phone with a friend and missed it.
"I jumped up when I heard Warroad High School," Tim said. "I didn't hear the rest. I ran outside and called T.J. right away. It was really a neat day, a magical day."
While T.J. had no idea that he would be selected so high in the draft, Tim said, "I had an inclination that he could go in the first round from a few scouts who called me in the weeks prior to the draft. They were very impressed at his presentation at the combine camps, not only his skills, but his interviews."
Of Oshie's potential, Eades said, "Nobody knows what his top end is right now."
But one thing is certain. As an NHL first-round selection, how long Oshie stays at UND before turning pro will be the subject of endless speculation. Right now, neither he nor his father is thinking about that.
"I would hope that he'd stay at UND four years and get his degree and then move on to the next part of his life," Tim said. "But if the St. Louis Blues feel that he's ready to make the jump, he obviously has to look at that opportunity. Right now, the focal point is on being here and doing everything he can for the university — academically and athletically."
On a young team, Eades said UND will need consistent contributions from its 13-member freshman class. But he believes the same qualities that made Oshie an outstanding player at Warroad and attracted the attention of the NHL will serve the Sioux well.
"He's a hound dog for hunting the puck down," he said. "North Dakota has always been known for its great work ethic. He'll be another in a long line of examples that lead us in that direction."