History repeats itself because no one was listening the first time. — Anonymous
Have you heard the one about the team that can score from nearly anywhere on the ice but allows goals from nearly anywhere as well?
Of course you have. It's the recent history of the Western Michigan Broncos.
Anyone following Bronco hockey can tell you how exciting the WMU offense can be. Last year, Brent Walton had a breakout season to become one of the top scorers in the country, and the Broncos had the ninth-best power play in the nation. But while WMU averaged close to three goals per game, it allowed close to four — a recipe for going nowhere any time soon.
"That's something that we need to improve upon," says head coach Jim Culhane. "We've implemented some new defensive zone coverage and new neutral zone coverage. We've proven that we can score goals. We play a real exciting style.
"I think we need to compete better defensively. We have a group of players who really enjoy competing offensively, but we need more buy-in from our players to compete defensively."
In other words, some players need to grow up.
It's fun to score goals. You get that great rush of adrenaline, the light goes off and the horn sounds, and the fans adore you. It's like when you were a kid, when everyone converged on the puck because getting the puck to the net was the only concern of everyone on the ice except for the goaltenders.
College hockey is different game from that of childhood, a different game from the junior scene, too. The Broncos need commitment from every forward on that team to play every system, including those that favor defense.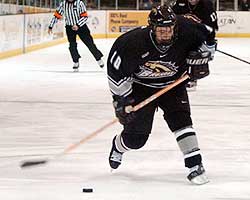 Culhane thinks that the commitment and leadership will come not only from players like senior forwards Walton and team captain Mike Erickson, but also from his sophomore class.
"I think we got great play from our freshman class last year," says Culhane. "On the blue line, we had Nathan Ansell and Jonathan Lupa, and we had forward Brian Bicek." Rounding out WMU's solid sophs are forwards Mike Lesperance and Jeff Pierce and goaltender Daniel Bellissimo. "Those six freshmen can continue to emerge as sophomores," says Culhane.
One sophomore in particular should exceed expectations this year, says Culhane, on the last line of team defense. "I don't think Dan [Bellissimo] has received the respect he deserves. I think Dan is a tremendous competitor."
Bellissimo's numbers, while not spectacular, were passable his freshman season, but things not on the stat sheets also defined the goalie's first season, like the number of times he was hung out to dry by his defense.
And like only half the teams in the league this year, the Broncos have an automatic advantage in net. "We're going into a situation that we know who our starter is."
In addition to improving in their own zone, the Broncos need to improve outside of their own comfort zone, outside the friendly confines of Lawson Arena. WMU was 10-7-1 at home last year while going 4-14-1 on the road.
"We want to continue the enthusiasm and excitement that we have at Lawson Ice Arena with our student section, the 'Lawson Lunatics,' but we want to try to improve on our road record."
Here's a suggestion for a new, clean cheer that even a lunatic could learn and love: "Dee-fence! (clap, clap) Dee-fence! (clap, clap)."
Has a nice ring to it, doesn't it?