It's not often that Wayne State is the first choice for a player to pick the Detroit university as his place to come and play hockey. But in Derek MacKay's case, it was.
MacKay entered WSU in the fall of 2002 as a true freshman and quickly found himself playing on the top line with then-seniors Jason Durbin and Dusty Kingston. In the classroom, MacKay enrolled in the School of Pharmacy with aspirations of becoming a pharmacist. His sister and father are also pharmacists and his family owns two pharmacies in their hometown of Sault Ste. Marie, Ont.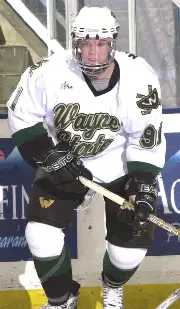 "I had offers from Michigan, Ohio State, Michigan State, Yale, Northeastern and Ferris State," said MacKay, now 21. "But I was looking for the school with the best pharmacy program and that was Wayne State. They also offered me the most and it was more than I could have ever asked for."
MacKay was also a third-round pick of the Sault Ste. Marie Greyhounds of the Ontario Hockey League in the 2000 OHL Priority Selection. He admitted it would have been a dream to play in front of NHL scouts and general managers every night, but after talking it over with his family and going with his gut, college was the right route.
"Craig Hartsburg was the [Sault Ste. Marie] coach and he told me straight up I had a spot on the team," MacKay said. "But he was also the first person to shake my hand and congratulate me when I made my decision to go to pharmacy school."
During his freshman year at WSU, MacKay finished second on the Warriors in goals (16) and third in points (28). Only Kingston and Durbin were above him. His rookie numbers stood as a school record until last season, when Stavros Paskaris hit for 33 points.
"That first year, we had that big senior class," remembered MacKay of the 2003 dozen. "I got a big break and was able to play with Jay and Dusty and got to stick with them pretty much the whole year. Not too many freshmen come in, at any school, and right away are put on the top line. I just went in and made the most of it. And to top it all off, we won the CHA tournament and went to the NCAA tournament. It was a great season."
But the next year was a completely different story. MacKay broke his left ankle at the Subway Holiday Classic in North Dakota on Dec. 28 during the championship game eventually won by the host Fighting Sioux, 8-2.
His season was over and it was all downhill from there. MacKay posted only eight points in 16 games.
"I was injured and I stopped going to class," said MacKay. "But then I realized that I wanted to concentrate on school rather than hockey. I was in the pre-pharmacy program, but I was kicked out of the program. I'm now going for my Bachelor of Science degree, but am going to re-apply to pharmacy school.
"If I don't get back in, I'm going to get my degree and go into pharmaceutical sales. But I have nothing bad to say, no regrets about Wayne State hockey. People will always assume that I had issues with coaching and stuff like that, but that's the furthest thing from the truth. The coaching was great and it was my personal choice to stop playing. They did call me a couple times to check up on me and to try and talk me into coming back, but I just wanted a normal life as a normal student and they respected that."
The 6-foot-1, 210-pound MacKay stayed enrolled at WSU and last season, with a year of junior eligibility left, got in touch with his former junior team, the Soo Thunderbirds of the Northern Ontario Junior Hockey League.
"We were short on players and short on quality veterans," said Thunderbirds' vice-president and director of hockey and business operations Alan Jones. "I knew what was happening with Derek at Wayne State and I passed it by him to see if he wanted to come back here and play the home games. I told him he'd play, no questions asked. I then ran it by all our players and they were all for it. He has a lot of leadership and I don't think the guys would have agreed to have him back if he wasn't such a team player.
"Plus his girlfriend is here in the Soo and I don't think he minded the drive up I-75 every Friday."
With the Thunderbirds, MacKay played in 20 games and had nearly a point a game with seven goals and 17 points. Jones said maybe he'd lost a step and added a couple pounds, but he still made an impact. In his first game of the season (last) Oct. 1 against the Abitibi Eskimos, MacKay scored once and added four assists for a five-point night in a 9-3 win.
"Was he the same player he was before he went to Wayne State? Not really, but remember, he was still recovering from his ankle injury and he hadn't played in months," Jones said. "A lot of times, he'd drive six hours and get to the rink an hour or two before the game started. That's not an easy thing to do, but it was his choice. I'd coached him in peewee and atom and he has as close to a pro shot as I've ever seen."
With his hockey career at a crossroads, MacKay now just wants to get through school and earn his degree. While attending class and for stretches this past summer, MacKay has been a housemate of Durbin at his new house in Newport, Mich. He's also working at his family's pharmacies back home as a pharmacy technician to make ends meet and to help out Durbin with new home expenses.
"I wouldn't say I'm officially done with hockey, but I am done for now," said MacKay. "I coach a travel team of 10- to 12-year-olds in the Soo, but that's about it. I still have pain in my ankle, but at least I can still walk. It still swells and bruises, but it's a lot better than what it was."
"As he matured, Derek continued to get better," noted Jones. "So am I disappointed that he says he's done? Of course I am. But his dream now is to become a pharmacist and that's no easy feat. He just had an unfortunate accident and it cost him. I think he still has that fire, though.
"Last season, we had a playoff game on a Tuesday and his sister also had a baby and he wanted to come back here to see his sister. He went to his professors and they told him to take the whole week, go home and they'd work everything out when he got back. But in the back of his mind, he knew he also could play that Tuesday."
Still a student and still a Warrior, MacKay plans to attend a handful of games this season. The would-be-senior has junior status academically, but is adamant about catching up and graduating.
"Oh yeah, I'll be at some games this year," admitted MacKay. "I want to see Stavros and see what he's all about."
Ironically, Paskaris and MacKay played across the [nl]St. Mary's River from each other as Paskaris played his junior hockey for the now-defunct Soo Indians of the North American Hockey League, but the two never matched up against each other. Nor will they be WSU teammates, either.
In any event, MacKay is just relaxed and encouraged to know his life is back on the right track.
"I'm surviving," concluded MacKay. "Student life is going well and I'm looking forward to getting my diploma. I basically lost a year and I'm intent on making that up.
"I owe it to myself to make something of myself."
This story originally appeared on MichiganCollegeHockey.net.