Heading into a weekend homestand against No. 14 Harvard and Dartmouth, Clarkson coach George Roll said he considered Dartmouth and Harvard to be among the best teams in the ECACHL and thought the pair of contests would be a good test for his young team.
"They are two of the top teams in our league, even though Dartmouth has gotten off to something of a slow start," he had said. "Both teams present different challenges."
On the opposite side of the ice, both Dartmouth and Harvard knew they faced a challenging weekend series: not only are St. Lawrence's Appleton Arena and Clarkson's Cheel Arena always been two of the toughest venues in the league for opponents, but the two teams have rebounded strongly from last season when they finished in seventh and ninth place, respectively, in the league.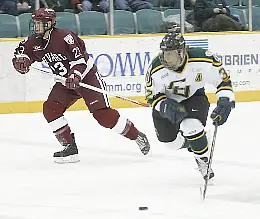 Entering Friday's play, the Saints and the Golden Knights were near the top of the league standings and represented two of the ECACHL's five nationally-ranked teams — Clarkson was ranked No. 19 in last week's USCHO.com/CSTV Networks poll, and St. Lawrence was No. 12.
"This is just a tough road trip in general, and [Clarkson and St. Lawrence] are real good teams this year," said Harvard captain Peter Hafner.
"That was a tough trip; it's a real tough trip," agreed Dartmouth coach Bob Gaudet. "For us, it was a challenging weekend."
All of the teams involved entered the weekend riding some form of winning streak. The Crimson entered Cheel with a five-game unbeaten streak, while the Big Green and the Golden Knights both began the weekend with three-game winning streaks against league opponents. St. Lawrence began the weekend with the shortest win streak, but had the best overall record and highest ranking among all the teams.
And so it may have come as little surprise that there were three very close games over the course of the weekend, with each team splitting its two games.
"This weekend gives us a real barometer of where we are in the league," said Roll before Friday's contest.
"It's an excellent league," Gaudet said. "Everybody's good. When you don't have your 'A' game, chances are you're going to lose."
Big Wins All Around
The Golden Knights have struggled against Harvard during Roll's tenure; entering Friday night's game, Clarkson has posted a 1-3-2 record against the Crimson. One of those losses occurred during the 2004 ECACHL championship game, but the other two came in the normally-comfy confines of Cheel, where Clarkson hasn't beaten Harvard in either of the previous seasons.
"We have to take care of home ice," said Roll, after Friday night's 4-3 win over Harvard. "That's something we've sort of struggled with against Harvard while I've been here.
That fact, coupled with Harvard's strong play this season and its national ranking, made the win one of the season's most important, in Roll's mind.
"It's a big event for our program to beat a quality team like Harvard," he said.
---
Roll's comments were echoed by his opponent the next evening after Dartmouth managed to rebound from Friday's close loss to St. Lawrence to shut out Clarkson, 4-0.
After rallying for two third-period goals to tie the game at 4 against St. Lawrence, Dartmouth fell behind with less than five minutes left on sophomore forward Charlie Giffin's second career goal. With the score 5-4, Dartmouth pulled goaltender Mike Devine with a minute and half left in an attempt to again tie the game, but an empty-net goal with less than a minute left by Saints defenseman Matt Generous put the contest out of reach.
Despite the close loss that dropped the team to 3-5-0 on the season, Dartmouth responded the next night by beating a Clarkson team that was confident after its 4-3 win over Harvard.
"We came back the next night against a good Clarkson squad," said Gaudet. "We got some strong goaltending from Sean Samuels, and some timely goals."
"After Friday night's loss, it was nice to come back for the win," he added.
---
Gaudet's words were almost identical to those spoken by Harvard head coach Ted Donato following his team's 4-3 win over St. Lawrence on Saturday night.
"After losing last night with a tough one," he said, "this was a huge win."
Like the Big Green, the Crimson responded against St. Lawrence following a close loss the previous night to Clarkson. Against the Golden Knights, Harvard struggled out of the gate, allowing a shorthander three minutes in and an even-strength goal at 13:58.
Down 2-0, Harvard was given a shot of life with a four-on-four situation after Golden Knight forward David Cayer was whistled for crosschecking 50 seconds into his team's power play. During the 1:10 of four-on-four play, Harvard managed to tie the score on goals from Dylan Reese and Ryan Maki. That tie was short-lived, however, as Harvard gave up two power-play goals in the second period and didn't really begin to compete well with Clarkson until the final frame.
"I didn't think we were very sharp tonight," said Donato. "In the first 40 minutes, we played four minutes of the kind of hockey we can play.
"The four-on-four did give us some momentum, but it's tough to keep the momentum going," he continued. "We took too many penalties, and we turned the puck over too much."
Although Harvard left the next night with a win over St. Lawrence, many of the problems Donato pointed out after the loss to Clarkson were still in evidence during the win over the Saints.
The Crimson took 12 penalties on the night, including three each for interference and for holding; in the second period, Harvard was heavily penalized, resulting in a total of nearly three minutes of five-on-three advantages during the last 10 minutes of the period.
Oddly enough, though, the overabundance of penalties seemed to eventually work to Harvard's benefit as St. Lawrence grew frustrated with its inability to find the back of the net despite the long stretches of five-on-three power plays.
"We were forcing it, forcing it, forcing it into traffic and we were blasting it into their pads instead of trying to get it down low and making some adjustments," said St. Lawrence coach Joe Marsh. "We held on to the puck a little bit too much, we stalled it a little bit too many times. And they took a lot of time off our power play by winning a lot of faceoffs, too.
"I don't think we reacted particularly well in certain situations," Marsh continued. "When we did make a mistake we were kinda shaking our heads and banging our sticks and things like that.
"Against a team like Harvard you can't take time away from what's supposed to be going on there instantaneously to give yourself a pity party."
On the night, St. Lawrence finished 0-for-10 on the power play but outshot Harvard 46-16. The Saints did mount a comeback in the third period; defenseman Simon Watson pulled the Saints to within two at 18:34 of the third, and Marsh then chose to pull goaltender Justin Pesony in favor of an extra attacker. The strategy produced a goal at 19:44 to make the score 4-3, but the Saints were unable to come up with the equalizer in the game's waning seconds.
"You've got to give them all the credit in the world; they did a great job of killing our power play," said Marsh. "I think they played with a great deal of energy, blocked a ton of shots. Hats off to them, I thought they played really well."
Injuries To Overcome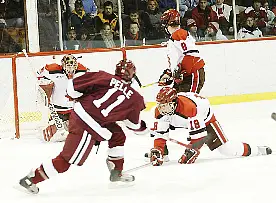 Saints sophomore goaltender Justin Pesony started his 12th game of the season Saturday night against Harvard, and has posted a 9-3-0 record with a goals against average of 3.00 and a .897 save percentage.
During the preseason, Pesony was projected to compete with fifth-year senior Kevin Ackley for the starting netminder's spot. Ackley entered the season with a 3.11 goals against average and a .903 save percentage over three seasons. He sat out 2004-05 after taking a medical redshirt to recover from a serious knee injury.
Ackley was in net for the Saints' season opener at Wisconsin, taking the loss in overtime of the 3-2 contest despite stopping 35 shots. He next saw action in net November 19, stopping 27 shots and allowing two goals in a win over Princeton.
Ackley has been battling what was officially noted as a high-ankle sprain for much of the season, but Marsh was hopeful that Ackley would be back in net for the Saints with some rest and some time to recover during the team's holiday break.
---
Harvard's Paul Dufault, tied for second on the team in points with four goals and seven assists, missed Saturday night's game against St. Lawrence after taking a hard check on Friday night in the game against Clarkson. In his place on Saturday, freshman forward Steve Rolecek drew his first career start.
Also out of the lineup on Saturday night for Harvard was freshman Jack Christian, a hard-hitting 6-2, 225-lbs. defenseman who had been in the lineup for the first 10 games of the season. Christian's spot on right defense alongside Dave MacDonald was taken by sophomore J.D. McCabe, making his third career start.