Tossing Teddys
Utica head coach Gary Heenan believes that an essential ingredient to a successful hockey program is building ties with its surrounding community. Last season, while on the road recruiting, he watched as local fans threw teddy bears and other stuffed animals onto the ice following the team's first goal, all meant to benefit a local charity.
Coach Heenan knew a good idea when he saw one, and decided to bring the idea to the Utica community. Utica and nearby neighbor Hamilton College teamed up to hold their first Teddy Bear toss at this past Tuesday's game.
"It was an awesome event," said Heenan. "We stole the idea from a game I saw in North Bay [Canada] last year when I was up there recruiting.You could tell the town got into it and the town loved it. So we brought it here."
A total of 459 teddy bears were thrown on the ice by fans at Tuesday's game after Colin Kingston scored for Utica 7:30 into the first period. Heenan, who was an assistant at Hamilton before starting the Utica program, gained the support of the Hamilton team and then worked through the process with the league and the NCAA to ensure a successful charity event.
"We had to get a waiver from the NCAA and the ECAC so that we didn't get a penalty," said Heenan. "Hamilton was gracious enough to agree with it. The players from both teams went on the ice to pick up the bears. It was great to see."
The teddy bears have been donated to Operation Sunshine, a charity administered by the Utica Observer-Dispatch that raises funds for food, clothing and toys for underprivileged residents in Oneida and Herkimer counties.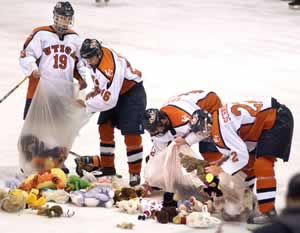 Utica players collect teddy bears donated to Operation Sunshine. (photo: Michael Doherty/Utica
Observer-Dispatch)