Tightening Hockey East
Don't look now, but the Hockey East standings seem to be defining themselves a little bit better each weekend.
After last week's play, it's apparent that, come season's end, there's a good shot that a trio of teams — Boston College, Providence and New Hampshire — will all challenge for the Hockey East title. BC has 21 points, UNH and Providence 19 each.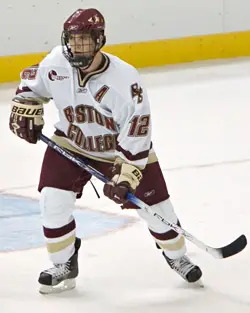 The closest remaining challenger is Maine, with 14.
Massachusetts-Lowell and Northeastern take up room at the bottom, each with six points, two points ahead of last-place Merrimack. This trio will battle things out for the final playoff spots.
So how much of what I just wrote do I actually believe? Besides the standings numbers, pretty much none of it.
Fourth-place Maine proved last weekend, with a two-game crushing of Lowell, that it can compete for first. And let's not forget that Vermont, currently in fifth place in Hockey East, is still ranked No. 6 in the latest USCHO.com/CSTV Networks poll.
And BU, which sits four games out of first place, is known for playing well in the second half (don't forget the 26 Beanpots that the Terriers have won in the month of February).
On the bottom side of the standings, I wouldn't discount any of the clubs. I saw Northeastern play last Saturday night at Boston College. On a night on which coach Greg Cronin admitted his team didn't play well, the Huskies still barely dropped a 4-3 decision to the first-place Eagles.
There's also a bone in my body (albeit a biased one) that believes that things have to turn around for Lowell.
Is there a point to all of this? Contrary to whatever I said in the opening sentence of this section, nothing is even close to settled in Hockey East. My guess is that the closing weekend will mean a lot in determining things (and I'm not talking about playoff seedings).
Strap your seat belts on — the home stretch for Hockey East could be tumultuous.
A Rivalry Born?
With as many great rivalries as there are in college hockey, it was refreshing to see Quinnipiac and Yale, two schools separated by just a couple of miles, lock horns for the first time ever on Sunday.
The more-established Yale program had never entertained the idea of playing fledgling Quinnipiac until this year, when the game was guaranteed by the Bobcats' addition to the ECACHL.
It was great to see that The Whale, which served as a temporary home for Quinnipiac, at least looked packed on television. The crowd seemed energetic with both clubs bands blasting away.
On the ice, the product was so-so with a decent pace early giving way to what looked like tired legs on both sides when the third period arrived. The Bulldogs eked out a tough 4-3 win, that after blowing a 3-1 lead halfway through.
What was good to see was the competitive nature of both teams. The battle got chippy at times, which any good college hockey fan will tell you is a great foundation for a rivalry.
The two clubs won't meet again until the end of the regular season — Friday, February 24, to be specific. There's a chance that little will be on the line in that game, although home ice in the first round of the playoffs is a possibility.
No doubt, though, a hard-nosed style of hockey will be on display at Ingalls Rink that evening. And it's a good possibility that the rivalry that was born on Sunday will continue.
Upset Central
A word to the top of Atlantic Hockey: whatever you do, don't get complacent.
Though I'm not suggesting that's what happened to first-place Mercyhurst last weekend, the fact of the matter is that the Lakers hit the road to play seventh-place Army only to walk away with two losses, one a 5-0 drubbing on national television.
Army was one of many teams in Atlantic Hockey last weekend to prove that parity does indeed exist. The Black Knights, riding 70 saves in two nights from goaltender Brad Roberts, shut down the powerful Mercyhurst offense. Roberts and his club allowed just two goals in the two nights, and the Army squad more importantly found a way to win in overtime on Saturday to complete the sweep.
The Black Knights were hardly the only team to open eyes in Atlantic Hockey this past weekend. American International, which had won just one game entering the week, pulled off back-to-back wins of its own over a struggling Canisius team. It was the first sweep of a weekend series for the Yellow Jackets since November 9 and 10, 2001, when they beat Fairfield. Moreover, it was the first time the team has won two games in a row since November of 2003.
If anything, it seemed that the stars finally aligned for AIC last weekend. This is a team that has played well of late but had little to show for it. In the last nine games, AIC has allowed three or more goals just once, but heading into last weekend had just one win to show. Finally for the Yellow Jackets, both offense and defense aligned and the result was a sweep.
Bentley was the third school to complete the two-win trifecta. The Falcons swept Connecticut, 3-1 and 4-1 victories. Backboning those victories was goaltender Ray Jean, who over the two nights made an impressive 76 saves. Jean's performance may put to rest the confusion at Bentley over which of the team's three goaltenders can take the starting job and run with it.
All of these results make the Atlantic Hockey standings interesting. Canisius fell to last place, one point behind AIC. Mercyhurst's two losses allowed Holy Cross, which split with Sacred Heart, to climb within three points, still holding two games in hand.
Top to bottom, only 13 points separate first from last place, which may seem like a lot until you consider that last season the margin was 24 points come season end; a year before that the margin was 27.
This sure could make for an interesting month of February.