Better late than never for Bruce Mulherin.
The senior forward with Alabama-Huntsville scored 24 goals a year ago, playing on the dominant line with Jared Ross and Craig Bushey. But Ross and Bushey graduated to the pro ranks this year, leaving Mulherin in a foggy haze for the first semester.
And it showed.
Through UAH's first 15 games, Mulherin scored just one goal and was benched for Huntsville's game against Air Force on Jan. 7.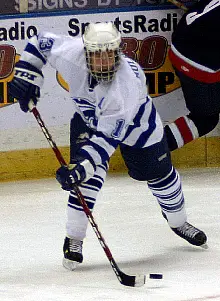 The benching message seemed to hit home as last weekend, the 23-year-old from Red Deer, Alta., put up five goals and eight points as the Chargers swept Robert Morris.
"I was with Ross and Bushey for two years (starting Dec. 11, 2003 against Bemidji State) and this year bounced around with guys," said Mulherin. "I started with Grant Sellinger and Steve Canter and then Brett McConnachie and Sellinger and now I think I've found my spot with McConnachie and Chris Martini. But this year, too, our team is more focused on defense and we're not as offensive-minded as we've been my first three years here."
Against the Colonials, Mulherin scored twice on Friday and tallied a hat trick Saturday to go along with three assists for an eight-point weekend.
"The puck just started to bounce for me," Mulherin said. "It just fell onto my stick it seemed. I finally started to click with Martini and McConnachie and it paid off last weekend."
"Mulherin is on the line with some different players this year and is getting his confidence back," UAH head coach Doug Ross told the Huntsville Times. "I just told him he needed to be persistent. We backed off and let him do his thing, but we've been waiting a long time for something. He's really playing well."
In his freshman season, the 6-foot, 185-pound Mulherin struggled and scored just a shorthanded goal and two assists in 22 games. Then the next year, even missing 13 games with an injury, he put 24 points on the board and then added the 24 goals (11 on the power play) and 15 helpers a year ago. Mulherin also led the nation with four shorthanded goals in 2004-2005.
And to think, he almost ended up at one of UAH's rivals.
"When I was playing juniors (with the Olds Grizzlys of the Alberta Junior Hockey League), both Alabama-Huntsville and Bemidji State heavily recruited me," admitted Mulherin. "But I came here to Huntsville on my fly-down and it just felt right to me.
"It's different than back home, though. In Red Deer, our population is about 70,000 or so and here it's 350,000. The landscapes are different as well as here, it's more of a prairie-hick town. But both towns support their hockey (Red Deer has the major junior Red Deer Rebels of the Western Hockey League) in different ways. In Red Deer, maybe the fans want more goals whereas here, the fans love a big hit and the physical play."
This weekend, the Chargers travel to Niagara in what could be a potential preview of the CHA finals in March.
Mulherin knows it's a big two-game series not only for him, but for the team.
"We just can't get too high after what we accomplished last weekend," said Mulherin. "We're fighting for the top spot and it's always hard playing at Niagara. But if we stay out of the box and get our power play going, we should be OK."
Chargers Get Another Verbal Commitment
When Brandon Roshko came to the Aurora Tigers last summer, he had two goals in mind — one to win a championship like the Sutherland Cup he earned with the Thorold Blackhawks in 2004-2005 and the other to obtain an NCAA Division I scholarship.
The championship run is hopefully underway, but the education side has been finalized with Roshko accepting a full ride to attend Alabama-Huntsville this fall. In doing so, he joins Tigers' teammate Cale Tanaka in suiting up for the Chargers next season.
"It just goes to show that persistence pays off as Brandon isn't big nor that physical," Aurora head coach Jerome Dupont said. "But the puck possession skills he possesses and the intensity that he plays with make him an asset to any program."
Falcons Can't Finish Off Niagara
Friday night, freshman Mike Phillipich's goal with 1:30 remaining in overtime lifted Air Force to a 5-4 win over first-place Niagara.
Air Force had lost 11 consecutive games to Niagara and was 0-9-1 versus the Purple Eagles at home since the CHA's inaugural season.
But the Falcons couldn't finish off the Purple Eagles Saturday night and the two bird teams settled for a split.
NU won, 7-2, Saturday behind a three-goal, two-assist game from super frosh Les Reaney.
"We came from behind for the first time all season and we did it against the first-place team," Air Force head coach Frank Serratore said Friday. "We slipped a little in the third period, but we hung in there. Until we start to win with more regularity, it is going to shaky at the end. When we start to win a little more, we'll be much better in those situations."
Serratore was in a more sour mood Saturday.
"To win, you have to deserve to win, and we didn't deserve to win tonight," he said. "Sometimes it's not just losing, but it's how you lose. Niagara was a step ahead of us all night. Their energy was much better and they badly out-special-teamed us. We kept coming at them and kept fighting, but they kept getting the next goal."
Bostic, Hennes to Arrive at NU
New England Jr. Huskies' captain Nate Bostic is Niagara's latest verbal commitment.
Bostic, a 5-foot-11, 191-pound right wing from Holden, Mass., is leading the Huskies in scoring, tied for seventh overall in the EJHL scoring race and is fourth in the Northern Division scoring. He was the Huskies' leading scorer last season in his first EJHL campaign.
Niagara has also received the nod from 20-year-old Blair Hennes, a right wing with the Ft. Saskatchewan Traders of the Alberta Junior Hockey League. Hennes leads the Traders in scoring with 29 goals and 49 points in 45 games.
Robert Morris Upended by Huntsville
Though the Colonials were swept last weekend by Alabama-Huntsville, Robert Morris had a few noteworthy performances.
Trailing 2-0 in the second period Friday night, sophomore Joel Gasper scored his first goal of the season and the team's third shorthanded tally of the year. Classmate Logan Bittle stole a Chargers pass at the blue line and raced in on a breakaway. UAH goalie Scott Munroe stopped Bittle's shot, but Gasper buried the rebound, cutting the lead to 2-1 at 14:45 of the second period.
Gasper ended a 25-game goal-scoring drought. It was his first goal since Jan. 29, 2005.
Saturday, Colonials sophomore forward Brett Hopfe scored his team-leading seventh goal of the season at 15:20 of the third period on a five-on-three power-play.
BSU Takes 3 of 4 from Wayne State
After skating to a 3-3 tie against Wayne State last Friday night at home, Bemidji State needed to rebound and did so in a big way with a 6-2 win Saturday.
Twelve different BSU skaters scored at least one point in the rout, with five players having multi-point efforts.
"It's been a tough stretch for us and scoring all these goals tonight really helps bring the confidence level of this team back up to where it ought to be," Beavers' head coach Tom Serratore said after the game. "Our young guys played really well tonight. I always tell the guys that after break there are no freshmen on the team because by now they know how everything works in our program. We got really good play across the board tonight."
Friday night, the Warriors broke up Matt Climie's shutout and kickstarted a three-goal rally with Derek Bachynski's second goal of the season at 17:02 of the second.
Bachynski's goal ended several lengthy shutout streaks for Climie: it was his first goal allowed in 104:33 of ice time, his first in 103:45 of ice time against CHA opponents; and his first in 85:18 of ice time against Wayne State.
BSU's lead held at 3-1 until midway through the third period, when the Warriors put up two goals in a span of 2:22 to even the score at 3-3.
WSU senior co-captain Greg Poupard pulled the Warriors within a goal with his first goal of the season at 10:44, and less than three minutes later, the Warriors drew even at three. Derek Punches scored his third goal of the season to force overtime.
The extra session settled squat and the teams settled for a 3-all stalemate.
Bemidji State continued its historic domination of Wayne State's power-play units. The Warriors went 0-for-13 in the two-game weekend series, extending their streak of consecutive failed power-play opportunities against Bemidji State to 44. Since the start of the 2001-02 season, Wayne State is 7-for-110 against BSU with the man advantage (.064).