Returning to St. Cloud from a long road trip to Wayne State, things couldn't have looked very good for St. Cloud State from the vantage point of the casual observer. With a 3-10-1 record and a four-game losing streak in tow, the sixth-place Huskies entered the month of December with only one victory in eight games.
Might as well juggle the lines. Couldn't hurt, right?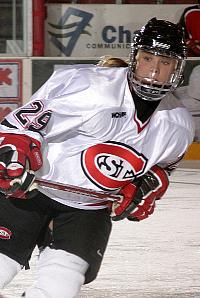 For St. Cloud's first home game in December against Niagara, head coach Jason Lesteberg decided to try slotting senior Kristy Oonincx, the team's leading scorer, with juniors Denelle Maguet and Hailey Clarkson as a top line.
The results were immediate: four straight wins, and 21 points for SCSU's new scoring line over the course of those four wins. The three women from the Canadian prairies led the Huskies to a 9-3 record since that Michigan road trip and have turned heads along the way, leading the team to victories over then-No. 1 St. Lawrence and a weekend sweep of then-No. 3 Minnesota-Duluth, the first sweep of the Bulldogs in school history.
"Our main goal coming into the season was to be in the top four in the WCHA," said Lesteberg. "We're in that position now and we have eight games left to play. We've been talking lately about how we control our own destiny at this point, and now we just need to take it one game at a time knowing that."
Since coming together, the trio of Clarkson (Winnipegosis, Man.), Oonincx (Moose Jaw, Sask.), and Maguet (Ste. Rose, Man.) has put up a total of 48 points over the last twelve games, and their offensive output has helped to inject SCSU into the discussion of the nation's top teams.
"Coach just threw us together and it's worked out very well," said Oonincx. "[Clarkson and Maguet] are both amazing players themselves, so to playing with them is not very hard."
"I think we learned a lot from the first part of the season," says Clarkson of the team's sluggish start. "We lost some games that were close, but they were games that good teams need to win. You have to go through things like that and make your mistakes in order to ultimately become a better team."
The history of the new line goes back beyond December, even beyond their first days together at St. Cloud — all three once participated on the same youth All-Star team in Canada.
"It turned out that Hailey and I were roommates for a whole week at this tournament in Quebec," Oonincx said. "She was so shy, she never talked or did anything off the ice."
"I must have been 15 or 16," said Clarkson. "All the rest of these girls were just so big and so good, I was just star-struck the whole time."
For Clarkson and Maguet, the association goes back even farther. Growing up together in central Manitoba, the two became fast friends through the sport.
"We played together for so long," said Clarkson. "We first started playing against each other when I was five years old, and we've been playing together since I was about 13 or so."
"Having played together growing up, it definitely gives us this understanding," Maguet said. "I have a pretty good idea of where Hailey is going to be on the ice, and she doesn't seem to have much of a problem finding me."
The line has contributed some clutch goal-scoring for the Huskies, including Maguet's overtime winner in New York against St. Lawrence that first began opening eyes around the nation to the resurgent Huskies.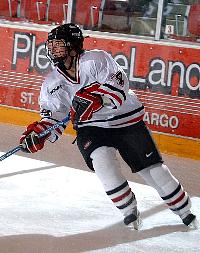 "We didn't want to lose in overtime again," said Maguet. SCSU had brought the Saints to overtime the previous night, only to give up the game winner. "That series really made us believe in ourselves, especially to win that game. That was really the big confidence builder for us."
All three players commented on the unique chemistry that the line has brought to their games and the improvement to their level of contribution.
"Oonincx is just a really smart player," says Clarkson. "She 'thinks the game' the same way that Denelle and I do, and it really made it easier for us to fit together on the same line. We all support each other really well. You want to be the one to get to the loose pucks, because you know they're going to be where they need to be. Playing with them makes me want to play better and work harder every day because I know the potential that we have to play so well."
"Hailey calms me," says Oonincx. "I used to be a player that lost my head. Because she's so calm, when I make a mistake I don't worry too much about it. The three of us are never too serious, but we're always focused. We never get too intense to the point that we're frustrated."
"I just try to keep everyone involved," adds Maguet. "If everyone's spirits are high it adds another positive aspect to our game."
And just as a high tide raises all ships, so too has the success of the top scoring line helped others to succeed. St. Cloud's goalies, junior Lauri St. Jacques and sophomore Kendall Newell, have both stepped up their play to help the Huskies when they are needed most. Newell backstopped the road victory over St. Lawrence, while St. Jacques' play against Duluth was instrumental, stopping 81 of 83 shots and giving the scorers the breathing room they needed to win the game.
Output from other scoring lines has bolstered the SCSU game as well. Freshman Megan McCarthy has a four-game point scoring streak, and senior Ashley Stewart has provided additional offensive power all season long.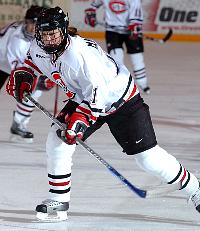 St. Cloud State has entered the very heart of its league schedule — a home showdown with No. 1 Wisconsin, followed by a visit to Minnesota State and a home-and-home series with No. 5 Minnesota, the only two teams that have kept the Huskies off the board this season. Both have shut out St. Cloud twice.
"When you're playing well, you want to be playing the better teams," said Maguet. "They keep you on task, on your game, and don't allow you to develop bad habits."
"Right now, we have the mindset that we can beat anyone," Oonincx said. "We've never been a team that has been too concerned about what our overall record is, and we have every reason to be confident. We've proven that we can play with any team, and that's especially something we've proven to ourselves."
The upcoming competition may be strong, but the team is not ready to rest on their laurels. The team has now moved into striking range for the playoffs, sitting in fourth place, and holding down the last home-ice berth in the WCHA.
"We were doing a drill on the ice on Monday, and the team just didn't seem to have a jump in their step," said Lesteberg. "I called them in and asked if we would just be content with winning two games last weekend. The staff and the team have decided that we can't just rest our hat on that and call it a good season. Our team definitely has the confidence after last weekend to go much farther."
"I think our goals at this point are pretty much endless," Oonincx said. "We feel like we have an opportunity to make a great run in the playoffs and to make it [to the NCAA tournament]."
Clarkson agreed with those sentiments. "I think this is the year for us to make an impact — we have five vital seniors on this team, and we have people on this team realizing that we have a real shot at this. We beat St. Lawrence, we beat Duluth, there isn't any reason why we shouldn't reach higher."