The Crimson hockey team could have been looking at a much different season if goaltender John Daigneau had changed his mind following his sophomore year.
After starting only four games during his second season at Harvard and watching Dov Grumet-Morris seize full grasp of the starting goaltender's spot, the Brookfield, Wis., native began to yearn for a change of scenery.
"It was obviously a bit frustrating because I wanted to play more, and I actually asked for my release from the scholarship after my sophomore season," said Daigneau, who has posted 10-6-2 record with a 2.20 goals against average and a .921 save percentage through the end of January. "But I didn't find a better situation when I looked around, and decided to return to Harvard instead. It's a decision that I'm pretty happy with.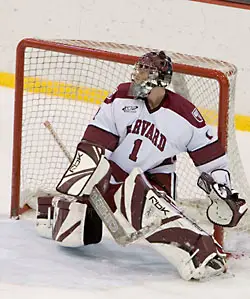 "It was sometimes difficult playing behind a great goalie like Dov, but I really did learn so much from him and from the coaching staff during those three years," added Daigneau.
Daigneau, who had to have his appendix removed during his junior season, didn't even make a start last year for the Crimson, as Grumet-Morris started 31 games and finished the year as a Hobey Baker Award finalist and sophomore Justin Tobe seemed on the cusp of wresting the backup job from Daigneau.
But Harvard coach Ted Donato placed head netminding chores up for grabs at the beginning of this season, and Daigneau has responded in the biggest way possible.
"This is really a case of a kid overcoming a lot of adversity and responding to his opportunity in a big, big way," said Donato.
Daigneau spent his entire summer working out, refining his technique and — most importantly — stopping pucks; he fared well from the very first day of fall practice and snatched the starting reins when Tobe struggled in an early 5-2 loss to Quinnipiac. Since that point, Daigneau has been one of the top goalies in the ECACHL this season — second in goals against average and leading the league in save percentage.
"He's done a great job … you can see that his confidence has really soared throughout the year," said Donato, who will be coaching in his second Beanpot. "As a coaching staff, we believed it could definitely turn out this way. We know he had a lot of talent, but he just didn't have the opportunities behind a second-team All-American goaltender in Dov."
"I think the first couple of years didn't go as well as maybe John had wanted them to and he got his appendix out last year, so there was a lot of stress associated with his hockey career," added Donato. "I'm really happy for him because he's overcome a lot and he is deserving of every bit of credit that he's received right now."
The Harvard coach also pointed to Daigneau as a shining example to other players that hard work and patience do benefit players in the long run. The Wisconsin native had to wait three long years for his chance, but has finally received the starting shot he was waiting for.
"He deserves a lot of the credit," said Donato. "He stayed around and did all the extra work last year, and he worked hard this summer to give himself the best opportunity to win the job this season.
"He grabbed the ball and hasn't had any off-nights this season; he wasn't given the job, he earned it," added Donato. "It's a nice message for our team — how much he's overcome and how hard he's worked to get to where he is right now. I also think for that for our younger players, to see a guy that really appreciates what he has and has worked hard to get it sends the right message to our guys."
Once Daigneau earned the starting spot between the Crimson pipes, he never looked back — including posting a 32-save shutout against New Hampshire on Dec. 12 and a 29-save shutout against North Dakota on Dec. 29.
The Crimson goalie's big frame takes up much of the net, and his athleticism gives Harvard the kind of goalie that every hockey club yearns for: a netminder who can make all the saves he's supposed to and will steal two or three games for a team over the course of a season.
Harvard senior captain Peter Hafner has played with Daigneau for all four years in Cambridge, and has marveled at Daigneau's ability to effectively replace Grumet-Morris without skipping a beat.
"You really can't say enough about the job that John has done for us," said Hafner. "There are points this year where our power play has struggled a little bit and we haven't been as consistent as we'd like to be, but John has been so consistently good this entire season. We have the confidence that he'll make all the stops when we need him to, and that really gives us a lot of freedom playing in front of him."
Though Daigneau is excited entering his first Beanpot as the clear-cut starting goalie for Harvard, he also has some experience in the Boston tournament — with a relief stint in the Beanpot semifinal against BC during his sophomore season and a start in the consolation game against Northeastern during his freshman year.
In fact, Daigneau earned Harvard's last win in the Beanpot during the aforementioned 4-1 victory over the Huskies during his first year with the Crimson — a feat he's hoping to match this time around.
"My only memory of that first Beanpot is the real feeling of elation after we won the game," said Daigneau. "It was such a great feeling that I was able to play a role in bringing a Beanpot win to my teammates, the fans and the coaching staff. It was a very positive feeling after the game … everything on the ice was a blur but I still remember the feeling in the locker room afterward."
The Crimson have lost four straight Beanpot contests heading into the 54th edition of the historic tournament, and suffice to say that the senior puckstopper would love to have some Boston bean bragging rights one more time.
"We haven't won a Beanpot game in a while, so that's something pretty important to us," said the 6-foot-4, 198-pounder. "This series of games gets pretty exciting for us; it's a great rink, there's a pretty fierce competition between the schools and it's a pretty big stage."