It's not often Steve Kovalchik gets noticed on the ice, but in his case, that's a good thing.
The Wayne State senior defenseman quietly goes about his business and has been a stalwart with the Warriors since his freshman campaign in 2002-03. Kovalchik isn't a player who will put up points, but rather a steady, calming force on the back end.
"I've never been a flashy player and I guess that's how I prefer it," said Kovalchik, a native of Riverview, Mich. "The past couple years I've played against the other team's top one or two lines with Greg Poupard and I take pride in that. I do tend to go unnoticed and being the silent hero works for me."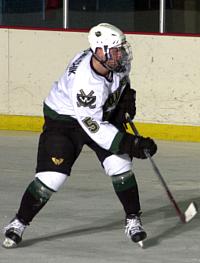 Kovalchik was named an alternate captain his sophomore year and again this year. He said he's never been a vocal player, but leads by his play on the ice.
"But if something needs to be said, I'll say it in the locker room," added Kovalchik. "But not all the time. I'll mostly take guys aside and talk one-on-one."
Also off the ice, Kovalchik is active in Wayne State's Student Athlete Advisory Committee (SAAC) and has been much of his career as a Warrior. SAAC is basically an outreach program designed for athletes on campus to go out into Detroit and help give back and rebuild.
"We do a lot of soup kitchens and talks at schools stressing the importance of college," Kovalchik, 23, said. "It's good for the resume and it helps promote WSU athletics as well. We raise a lot of money for the less fortunate and do things like Make-A-Wish and Toys for Tots at Christmastime. I got into it when I was a sophomore, being one of the older guys, and I've been into it ever since."
And being a veteran skater in his second year came from being a freshman on the 2003 CHA championship team, the last title Wayne State won. Kovalchik was part of a defense that included seniors Tyler Kindle, Keith Stanich and Marc St. Jean as well as junior Nick Stodgell.
Taking it all in was something Kovalchik did plenty of that season, but he said what he saw and what he learned has stayed with him to the present day.
"That season, everyone knew their role and stuck to it," said Kovalchik, who also considered Miami, Vermont and Mercyhurst before committing to Wayne State. "No one went outside of their abilities and no one tried to do too much. We had Dave (Guerrera) in net and the top line of (Jason) Durbin, Dusty (Kingston) and (Derek) MacKay. That was a special team."
Nowadays, things are a bit different. WSU has made noise in the playoffs, but not to the extent of the glory years and three titles from 2001-03. But even so, Kovalchik, in typical leadership mode, notes that no one should count out WSU this year.
"We have a smart team and we know what we have to accomplish," said Kovalchik, who played juniors with the Omaha Lancers of the United States Hockey League and the defunct Soo Indians of the North American Hockey League. "We're screeching up on it here. It's the time of year to put it all together. We're not getting the bounces yet, but when we do, we're going to be tough."
Wayne State hosts the CHA tournament this year and though home ice may be in its favor, Kovalchik says once March 10 hits, the slate is wiped clean.
"Come tournament time, we're all back at square one," he said. "Any team can pull an upset. Sure, there are a couple favorites, but you never know.
"Coach (Bill Wilkinson) always says that the harder you work the luckier you get and I hope that holds true in the tournament and in the games leading up to it."
Wayne State visits Robert Morris this weekend for a pair before hosting Niagara next weekend at the State Fairgrounds Coliseum.
And if you don't remember seeing Kovalchik on the ice, odds are he certainly was.
Chargers Secure First With BSU Sweep
It was the marquee matchup last weekend in the CHA as Bemidji State ventured to Alabama-Huntsville in a battle for first place.
The home team came out on top both nights as the Chargers took wins of 2-1 on Friday and 4-2 on Saturday and assumed top spot in the conference.
"This puts us sitting pretty on top of the conference," UAH forward Steve Canter told the Huntsville Times. "It's ours to lose."
Four times Huntsville and Bemidji State played for NCAA Division II national titles, and then last season for the CHA championship, won by the Beavers.
"It's competitive and it's spirited," UAH head coach Doug Ross said in the same Times article. "They don't like to lose to us and we don't like to lose to them."
Bemidji State went 0-for-16 on the power play during the series.
"Hopefully, the focus now (for the players) will take care of itself," BSU head coach Tom Serratore said. "The guys know where they stand; they look at the league standings."
Alabama-Huntsville is 8-1-1 in its last 10 games and received votes in this week's USCHO.com/CSTV poll.
Colonials On Winning Streak
For the first time in its brief history, Robert Morris has strung together three consecutive wins after beating Princeton and sweeping Air Force last week.
The Colonials didn't win two straight at all last year, but have done it three times this year, including a win over the U.S. National Under-18 Team back on Oct. 16.
RMU is now in fourth place in the CHA, after starting in sixth last weekend, one point up on Wayne State and three up on Air Force. This is somewhat remarkable since Robert Morris has scored the fewest goals in league play (23) and overall (60). They've allowed the third-fewest goals (83), however.
Purple Eagles Get Two More for '06-'07
Niagara has reportedly received verbal commitments from a potential future captain in defenseman Ryan Annesley and high-scoring forward Egor Mironov.
The 19-year-old Annesley currently captains the Pickering Panthers of the Ontario Provincial Junior Hockey League and is third in team scoring with 10 goals and 51 points in 46 games.
Annesley, who was also recently named the OPJHL South Conference Defenseman of the Year, will join former Panthers' defenseman Dan Sullivan next year at NU.
Mironov is the son of former NHL defenseman and 1998 Stanley Cup champion (with Detroit) Dmitri Mironov and is among the scoring leaders of the OPJHL with the Toronto Thunderbirds. He has 31 goals (10 on the power play) and 71 points in 49 games, good for 12th in the league, two points behind Michigan recruit Louie Caporusso of the St. Mike's Buzzers.
The Erie Otters of the Ontario Hockey League hold Mironov's major junior rights as they took him in the seventh round of the 2003 OHL Priority Selection.
Air Force Gets Goalie for the Fall
With Peter Foster, Ian Harper and Ben Worker in the netminding fold for Air Force, the Falcons reportedly received a verbal commitment from Wasilla Spirit goalie Andrew Volkening this week.
A 20-year-old Genoa, Ill., native, Volkening is 13-16-0 for the Alaska-based Spirit with three shutouts, a 3.04 goals-against average and a .918 save percentage.
With Foster being a senior, Harper a junior next year and Worker seldom seeing the ice (seven minutes in three years), one could assume Foster and Harper will again share duties in goal with Volkening as the No. 3 goalie.