In this edition, it's time to touch on a couple of teams we haven't already discussed, as well as revisit some of our standbys.
Remember that the PairWise Rankings work by comparing teams against one another, one pair at a time (hence the name), in four statistical categories: the Ratings Percentage Index (RPI), record in head-to-head games, record against common opponents, and record against Teams Under Consideration (TUCs) — teams with an RPI rating of at least .500.
Note: All rankings before team names below refer to PWR rankings, not the national polls. Also, all PWR and RPI numbers cited include a .003-.002-.001 bonus for "quality" nonconference wins. Results are through all games of Feb. 14, 2006.
Picture Perfect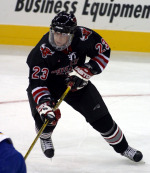 No. 5 Nebraska-Omaha: The Mavericks have quietly put together the perfect storm in terms of the PairWise Rankings. UNO's record of 17-11-4 looks modest for a top-five PWR team, but that belies the fourth-toughest schedule in the nation according to the RPI, as well as a record against TUCs of 14-7-4 (.6400) that ranks fifth in the nation. The Mavericks, quite simply, have beaten the right teams in nonconference play, including New Hampshire and Providence as well as Holy Cross and Alabama-Huntsville — two teams that may not be contenders for at-large berths, but which do have lofty winning percentages that boost opponents' RPIs. Again, the irony of using record against TUCs as a selection criterion is that losing to a bad team can hurt less than losing to a good one, since the "bad" loss doesn't affect the TUC record. That's why an early-season sweep by Bowling Green isn't dragging the Mavericks down when it's stacked up next to sweeps of the likes of Michigan State, Northern Michigan and Ferris State. UNO's season is a blueprint for how to get into the upper echelons of the PWR without a Wisconsin-like record, and it's why a team tied for fourth place in its own conference can be on the cusp of a No. 1 seed in the NCAA tournament.
Defying Expectations
No. 12 (tie) Ohio State: How in the world can a team with a sub-.500 record (14-15-4) be in the mix at this point in the season? With the toughest schedule in the nation, that's how. Ohio State has lost four straight games and yet still has the nation's No. 16 RPI — because the four losses were against Michigan, Michigan State, Wisconsin and Miami, all of which are in the top 10 in RPI. And in a lesson on the quirks of the PairWise, Ohio State is winning a couple of extra comparisons via record against common opponents. That includes the Buckeyes' head-to-head comparison with Providence, because the Friars lost their semifinal game at Rensselaer's holiday tournament to CCHA member Nebraska-Omaha. That's the only common opponent the Buckeyes and the Friars share, and it's enough to give OSU the edge in that comparison right now.
Back In The Hunt
No. 15 Maine: For weeks now, I've been warning that Maine is on the verge of dropping out of the race for the national postseason. Instead, the Black Bears have gotten themselves together just in time to make some noise. A three-point weekend against Vermont was the right tonic for Maine, which has seen its RPI rise all the way to No. 13 in the country. A poor TUC record (6-9-1, .4063) is still hurting the Black Bears' chances, which makes this weekend's series against Boston College critical: Maine won't see another TUC until the Hockey East tournament, since its last two weeks of play are against Merrimack and Massachusetts. The Black Bears are going to need at least one win against BC and then three or four wins in their last four regular-season games to stay on the bubble come Hockey East tournament time, but that's well within reach at this point.
Schedule Matters
No. 8 (tie) Michigan State: What looked like a lost season for the Spartans at the end of November has turned completely around. Michigan State was 5-6-4 after a loss and a tie at the College Hockey Showcase Thanksgiving weekend, but since then has gone 12-4-3 to reverse its fortunes. MSU is No. 9 in the RPI and a solid 12-8-6 (.5769) against TUCs to put itself in a strong position with two weeks remaining in the regular season. Left on the schedule are Miami and Lake Superior, both TUCs. Two wins in those four games will keep the Spartans in a strong position heading into the CCHA tournament, and a decent showing there should put MSU in the NCAAs.
No. 12 (tie) Providence: The Friars are still hanging on despite one win in their last four games, but RPI-killer Northeastern is next on the docket. With a TUC record of just 7-9-2 (.4444), Providence can't afford to have its RPI slip in the closing weeks, but that's exactly what will happen after the two-game set against the Huskies. Remember that RPI relies heavily on strength of schedule, and that most of that is opponents' winning percentage — and Northeastern's record of 2-20-6 is so bad that it guarantees Providence's RPI will drop even if it wins both games against the Huskies. That makes two games against New Hampshire the following weekend must-wins for PC to stay afloat.
No. 19 New Hampshire: The Wildcats are another team for which I've been sounding alarm bells for a while now, and like Maine, UNH keeps doing just enough to hang around. The moment of truth — the three weeks of truth, really — has come for New Hampshire, though. UNH's RPI of .5170 is all the way down to 24th, and the Wildcats cannot make the NCAAs unless that figure comes up. Luckily for the Wildcats, their remaining regular-season opponents will give them plenty of chances to improve that number: left on the schedule are Boston University, Providence and Boston College, and another TUC (likely Maine or Vermont) probably awaits in the first round of the playoffs.
No. 20 Alaska-Fairbanks: UAF has pulled off some impressive wins, including victories over three teams ranked No. 1 (Minnesota, Michigan and Miami) at the time of those games. But the Nanooks now have the opposite situation from New Hampshire. Their four remaining CCHA regular-season games are against Western Michigan and Notre Dame, a soft schedule that won't give them much chance to improve a lethargic 8-12-4 (.4167) record against TUCs (though Notre Dame is a TUC right now, the irony for UAF is that two wins over the Fighting Irish could push ND back below a .500 RPI). UAF will need to run the table down the stretch and go deep into the CCHA tournament to have a chance at an NCAA at-large bid.
Can't Get There From Here
No. 25 Holy Cross: For those who think I've been ignoring the two newest Division I conferences, it's not out of malice. It's just that I restrict myself to discussing teams that have a shot at at-large bids, and Holy Cross just can't get there. Though the Crusaders have put together one of the most impressive PWR profiles of any recent Atlantic Hockey team — including wins over Massachusetts, Rensselaer (twice) and Dartmouth — a .5165 RPI won't get the Crusaders in. And Holy Cross' remaining schedule of Mercyhurst, Sacred Heart and Bentley doesn't have enough oomph to change that, even though Mercyhurst and Sacred Heart are among the league's upper division.