Dave Hendrickson is not available this week because he's enjoying a lucrative new endorsement deal. Will Dave actually tell his readers what he's endorsing? Depends.
Pot Pluck
Yes, BU won its 10th Beanpot in 12 years and — thanks to a legendary baseball swing by Peter MacArthur — the Terriers are now batting .500 in winning 27 of 54 of the tournaments. Somewhat lost in the latest twist of the 'Pot was the fact that BU's winning streak has now hit 11 games. The program has had three previous regular-season streaks of that length: one more win will make this team's string second only to that of the 1977-78 national championship team.
There are some commonalities between the program's prowess on a regular basis in the Beanpot and with the current win streak in general. With the Beanpot, it just appears that the more BU wins it, the less pressure it is under to win it again. Surely Harvard and Northeastern will hoist the cup again one day, but the fact that neither program has won it since 1993 and 1988, respectively, has to weigh on the players — no matter how much the coaches and players generally insist that the history isn't a factor.
"You'd have to believe that if the Huskies or Crimson were in a tight semifinal or championship game, it would be hard not to think about how amazing it would be to win the Beanpot again at long last. Channeled the right way, this could be a great motivator… but it also could make many a player tighten up.
"It's a certain attitude that you carry into the Beanpot," Curry said of how the Terriers approach the tournament. "When the game is tight, we remember that we've won it so many times, so we just go out there and try to have fun, enjoy the moment, and do the best we can. Players play their best when they can do that. I think that has a lot to do with it."
Every Terrier victory makes it perhaps a little harder for the other three programs. All of BC's juniors and seniors know what it's like to win the 'Pot… but in next year's tournament only Brian Boyle and Joe Rooney will have the experience of knowing what it takes on the ice to make it happen. And Boyle could opt to go pro after this season. For any of the runners-up, it will take either the leadership of the next Brian Gionta or a stunning feat of goaltending to make it happen.
Another thing that bodes well for BU's immediate future in the February classic is the production it received this year from freshmen and sophomores. To be sure, BU's seniors had a terrific defensive night on Monday — especially noteworthy was Brad Zancanaro going 16-3 on faceoffs.
The Terriers were God-awful on the draw in Monday's semifinal, and it cost them a few goals and almost the lead in the last five minutes of the game. That said, the BU freshmen and sophomores had three points and five assists on Monday, scoring eight of the team's nine points. In the semifinal, the first and second-year Terriers scored three of the five goals.
BU's poised and exuberant approach to the Beanpot has also been a factor in the winning streak leading up to it. Jack Parker's captain from his first year as coach picked up on this and communicated to his old coach before the decisive win on Monday night.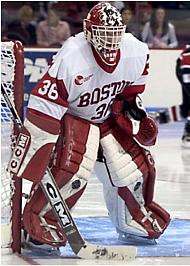 "I got an e-mail from my first captain, Eddie Walsh, before the game, and I read it to the team before we left Agganis Arena," Parker said after the victory. "He was saying that the team's playing great in this stretch that we've been on. 'Two things jump out at me,' he said. 'One is you're passing the puck so well. There's never any pressure on anybody carrying the puck. You pass it even when you don't have to pass it. Nobody's lugging it too much.' I think that's something that's been going well for us.
"And the other thing he mentioned was, 'Your guys look like they're really having fun. It's easier to play when you're enjoying it, and you don't feel like a mistake is going to cost you the game. You're on a good roll, and a loss isn't going to kill you.' So I think our guys are having a lot of fun right now and playing freer and easier. I reminded them of that before the second period started, and they seemed to pick up on it a little bit. But don't overestimate the fact that we also got a goal, and that makes everybody loose too."
But as quite a few BC fans will be quick to remind Terrier fans on the USCHO message boards, we'll see how the two programs fare in the postseason. Now fourth in the PairWise, the Terriers look poised to chalk up some wins in the Hockey East tournament and in the postseason. Can they reach their first Frozen Four since 1997 — a dry spell in which Terrier fans have seen the archrival Eagles make the Frozen Four five times? They certainly have a chance — especially if they are getting production from their top three lines, all of whom have the capability to do damage.
"This is unbelievable, and the second time around you realize how hard it is to win this tournament with so many great teams," goalie John Curry said on Monday night. "The fact that we've done it so many times out of 54 is unbelievable. We're going to enjoy the streak tonight, but we've got three big weekends coming up, and I think we have the capability to do a lot more this year. We have some big things in store for this year."
Boulevard of Broken Dreams
Obviously, it was a pretty brutal Beanpot debut for Northeastern first-year coach Greg Cronin. After getting in a hole but showing some pluck in the first-round matchup against BC, the Huskies were soundly thrashed in the loneliest big-venue game in college hockey — the Beanpot consolation.
"I didn't really talk about the crowd," Cronin said. "In a situation like that, you go back to what you can control, and that's the energy you try to project as a team, the energy you have on the bench. There are usually three sources of energy in a crowdless game: You finish your checks; you get shots to the net; and your goaltender makes some saves. I actually thought [netminder Adam] Geragosian did his part of the job. We were nonexistent on the other two.
"In some ways you turn a negative into a positive with more communication on the ice with guys talking. If guys can talk, they can generate a lot of energy by talking and building bridges to other people on the ice. You can create your own environment. But we looked flat. We took the train over here, and I don't know if we just left our legs on the train, but we looked flat and slow and sloppy. It was an ugly first period."
The game was especially disappointing as it came on the heels of the team's long-overdue second victory. Northeastern had exploded on Friday night with a 6-4 win against Lowell.
"I thought we'd generate a lot more offense than we did. I don't have an explanation for the first period; it was ugly. You'd think we'd have a little momentum coming out of a six-goal game but we didn't. We never really got into a rhythm offensively. In the second period, we did have some didn't cycle chances but never got a goal to reinforce that rhythm."
Of course, injuries to Jimmy Russo, Ryan Ginand, and Steve Birnstill didn't help. The trio has scored nine of the team's 20 power-play goals this season and are three of the team's top four scorers along with freshman forward Joe Vitale.
"We don't score a lot of goals anyway, and when you lose Russo, Ginand, and Birnstill, which is three of your top five power-play guys, it did have me a little nervous from the beginning," Cronin said. "But I always say that absence promotes an opportunity. That's been our theme all year. Somebody's got to step up and run with that opportunity or not, and clearly we didn't score any goals so we didn't have anybody who went into those positions and gave us a little bit of a push offensively."
It all added up to a Beanpot beginning that was long on bitter and short on sweet. "I think it's a world-class tournament; I've said that all along. I'm a rookie coach in the tournament, but even when I was in the NHL, you'd always know when it was coming because it creeped up on the sports page. It's done right; it's a great tournament for the kids. It really gives them a little taste of what pro hockey represents, playing in a professional venue with the media around. I think the Beanpot is one of the influential factors in choosing a college, whether it's Harvard, Northeastern, BC, or BU.
"Me personally, I was disappointed. It's been an ugly year for us, and you can look at it as an opportunity to turn a real ugly season into kind of a Cinderella story. But it never happened. But it's a great thing: The freshmen can come out of it saying they played in it and got the experience. They can come out of it with some battle scars and be a little more mature in how they handle it next year."
Handicapping The Regular-Season Remainder
Now that the Beanpot is behind us, we can turn our attention to the last three weeks of the season. I studied the remaining schedules of the league's top teams, and I'm sure when you compare these situations you'll reach some of the same conclusions as I:
Boston College (33 points) — At Maine for two games; home-and-home with Mass.-Lowell; home-and-home with UNH
Boston University (29 points) — Home-and-home with UNH; at Vermont for two games; home-and-home with Northeastern
Providence (26 points) — Home-and-home games with Northeastern, UNH, and Merrimack
New Hampshire (26 points) — Home-and-home games with BU, Providence, and BC
A few things become apparent here: Although no game can be taken for granted in this league, Providence has the most advantageous schedule on paper. It plausibly could sweep Northeastern and Merrimack as well as splitting with UNH. That would give the Friars 10 points and 36 total. That could be good enough for second and makes them a pretty good bet for third.
Maine arguably has the second-easiest remaining schedule. Splitting with BC at home is certainly not an outlandish notion, and getting six to eight points out of the other two weekends is also within reach. Call it nine more points for 34 total. My guess is that leaves the Black Bears in fourth.
In contrast, UNH has the toughest remaining slate, hands down. Three weekends against the three best teams in the league. Splitting all three series would be respectable and conceivable … but it would leave UNH with 32 points and a long road trip to Orono.
This is all speculative, obviously. But if it plays out this way, UNH would be traveling in the Hockey East quarterfinals for the first time since 1995-96. Of course, the luck of the draw with the scheduling wasn't exactly a breaking news bulletin when I called Wildcat coach Dick Umile on Monday to discuss it.
I barely said hello, and Umile immediately sussed out my motivation for calling. "So you're looking at our schedule?" he asked, chuckling. "You think I'm sleeping at night here?"
Reasonably enough, Umile views the last three weeks as a bit of a mixed blessing. When you're playing teams that are even with you or ahead of you in the standings, you can move up in a hurry.
"There's no control over the schedule, but the fact of the matter is that you've got to play all the teams," Umile said. "It's all going to play out, and we go head-to-head too, so we don't have to worry about people playing other teams. Where we stand, we can take care of our own business and control our own destiny, as far as home ice is concerned, anyway."
Case in point: If UNH could end BU's streak and pull off the sweep, it definitely checks out of the home-ice intensive care unit. A sweep this weekend would vault UNH past the Terriers into second place — perhaps still tied with Providence if the Wildcats can sweep the Huskies. But it won't be easy.
"There's no question right now that BU is one of the hottest teams in the country, if not the hottest team," Umile said. "Jack's got them playing really well, and we've got them home and away. We usually have some pretty good games with them, so it will be exciting. We'll just play the games and see."
Although I talked to Umile on Monday afternoon before the Beanpot championship, the coach didn't think a BU win or loss would be significant in determining the outcome this weekend when 'cats meet dogs.
"I don't think it makes any difference. I was reading an article this morning — I think it was in the [Boston] Globe — and Jack is always concerned about the game in between, not the one afterwards. They basically have had a good run. That game, we just put aside: When we come down to Friday, Saturday night, it will be UNH and BU. We've had a great rivalry with them for years, and the Beanpot will be over. Whether they win it or not I don't think is going to have any effect on our game Friday night with them."
Understandably, Umile could not remember the last time he had been on the road in the quarterfinals. When it comes to home ice in the first round of the playoffs, UNH has the longest streak in the league. Maine is second-best in that regard: The Black Bears have not been road warriors in the quarterfinals since 1997-98. Given that UNH was 12-18-4 in 1995-96, no wonder Umile has blocked it out of his mind.
"That's a good question," Umile said, failing to recall his team's sixth-place finish ten years ago. "It's been a while. One of our first goals is to get home ice. In this league here, it's probably one of the most important goals for your team. Our goals are that we want to compete in the national championship; we want to get to the [TD Banknorth Garden], but the first goal is to get home ice because it's so difficult in our league that you'd prefer to play your games at home as opposed to on the road because of the parity of our league. There's so much parity in our league that 1-8 is tough, let alone 2-7, 3-6, and 4-5. 4-5 is close but one team has to travel, so there's no question that home ice is important."
At least Umile believes that the admittedly distracting suspension of seven players two weekends ago is truly a thing of the past at this point. With seven key players out of a nationally televised game at Maine, the Wildcats lost 4-1 on Friday. Adding those players back in the lineup the next night led to an explosive 7-4 win and perhaps a more cohesive team.
"It's behind us," Umile said. "If anything, it helped bring our team together, the adversity. That was a difficult thing for everybody to go through whether you were one of the guys who was suspended or a guy who was playing, but they all pulled together over the weekend. It helped — not that I'm choosing that way to get our team going, but we had been inconsistent and we played pretty good hockey this weekend. Even the tie at Merrimack: You've got to give them credit; their goaltender played well. We competed hard, and I've liked the way the team has competed since their suspension."
Did Umile talk to the suspended players about how it felt to sit and watch their undermanned teammates lose? It didn't appear to be necessary.
"They know. And I think that the way they played on Saturday showed how they felt about it. They were disappointed about it — disappointed in themselves and in letting the team down. The only thing you can do about it is to come out and play a little harder, and I think they've done that."
Retiring Black Betty
One other UNH tidbit this weekend in case you missed it: Wildcat athletic director Marty Scarano announced that the team would no longer play classic-rock staple "Black Betty" at the Whittemore Center. Scarano told campus newspaper The New Hampshire that the song was "theoretically racist." Predictably, this has led to an outcry among some fans, but Umile has been pretty oblivious to the situation.
"You know something: It's funny, but I don't get too involved in that," Umile said. "I know that Marty made that decision, our athletic director, and if it's offensive to people, then so be it, you don't do it. Whatever Marty and the university decide…"
Umile could not recall when or how the tradition of playing the Ram Jam song began. "And I've been around a long time — back in the 'Wipe Out' days when we played 'Wipe Out' when we came out on the ice. You know what, it's been great here, the atmosphere, but I don't pay too much attention to whatever song is being sung."
The decision strikes me as a sound one. It's a song that the NAACP has objected to for almost three decades, and it's not as if it's the only song that can get a crowd jacked up. I tried to think of some other options: With the Wildcat nickname and classic rock in mind, the first thing that came to me was Ted Nugent's "Cat Scratch Fever"… until I recalled that the subtext of THAT song is also pretty dicey!
I'd like to think that venereal disease is something that we should not associate with college hockey. Otherwise, how about "Elevation" or "Zoo Station" by U2? I think "I Love A Man In A Uniform" might be almost too clever, what with the female backing vocalists saying "Shoot! Shoot!" in the chorus. I would like it, but would it be considered to be bull, Durham?
"Absolutely, we've got a great atmosphere," Umile said of the Whit, with or without Ram Jam. "I guess we have to audition another song. We have a great crowd, and it's not just one song that does it. We'll figure something out."
Renteria Due
USCHO contributor Jack Weiland recorded a great quote from Lowell head coach Blaise MacDonald after the River Hawks' 6-4 loss to Northeastern. Apparently MacDonald can empathize with the Red Sox braintrust this season, as he alluded to the decidedly disappointing performance of Boston shortstop Edgar Renteria last season. "I am fortunate to coach a lot of great players," MacDonald said. "They have good intentions. The unfortunate part is we have a lot of guys that are having career-worst years, collectively. We have a lot of Renterias on the team. So I have to stay positive."
Trivia Contest
Last week's question once again pertained to the Beanpot. There was an easy half and a difficult half.
The easy part paid homage to BU's 22 wins in its last 23 Beanpot semifinal contests and asked the result (year and score) in the Terrier's lone consolation-game appearance in that stretch. The answer was an 8-0 win over Northeastern on Feb. 14, 1994.
The difficult half related to BU coach Jack Parker's postgame comments regarding Chris Higgins, which began with the words, "I saw him play when he was a sophomore at Pingree and I thought he was a very, very clever guy."
Since Dave's son Ryan had the pleasure of playing on the same line with "Higgs" and is a proud graduate of the school, this led to the question of what Pingree alumnus scored the most points while playing for a Hockey East (men's) team. The correct answer was New Hampshire's Josh Prudden with 73 career points.
The first to get both halves correct was Matt Chmura, who earned the following cheer:
"Hard and Smart …Go Quinnipiac women's ice hockey!!!"
This week's question is one that should affirm Dave's nickname for me, as it's another "Marquis de" Scott Weighart special. This week's theme is "Double-Trouble Anagrams." Veteran readers of this column will remember that I made anagrams out of some Hockey East players' name and asked readers to unravel them. Just in case that was too easy, I have added a twisted twist this week. As was the case last year, there is exactly one anagram per Hockey East team. However, this time I constructed anagrams by combining the names of PAIRS of teammates from each roster. Your mission if you choose to accept it is to identify the pairs of teammates. To make it more fun, each anagram has a hockey term in it.
Just to give you an example, let's say I was asking you to come up with the names of some Hockey East writers instead of players. If I gave you the following:
Go Hack It, Second-hand Vet Writers!
Then you should be able to turn that into:
Dave Hendrickson, Scott Weighart
Here are a few hints:
• All players are CURRENT Hockey East men's players.
• All players have played MOST of their team's games: No guys who got in one game, no third-string goalies who have barely played, and so forth. Not every player is a star, but each player is basically a regular on his team.
• Given that there is only one pair for each team, this SHOULD get easier as you go along. Once you have pairs from, say, Merrimack and Maine, you know that the remaining pairs must come from the other eight teams.
• Feel free to add or subtract punctuation marks to make these work: I have added commas, question marks, apostrophes, etc. You can take those out or insert some this as necessary: Just make sure that all the letters (and only those letters) are represented when you come up with each pair.
• I have used players' names as they appear on the USCHO rosters. In another words, I would use names like Jim rather than James or Don rather than Donald — assuming that's how they appear on our rosters.
Okay, here goes!
1. Pond Skater Armoire Jelly Jar
2. Club Intro: Stick Themselves
3. Rink Rat Verse: Jam New Hen Pen
4. Anybody Send Iron Goalie?
5. Archenemy? Not Puck! Err Not, Earth.
6. Harsh Penalty: Bred Rebel Mob
7. Overtime Lawyer Drug Nest
8. Botch Icing: Error Bug
9. Drab, forlorn, bad brain hockey
10. Dream Assist: Jog In Free
Email Dave Hendrickson's trivia account with your answer. The winner will be notified by Tuesday; if you haven't heard by then you either had the wrong answer or someone else beat you to it.
As always, you can also submit suggested trivia questions to the same email address and if your question is used, you'll get a cheer as long as you were first to submit it. Please include something like "SUGGESTION" in the subject line.
And Finally, Not That It Has Anything To Do With Anything, But…
Dave Hendrickson continues to be the hardest-working guy in the sportswriting business. He forwarded his trivia answers to me from work at 11:30 p.m. on Tuesday night — Valentine's Day. He noted that in being away from his betrothed so late on this occasion that he hoped that absence would make the heart grow fonder. I immediately wrote back and told him that he had better hope that abstinence would make the heart grow fonder!
---
Thanks to Jack Weiland.