Now all Air Force has to do is keep the momentum rolling.
And keeping Peter Foster in net wouldn't be a bad idea, either.
The Falcons swept Alabama-Huntsville last weekend to serve notice they should not be taken lightly, especially with the CHA tournament coming up in two weeks in Detroit. Alabama-Huntsville was at the top of the league standings all alone, but now shares that distinction with Bemidji State. Including its Monday win at RIT, Air Force went 3-0-0 last week and much of the credit goes to the junior goaltender.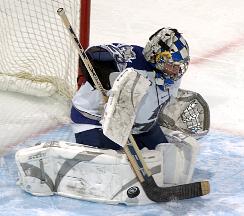 "Aside from the RPI tournament (championship) last year, I'd say last weekend was right up there," Foster said. "We're getting some confidence and we're developing a swagger about ourselves, too."
"Peter Foster gave us some big, timely saves that gave us some extra life when we needed it," Air Force head coach Frank Serratore said.
Splitting time in goal early in the season with sophomore Ian Harper, Foster has now emerged as the true No. 1 goalie on a Falcons team that was picked to finish in the lower echelon of the CHA in the preseason polls. Air Force has scored the second-fewest goals (78) overall among the six CHA squads, but has allowed the third-fewest (98).
"Coach challenged us after Christmas to step up and see who he could stick with down the stretch," explained Foster, a Canton, Mich., native. "I put in a lot of hard work and it's starting to pay off. Hopefully, we can continue on this roll and keep with the confidence because these last four games do mean something in the standings for us."
Air Force currently sits fourth in the CHA, tied with Robert Morris with 12 points, but Air Force has one more win. The two teams meet this weekend in Colorado Springs.
Against Huntsville, the Falcons limited the Chargers to just 38 shots total over the two games. Foster allowed just a single goal Friday night (a 3-1 win) and then had to make only 13 saves on Saturday in the 5-0 whitewash.
"Our goaltending was strong," said Serratore. "Peter Foster didn't see a lot of shots, but he made some very timely saves. There were no chinks in our armor. This is the third time this season that we have knocked off the first place team in our rink and they were the third-hottest team in the country (coming in to Friday's game).
"To hold the first-place team to just 13 shots in the entire game is incredible. I thought we broke their spirits early."
Now sporting a 7-11-0 record with 3.06 goals-against average and a .873 save percentage plus the one shutout, Foster figures to see all the action the rest of the way, including this weekend and then next weekend's regular-season finale at Wayne State.
"Early on (in the season), a lot of people gave up on us," Foster said. "A lot of the guys are loving life right now."
One of those "guys" includes Serratore.
"I've been saying all season that we have a very good team," he said. "This is the best, most competitive team I have had here. But a team with lesser character would have imploded long ago with all of our adversity. We have hung together as a group, kept battling, and now are reaping the benefits."
The battle for fourth place starts Friday night — with Foster between the pipes for the Falcons no doubt.
Purps and Warriors Do Splits in the 'D'
Wayne State and Niagara played two tight games last weekend in Detroit and each came away with a victory.
Pat Oliveto's first-ever game-winning goal was the difference Friday as the junior pinched to the right faceoff dot and was wide-open to beat WSU goalie Will Hooper at 18:39 of the third period.
"(Les) Reaney was cycling on the wall and their D was covering (Ted) Cook behind the net," said Oliveto. "I called for the puck, snuck down low and luckily buried it. I had a chance a few seconds earlier, but couldn't finish."
Saturday night, Derek Bachynski figured on all three WSU goals with a goal and two assists as the Warriors earned the split with a 3-2 win.
"We're mixing and matching our forwards right now," Warriors head coach Bill Wilkinson explained. "We're trying to find a way to be effective. You lose confidence when you lose hockey games, so now we're just trying to stay focused and get the job done."
Even though the Warriors are the CHA's cellar dwellers, Wayne State still earns a positive nod from opponents.
"That Wayne State team is so dangerous in transition," Niagara head coach Dave Burkholder said. "You really have to respect their forwards."
WSU still holds a 13-11-3 advantage in the all-time series with the Purple Eagles.
Bemidji State Gets Sweep Over Robert Morris
With a sweep of RMU, Bemidji State has crept back into a first-place tie with Alabama-Huntsville. It's not exactly foreign territory for the Beavers, last season's regular-season and playoff champions.
But to get it done last weekend, Bemidji State had to match RMU's chippy play and increase its offense.
Before Saturday's game, a 5-2 Beavers win, BSU recognized its 50 Legends for 50 Years Team during a pregame ceremony, to honor the top 50 players in the history of the program; 2005-06 is BSU's 50th season of intercollegiate competition.
Bemidji State also retired the No. 10 jersey worn by Bryan Grand, one of the 50 Legends honorees, following the ceremony. Matt Pope will continue to wear the number for the remainder of the season, and it will be officially retired for 2006-07.
On the ice, it wasn't as though Robert Morris was flat. BSU outshot Robert Morris 36-27 Saturday night, but the Colonials had 13 shots on goal in the third period after a total of 14 in the first two periods.
In Friday's contest, BSU took a 5-2 win as well.
Beavers' Recruit Done For Year
Des Moines Buccaneers' defenseman and team captain John Vadnais will sit out the rest of the USHL season due to an injured shoulder.
"It's certainly tough to lose our captain and one of the best defensemen in the league," said Des Moines coach and general manager Regg Simon. "What will be important is how our team rallies around this and responds to a little adversity."
Vadnais scored seven goals and added 16 assists while posting a +12 rating. He has already committed to playing for Bemidji State next year.
"John just plays good, simple hockey," added Simon. "He makes sound decisions with the puck and his defensive play has improved a great deal. I'm certain he'll bounce back from this injury."
Vadnais should be 100 percent when his collegiate career starts this fall.
Air Force, UAH Each Get Another '06 Verbal
Defenseman Brandon Johnson and forward Kevin Morrison will both be wearing blue this fall.
Johnson, a 20-year-old with the NAHL's Santa Fe Roadrunners, has verbally committed to Air Force, while Morrison will be heading down to Alabama-Huntsville.
Morrison, 19, played on the Milton IceHawks team this season that went 41-3-1-4 (best in the OPJHL) and was third in team scoring with 21 goals among 59 points.
Defensemen Jeff Caister and Ryan Bernardi also played with Milton and are both on their way to Wayne State this fall.
Johnson has nine goals (five on the power play) and 38 points this season.