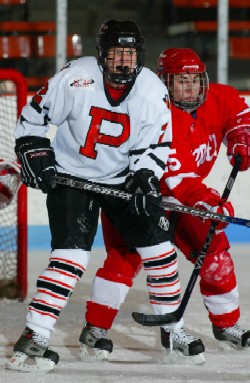 League champion Princeton was the big winner in the Ivy postseason awards, released Wednesday, as junior Kim Pearce won Player of the Year, Annie Greenwood won Rookie of the Year, and Pearce, senior goalie Roxanne Gaudiel and junior defenseman Laura Watt earned First Team honors. The quartet led Princeton to its first Ivy title since 1995, and its first outright title since 1992.
Brown sophomore forward Hayley Moore, Brown senior defenseman Myria Heinhuis, and Harvard senior forward Jennifer Raimondi were the other First Team selections.
Pearce was second among Ivy players in overall scoring this season at 1.24 points per game, first with 26 assists, tied for third in power-play points with 14 and tied for sixth in game-winning goals with three. She was also named ECAC Player of the Week on two occasions.
Greenwood was the unanimous choice as the 2005-06 Rookie of the Year. A forward, Greenwood was fourth among league players in overall scoring at 1.07 points per game, finishing the regular season with seven assists and a League-best 24 goals.
Princeton defenseman Laura Watt was the only unanimous First Team selection after placing second in the League in scoring by a defenseman, with 20 points (seven goals, 13 assists), and goaltender Roxanne Gaudiel was the coaches' pick out of a deep well of talented netminders.
Gaudiel led Ivy goaltenders in all main statistical categories during the season, including save percentage (.928), winning percentage (.731 at 17-5-4) and goals-against average (1.54, or half a goal better than her nearest competitor). Gaudiel was a three-time ECAC Goaltender of the Week.
Moore led the Ivy in scoring at 1.28 points per game, finishing second overall with 21 goals scored and tied for fourth with 16 assists. Heinhuis, meantime, had one goal and 10 assists and anchored a Bears' defense that allowed the fewest goals (19) of any team in League play.
Raimondi was a member of the Crimson's 2004-05 Ivy champion squad and placed third this season in points per game (1.14), tied for fifth in goals (12) and second in assists (21).
First Team All-Ivy
F – Hayley Moore, Brown (So., Wakefield, Mass.)
F – Kim Pearce, Princeton (Jr., Ottawa, Ont.)
F – Jennifer Raimondi, Harvard (Sr., Langley, B.C.)
D – Myria Heinhuis, Brown (Sr., Chatham, Ont.)
D – *Laura Watt, Princeton (Jr., Ajax, Ont.)
G – Roxanne Gaudiel, Princeton (Sr. Venice, Fla.)
* – Unanimous selection
Second Team All-Ivy
F – Shannon Bowman, Dartmouth (Fr., Leamington, Ont.)
F – Deena Caplette, Yale (Sr., Winnipeg, Manitoba)
F – Annie Greenwood, Princeton (Fr., New Canaan, Conn.)
F – Marykate Oakley, Princeton (So., Buffalo, N.Y.)
F – Keaton Zucker, Brown (Sr., Gilford, N.H.)
D – Ashlee Drover, Brown (Sr., Bay Roberts, New Foundland)
D – Dina McCumber, Princeton (Jr., North Tonawanda, N.Y.)
G – Sarah Love, Yale (Sr., Bayfield, Ont.)
Honorable Mention
F – Crysti Howser, Yale (Fr., Wilmette, Ill.)
D – Jen Munhofen, Cornell (Sr., Alpharetta, Ga.)
G – Beth Baronick, Cornell (Jr., Liverpool, N.Y.); O'Hara Shipe, Brown (So., Anchorage, Alaska)
Player of the Year
Kim Pearce, Princeton (Jr., Ottawa, Ont.)
Rookie of the Year
Annie Greenwood, Princeton (Fr., New Canaan, Conn.)