Three CHA schools hosted Senior Night last weekend and three more honor their soon-to-be graduates this weekend.
The six games on the docket will finally clear up the fuzzy CHA playoff picture. Thus far, only Robert Morris, in fourth place, has sewn up a seed for the CHA Tournament next week in Detroit.
At the beginning of the season, many predicted a Bemidji State/Alabama-Huntsville tournament final that still may happen. But Niagara has come on strong lately and could eke into the top spot. After RMU at No. 4, Air Force and Wayne State will battle this weekend for the fifth and sixth spots in the tournament.
Bemidji State hosts Alabama-Huntsville this weekend. Could the CHA ask for any more drama? At this point, the rest of the playoff seedings could theoretically be determined, but it's endless "If Team A beats Team B and Team C beats Team D by four goals or more, then Team A finishes second because of the tiebreaker…"
Yadda, yadda, yadda.
Let the final week of the regular season come down to the action on the ice and not our office keyboards. Though it's hard to believe the season is nearly complete (was Bemidji State really nationally-ranked four months ago?) and next week is the tournament, I'll echo what any red-blooded college hockey fan, a.k.a., freak, thinks every March.
This is truly the best time of the year.
Bemidji Swept Away By Niagara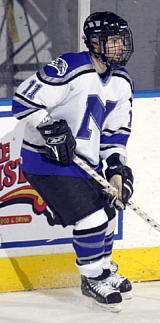 Niagara jumped ahead of Bemidji State into second place by virtue of its sweep of the Beavers at Dwyer Arena last weekend.
Friday night, Niagara goalie Jeff Van Nynatten became the league's winningest goalie with his 50th career victory as NU beat BSU, 6-5, on an overtime winner from Sean Bentivoglio.
Randy Harris tallied a hat trick and tacked on a pair of assists for the Purple Eagles.
"It's the biggest win of the season so far," Niagara head coach Dave Burkholder said. "Early in the game we got into some penalty trouble but we just kept battling back. Five-on-five we didn't lose too many shifts until the third period, when they some momentum going for a couple minutes there."
Friday, Bemidji State goalie Matt Climie was replaced in goal for the first time in his career after he received a misconduct penalty.
Then Saturday night, Niagara set a single-season attendance record of 17,461 (total over all home games) and beat up on Bemidji, 5-1. Harris was again in the spotlight with two goals and an assist.
"It's fitting that a senior in Randy Harris got us going again tonight," Burkholder said. "We were a little bit jumpy. The first period was pretty even but once we settled in in the second I thought we had it going pretty good. Certainly our players got the coaches believing in them. Other than the Robert Morris series at home we haven't been able to sweep a weekend. A weekend of this magnitude, of this pressure against a great team and program who is having a good year says a lot about our guys."
Van Nynatten, who Friday passed Greg Gardner's record for saves in a season, took win No. 51.
Niagara, the only program in the country with six 30-point scorers, heads to Robert Morris this weekend while Bemidji State hosts first-place Alabama-Huntsville.
Robert Morris Brooms Air Force
Coming off their sweep of Alabama-Huntsville just a week prior, Air Force hosted Robert Morris last weekend and was on the receiving end of a brooming as the Colonials won both, with Friday's coming in overtime.
"We demoralized ourselves by not capitalizing on our opportunities," Falcons head coach Frank Serratore said. "Robert Morris is a well-coached team. They don't give you any easy ice. I have never been in a situation where we outshot a team by a 2-to-1 margin and lost all four games."
Sean Berkstresser's goal 3:28 into the extra session did in Air Force Friday as the Colonials won, 3-2. Then Saturday night, RMU won its fifth straight against Air Force, 5-1. With that win, Robert Morris clinched fourth place in the CHA and will play the fifth seed — potentially Air Force again — in the quarterfinals of the CHA Tournament next Friday.
The OT goal Friday was a bit fluky. Berkstresser sent a pass toward the goal from the left boards. As players from both teams were skating down the slot, the puck deflected off a skate and went under the pads of Falcon goalie Peter Foster for the win.
RMU goalie Christian Boucher made 40 saves Friday and another 35 Saturday. On Friday, just four penalties were called as Air Force was 0-for-3 on the power play and RMU was 0-for-1.
"Robert Morris is a difficult team to play against," added Serratore. "If you don't get a lot of bodies in front of the net, it is awful hard to score on Boucher."
Of note for Air Force, Josh Frider ended an eight-game scoring drought with an assist on Mike Knaeble's goal in Saturday's loss.
Air Force is off to Wayne State this weekend and Robert Morris hosts Niagara.
Chargers Take Four Points From WSU
Alabama-Huntsville kept its hold on first place with a home sweep last weekend against Wayne State to finish 11-1-0 at the Von Braun Center this season.
Junior forward Brett McConnachie, who had only five goals until Saturday, notched his first career hat trick and only seven UAH players recorded points in Saturday's 6-1 win. Bruce Mulherin had a goal and four assists, Jeremy Schreiber four assists and Jeff Winchester two helpers.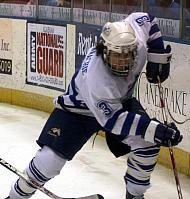 The Chargers also tied a league record for power-play goals in the game with five; four of those came in the second period.
"I was pretty excited out there," McConnachie said in the Huntsville Times. "I know I can put the puck in the net if I have the opportunity. Tonight was one of those nights where the puck was bouncing my way. I hadn't scored in a couple of games so I was in a little bit of a slump there."
Chargers head coach Doug Ross saw a big improvement from Friday's 2-1 squeaker to Saturday's dominance.
"I was concerned about (Saturday) because last night was a close game," Ross said in the same Times story. "We needed to really play an 'A' game tonight. We played an A-plus game tonight and we wanted to be able to take that A-plus game up to Bemidji next weekend."
Friday, Mulherin's second goal of the game at 18:49 of the third period gave UAH the win.
"A great play by Jeff Winchester taking it into the boards," Mulherin explained to the Times. "He passed to (Chris) Martini and then Martini made a nice play, found my stick in front of the net and then I luckily poked it in."
Scott Munroe earned the win both nights, and Saturday faced 13 shots in the third period, mostly with WSU on the power play.
"We got into some penalty trouble and it turned into a bit of a marathon at the end there," Munroe said to the Times. "They bugged me afterward that they were trying to get my save percentage up with a few more shots."
At the other end of the spectrum, few things have gone right for last-place Wayne State this year.
Eight of WSU's nine Friday night CHA games this season have been decided by a goal or less. The lone exception was a 4-1 loss at home to Bemidji last November, but it was 2-1 with 40 seconds left in the game. Overall on Friday night league play, WSU is 1-4-4. The only win was back on Dec. 2 at Air Force, a 4-3 victory.
Last weekend, Wayne State junior defenseman Adam Drescher scored his first career goal Saturday in his 42nd career game and sophomore forward Tylor Michel returned to the lineup Friday after missing 14 games due to injury, assisting on the Warriors' lone goal. Three of Drescher's four career points have come in his last six games.
"We've had chances and opportunities all season," said WSU head coach Bill Wilkinson. "But we can't cash in and the other teams are. If you win 4-3, you're happy, but if you lose 4-3, you're p—ed off. But we definitely have had our chances."
The Warriors welcome Air Force to town Friday and Saturday and the Chargers look to stay in first up in Bemidji.
Niagara Gets Another Recruit for '06
Niagara has received a verbal commitment from Bay State Breakers defenseman Jim Burichin. The 6-foot, 195-pounder came to the Eastern Junior Hockey League from the Cleveland Barons NAHL program, where he also played his youth hockey growing up in nearby Strongsville, Ohio.
"Jim is a defensive defenseman who likes to play the physical part of the game," Bay State head coach David McCauley said. "It is Jim's work ethic and determination that has made him the player he is today."
Burichin, 20, is a tri-captain with Bay State this year.
"I am extremely proud that I will be headed to Niagara University next season," said Burichin. "It is a great fit for me academically and athletically. Their physical style of play seems to fit my style very well."
He also went on to reflect on this season in Rockland, just outside of Boston.
"Being part of the Bay State program has been a great experience for me not only as a player, but personally as well," Burichin said. "I have matured this past year as it was my first away from home. To be from the Cleveland area and come to Boston to play hockey has been an incredible life experience. Coach McCauley recruited me to come play for the Breakers this past summer touting the amount of college scouts that attend games. It was amazing — our first week of practice I saw more college coaches than I did all last season."