Mercyhurst freshman forward Valerie Chouinard reaped three of College America's major awards along with earning first-team all-conference honors to highlight the league's banquet this evening.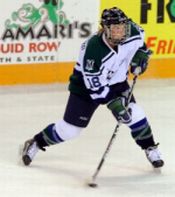 In leading the Lakers to their fourth consecutive CHA regular-season crown, Chouinard tied league lead with 19 points and ranks second nationally among freshmen with 1.44 points per game. A unanimous selection to the league's first team and all-rookie team, she is the first student-athlete to earn rookie of the year and player of the year honor in the same season in any of D-I women's hockey's four conferences.
In addition, she earned Mercyhurst's Easton Three-Star Award, earning the most points during play as an Easton Three-Star Player of the Game. She is also the recipient of this year's CHA Easton Player of the Year, garnering the most points as a three-star selection in conference games.
Chouinard was one of three freshmen to share in the league lead in CHA scoring and she was the other two, Wayne State forwards Melissa Boal and Sam Poyton, in earning first-team and all-rookie Boal was one of four players to earn unanimous selection to the All-CHA first team, after leading league with 13 goals while sitting atop the CHA scoring charts in all games with 47 points.
Poyton, whose 28 goals in all games this season is one shy of the league record, earned All-rookie honors as well as being Wayne State's Easton Three-Star Award winner.
The only repeat selection the the All-CHA first team, and the third student-athlete selected selected was Mercyhurst junior defenseman Ashley Pendleton. She topped all blueliners in league play goals and 10 points and her plus/minus rating of +18 in CHA games was three times greater than any league defenseman.
Joining Pendleton was senior teammate Danielle Lansing, a first-team selection for the second time. She also earned first-team honors in 2004 after being named to the all-rookie team in 2003. Although registering just one goal and five points, Pendleton anchored a defense which allowed just 15 goals in 12 league games.
The fourth unanimous selection was Niagara junior goalie Allison Rutledge, who led the league in save percentage (.941) while facing an average of 33 shots per game in conference play. Niagara's Easton Three-Star Award winner, she was a CHA all-rookie pick in 2004.
The CHA second team featured Mercyhurst junior teammates Julia Colizza and Stefanie Bourbeau at forward, along with Wayne State freshman Lindsay DiPietro. Colizza had a pair of hat tricks during the season, including one in CHA play. Her four goals in conference play were all via special teams, with two coming on the power play and two shorthanded. Two of those four goals were game winners.
Bourbeau had seven goals in 11 league games and was third overall in plus/minus rating with +24. DiPietro led the CHA with 14 assists in 12 conference games and tallied 18 saves in league play.
A pair of Wayne State blueliners earned second-team All-CHA honors, with senior Peyton Patterson and freshman Tina Vanderhoeven earning honors. Patterson was second in league play among conference defensemen with eight points in 12 games, including a league-best seven assists. Vanderhoeven tied for second in overall scoring among league defensmen with 13 points.
The second-team All-CHA goalie was Robert Morris freshman Brianne McLaughlin, who leads the nation in saves, averaging more than 37 stops per game. Chouinard led the all-rookie team earning unanimous selection to the squad, as did Boal and Vanderhoeven and McLaughlin. Poyton also earned all-rookie honors along with Robert Morris defenseman Samantha Ullrich.
Wayne State senior Jessica Snelgrove was named the league's student-athlete of the year. Besides serving serving as the Warriors' team captain and leading them to their best-ever finish in league play, she was named to the CHA all-academic team for the third consecutive year.
During her career at Wayne State, Snelgrove served as an assistant team captain as a sophomore and a co-captain last season. She was also a member of the Warrior softball team which reached the NCAA Division II College World Series in 2003 and earned softball academic All-American honors in 2003 and 2004.
Also honored for leading Wayne State to a second-place finish in the CHA standings, and 14 wins overall, was head coach Jim Fetter, who recived the league's coach of the year award. The Warriors have been ranked in the Pairwise Rankings this season for the first time and have also received votes in a national poll for the first time in their history.