The final three for the Patty Kazmaier Award has an exclusively international flavor for the first time ever.
Wisconsin junior forward Sara Bauer (St. Catharines, Ont.), St. Lawrence sophomore forward Sabrina Harbec and Minnesota-Duluth junior goaltender Riitta Schaublin (Basel, Switzerland) were named the three finalists for the 2006 Patty Kazmaier Memorial Award by USA Hockey on Monday.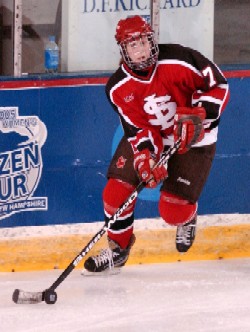 This is the first year that no Americans and no seniors have reached the final three. In addition, Schaublin is the first finalist to hail from outside North America.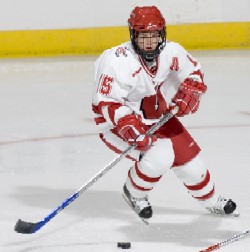 The Kazmaier Award honors the top player in NCAA Division I women's ice hockey. This year's winner will be revealed at the ninth annual Patty Kazmaier Memorial Award Dinner on March 25 at the Radisson University Hotel in Minneapolis, Minn. All three award finalists and the two participating teams in the NCAA final will be in attendance. 2005 Patty Kazmaier Memorial Award winner Krissy Wendell (Brooklyn Park, Minn.) will be the keynote speaker.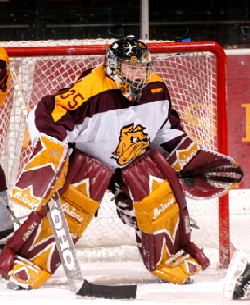 Bauer, the Western Collegiate Hockey Association's Player of the Year for 2005-06, has helped lead Wisconsin to its winningest season in school history (33-4-1). She currently ranks fourth in the nation with 56 points (22-34) and is third on Wisconsin's all-time chart with 144 career points (56-88).
Harbec, the 2005-06 Eastern College Athletic Conference Hockey League Player of the Year, has helped St. Lawrence to its first-ever 30-win season (30-4-2). She leads the nation in assists (36) and points per game (1.76). Harbec's 60 points, 24 goals and 36 assists all rank second on the Saints' all-time single-season chart.
Schaublin earned her second straight 20-win season while posting the nation's second-best save percentage (.941). Her efforts have already led to her garnering a spot on the All-WCHA First Team and also recognition as the WCHA Student Athlete of the Year.
Tickets for the Patty Kazmaier Memorial Award Dinner may be purchased by calling The USA Hockey Foundation at (800) 566-3288, ext. 184, or by visiting www.PattyKaz.com.