The last thing Michigan State needed was another 5-foot-6 goalie. That is, until coach Rick Comley and the Spartans were turned on to freshman phenom Jeff Lerg.
The cousin of current MSU forward Bryan Lerg and son of former Buckeye Ken Lerg, Jeff shed concerns about his size and medical condition to be one of the season's most pleasant surprises.
On Thursday evening, he received the CCHA Rookie of the Year award in a class that included first-round draft picks Jack Johnson and Andrew Cogliano of Michigan.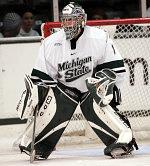 Even though he is delighted to win the award against such stiff competition, Lerg focuses on growth, development, and improvement.
"I always feel like I have something to prove, especially as a goalie where one day you're a hero and the next day everyone is looking down on you. You're only as good as your last game, and I take that mentality with me to challenge myself to play consistently on this level," said Lerg.
"I'm not the biggest guy, but I want to go out there every game and make a statement," said Lerg. "Some teams don't like short goalies or stereotype against them. I thank Michigan State for bringing me out here because some teams did not even look at me because of my size."
Tipping the scales at a behemoth 5-6 and 150 pounds, Lerg has dealt with the snickers at being a small goaltender all of his life.
"I haven't played with a goalie his size since peewee hockey," joked senior assistant captain Jared Nightingale.
Lerg has learned to take his small stature in stride and make the best of the situation.
"You heard talk about it that I wouldn't be able to play juniors, or to play college, or now that I won't play professional, but I'm not worried about that right now. I'm just trying to play my best and prove to people that I can play and excel at this level."
"He may be small, but he's learned to play the position at this level. It looks like he is giving up a lot of the net, but he comes out and plays the angles and hasn't been allowing (shooters) to beat him high," said MSU coach Rick Comley.
On the positive side, Lerg can use his size to give the spectators a good chuckle and the MSU coaches a little scare.
"I swing from the crossbar before the start of every period and every time before we go on the penalty kill. I started doing that when I was playing midget hockey and I've taken it with me since. It's just become part of my routine. The big guys can't do that, so it's one of those little things that people notice
Lerg has had to overcome more than naysayers about his size. He's dealt with exercise-induced asthma since early childhood.
"I've had asthma since I was four. By now, it's like second nature to me. I've worked on my breathing machine pretty much every day of my life. Now, I do it before I workout or while I'm taping my stick or stretching," said Lerg. "Now, I just get here early and do it in the locker room. It really fits into the way I prepare."
"I've never had to use an inhaler during a game yet. The closest I've ever come was in triple overtime in a junior game. It was just about the end of the third overtime, and if the game didn't end I would have had to fill up the machine and do it again."
Adding the breathing exercises to his routine was easy for the Livonia, Mich., native, who thrives on preparation.
Said Lerg, "After a team meal and before I head down to the rink I like to take a nap and while I'm laying down I work on some (visualization) exercises. Once I get to the rink, I like to get mentally prepared and warm up with my breathing machine, use the racquetball in the hallway to work on my reflexes, and stretch."
Being prepared does not start at the rink for Lerg. He has impressed his coaches and teammates with how much he studies the game and the technical aspects of the goaltender position.
"I really like to watch video and break down the game. As I played more and got better, I learned to use the technology around me. At MSU we have a lot of advantages and I like to use them to break the video down and try to perfect my game. If I can increase my chances of making just one more save a game, that could be prevent a goal and win the game," said Lerg.
Getting his routing down and adjusting to the rigors of college hockey have helped Lerg to thrive in the second half.
"I've always been a goaltender who gets better as the season goes along. I keep working on things, and when things get repetitive it's easier to make them look natural."
His 14-5-6 record, 2.02 goals against average, and .925 save percentage are astounding, especially when one considers that he was battling behind one of the CCHA's strong incumbents, Dominic Vicari, for the Spartans' top spot.
"I make no bones about it. We brought him in here to compete, but he was our second goalie," said Comley. "He's for sure even exceeded my expectations. He had an opportunity and he's taken advantage of it. He's been such a large part of our second-half surge and he deserves a lot of credit."
"He's just so quick and he moves so well. Even when the net is open, he sticks a stick out there or his glove out there and he makes the save. And he's so fast that you can't beat him backdoor, he always gets a pad back," said senior David Booth.
It's not all about business for Lerg, though. His great sense of humor and infectious smile have made him a team favorite at all levels of hockey.
"I know someone on every team from growing up around Detroit and playing with or against everyone," said Lerg. "Some of my better friends are Erik Condra on Notre Dame (CCHA's leading freshman scorer), Dan Eves on Lake Superior, and Kevin Porter from Michigan. Porter and I work out a ton in the summer. We're always the ones who rent the ice and are in charge of getting everyone together.
But that's only the tip of the iceberg. Lerg seems to have a good friend on just about every CCHA team, and, oddly enough, almost all of them have scored on the stalwart keeper.
"I lived with Jeff LoVecchio from Western Michigan, we were roommates in Omaha. I know Dan Riedel from Ferris pretty well from being around town. Dominic Maiani from Ohio State and I are good buddies."
Lerg is loved not only for his good nature but also for his intensity. He will bring that desire to compete with him to the CCHA championship and the NCAA tournament.
"I want to be the type of goalie that people look at and say, 'he wins games.' I want to keep our team in every game and give them a chance to win by making a couple of saves," said Lerg.
"Whatever I have to do to get the win is what I want to do. There's no better feeling than when that buzzer sounds and you're on top, especially in a big game. After that you can have fun, and everyone can have fun when you win."