Whitt White Out
New Hampshire filled most of the longer edges of the Whittemore Center with a 2,061-strong crowd — a new NCAA quarterfinal record, surpassing the 1,619 at Dartmouth a year ago. Jennifer Hitchcock, who scored the goal, looked at the crowd as a source of momentum.
"We really fed off the energy of the crowd," she said. "It's exciting to have that many people cheer for you, and we just used that energy to put it to them."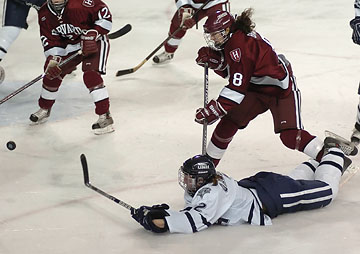 UNH tri-captain Martine Garland admitted being a bit flustered in the early going and though that contributed to UNH's slow start. The Wildcats had an earlier history this season of starting slow, but they seemed to be over that in the Hockey East championships.
"When we came out in the second, everyone had calmed down," Garland said. "The crowd was great. It was an unbelievable feeling to play at home in front of so many people — just a great way to send us off to the Frozen Four."
Neither team was sharp initially. In fact, both teams iced the puck in the opening minutes. UNH coach Brian McCloskey listed the two weeks off before tonight's game as a reason for the slow start.
As for Harvard, Stone said: "Some of these kids are playing in their last game, and sometimes you play a little tight when the potential of that can be there."
Special Teams on a Special Team
UNH converting its first two power plays and killing its first three penalties obviously played a huge rule in the victory. McCloskey says that has been the story all season.
The Wildcats' power play ranks first in the nation by far and has showed no signs of slowing down.
"We've got a lot of different weapons," McCloskey said. "Sam Faber is just deadly behind the net. Sadie Wright-Ward is really smart on the flank. Marty Garland is playing terrific on the top. All of them do their job so well, that top group. [Kacey] Bellamy is patient with the puck, and Hitchcock is as good in front as there is the country. It's a deadly combination. I thought they could have scored a couple more."
The penalty kill started slower this season but has finished strong. Harvard rarely threatened with the man advantage.
"The pairings have really settled in up front," McCloskey said. "We make it hard for teams to get into the neutral zone."
Farewells
The game marked the end of the line for three Harvard seniors – goalie Ali Boe, First Team All-ECACHL Jennifer Raimondi and captain Carrie Schroyer. In their time at Harvard, they won three straight ECACHL postseason titles from 2004-2006 and three straight regular season titles from 2003-2005. They played in four NCAA tournaments, losing to the top seed each time – three times in the NCAA final.
Boe could not have had a much stronger game to close out her career in stopping 35 of 38 shots.
"She played a great game, and the game could have changed a bit had she not come out so strong," Garland said of Boe. "Hats off to her. She's had a great career."
Harvard coach Katey Stone noted that Boe tended to be the leader by example, while Schroyer and Raimondi were the more vocal leaders. She considered all three to be consummate Harvard players.
This was a much different year from their previous three, as Harvard was short three Olympians on its roster, and the team also lost a pair of All-League players in Nicole Corriero and Ashley Banfield.
"These transition years are difficult ones when you're missing kids, particularly when you bring in eight freshmen and they're really young," Stone said. "It wasn't easy for these three seniors."
That Harvard managed to win the ECACHL title despite all the obstacles certainly left this team with plenty to be proud of.
"It's disappointing to lose today, but we had a great season, and there's a lot of good things to take out of it," Boe said. "As a senior class we're very happy with how the season went."