First-time Frozen Four qualifiers New Hampshire and Wisconsin dominated USCHO's list of 2005-06 D-I Women's Year-End Honorees.
Sara Bauer, the assistant captain and top scorer for Wisconsin, was named the USCHO Player of the Year. A native of St. Catherines, Ont., Bauer scored overtime game-winning goals against Minnesota-Duluth and Ohio State. She was unstoppable during the WCHA championship weekend with a goal and seven assists. Bauer has been honored as USCHO Player of the Week on three occasions, as the WCHA's regular season and postseason MVP, and as one of three Patty Kazmaier finalists. She has also been recognized on the All-USCHO First Team.
The three All-USCHO Teams and the All-USCHO Rookie Team are listed below. New Hampshire led the First Team with three selections and matched Minnesota with two Rookie Team selections. Minnesota-Duluth goalie Riitta Schaublin was named to the First Team for the second straight season.
Other awards are as follows:
USCHO Coach of the Year
Brian McCloskey, New Hampshire
USCHO Rookie of the Year
Valerie Chouinard, Mercyhurst (Matane, Que.)
USCHO Most Improved Player Award
Jennifer Hitchcock, New Hampshire, So. (LaSalle, Ont.)
USCHO Sportsmanship Award
Karen Thatcher, Providence, Sr. (Douglas, Mass.)
Unsung Hero Award
Nikki Burish, Wisconsin, Sr. (Madison, Wisc.)
Defensive Player of the Year
Bobbi-Jo Slusar, Wisconsin, Jr. (Swift Current. Sask.)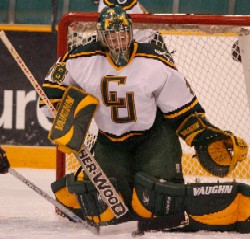 Defensive Forward of the Year
Nicole Hekle, New Hampshire, Jr. (Winnepeg, Man.)
All-USCHO First Team
F Sara Bauer, Wisconsin, Jr. (St. Catherines, Ont.)
F Jennifer Hitchcock, UNH, So. (LaSalle, Ont.)
F Sadie Wright-Ward, UNH, So. (Durham, N.H.)
D Martine Garland, UNH, Jr. (Toronto, Ont.)
D Bobbi-Jo Slusar, Wisconsin, Jr. (Swift Current, Sask.)
G Riitta Schaublin, UMD, Jr. (Basel, Switz.)
All-USCHO Second Team
F Valerie Chouinard, Mercyhurst, Fr. (Matane, Que.)
F Sabrina Harbec, St. Lawrence, So. (St. Hubert, Que.)
F Jana Harrigan, Ohio State, Sr. (Burlington, Ont.)
D Annie Guay, St. Lawrence, So. (Rouyn-Noranda, Que.)
D Danielle Lansing, Mercyhurst, Sr. (Red Deer, Alb.)
G Kira Hurley, Clarkson, Jr. (Pickering, Ont.)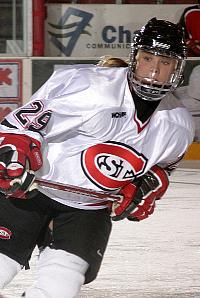 All-USCHO Third Team
F Erica McKenzie, Minnesota, So. (Hastings, Minn.)
F Kim Pearce, Princeton, Jr. (Ottawa, Ont.)
F Kristy Oonincx, St. Cloud State, Sr. (Moose Jaw, Sask.)
D Kerri Wallace, St. Lawrence, So. (Rocky Mountain House, Alb.)
D Laura Watt, Princeton, Jr. (Ajax, Ont.)
G Jess Moffat, St. Lawrence, Sr. (Moose Creek, Ont.)
All-USCHO Rookie Team
F Valerie Chouinard, Mercyhurst (Matane, Que.)
F Sam Faber, UNH (Mt. Sinai, N.Y.)
F Gigi Marvin, Minnesota (Warroad, Minn.)
D Kacey Bellamy, UNH (Westfield, Mass.)
D Maggie Taverna, Boston College (Howell, N.J.)
G Kim Hanlon, Minnesota (Ham Lake, Minn.)