Is this the year?
I felt last spring that Bemidji State was about to pull off a colossal upset. I felt that they were going to dethrone the defending champs from Denver in a first-round upset in the Amherst regional.
It went to OT, and Denver won.
This time the Beavers, off their second consecutive CHA title, get Wisconsin in Green Bay. That's a bit harder than Denver in western Massachusetts, but Bemidji has one thing even the mighty Badgers, the tournament's No. 1 seed, don't have.
Experience.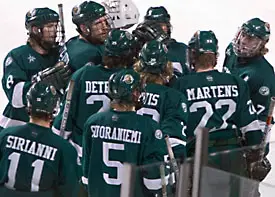 "Look at our roster — add up the amount of games our players have played either in junior or in college. I don't think anyone has as many games played as we do," said Beavers coach Tom Serratore. "You hope that carries over."
One could make the argument that the best thing the Minnesota Golden Gophers did last weekend in the WCHA playoffs was lose the consolation game to Wisconsin. Had they won, they would have been the No. 1 overall seed, and likely would have gotten the Beavers in Grand Forks. That would be a sold-out crowd of green and white Beaver faithful who would have made the short trip to The Ralph, along with a large contingent of green and white-clad North Dakota fans who likewise would have been pulling for Bemidji State.
That could have made a long night for Minnesota.
Instead the Bemidijians will see the Grateful Red fans of Wisconsin in nearby Green Bay. However, Serratore feels the building, though pro-Badger, will electrify his team.
"When they see that electricity of the building, all that red, it should ignite their passion," said Serratore. "However, despite the crowd, the game is played between the boards."
Less than two weeks ago, he Beavers were down 3-1 early in the third period of the CHA semifinals against Alabama-Huntsville. They had opened the scoring at the 3:12 mark of the game, and then surrendered three straight goals, including one two minutes into the third. It looked like the defending CHA champs were done.
Then they caught fire. Luke Erickson scored career goal No. 40, and career point No. 105 to pull within one at 7:02. They pressed, and wore down the Chargers defense. The onslaught provided numerous chances, and Tyler Scofield tied the game on a scramble at 15:22.
In OT, it took Rob Sirianni just one shift to end the game, coolly firing a shot between the feet of conference co-MVP Scott Munroe to win, and send the Beavers into the finals.
There, drained from a late game that went to extra time, Bemidji took a 3-0 lead, bent as Niagara got to 3-2, and then iced the game and the CHA title.
To pick off a No. 1 seed, the Beavers know they'll not only have to execute but be tenacious. That's not a problem for a team that has taken on the personality of its fiery, fast-talking bench boss.
"We have to be in their face; how well we execute is still to be determined," said Serratore. "We have to forecheck, backcheck, get backside pressure, and do what they'd call in football, create hurries."
What Serratore wants is for the Beavers to be such a pressure team that they force Wisconsin to move the puck before options present themselves, and cause turnovers.
That will allow their game, a risk-reward type of style, to take over. The Beavers play it fast and loose. They have size, speed, and energy. They play with passion, and their work ethic is beyond reproach.
What they don't have is Joe Pavelski and Robbie Earl, Nick Licari and Kyle Klubertanz.
However, they do have two grizzled warriors in Jean-Guy Gervais and Ryan Huddy. Gervais, who'll score or block a shot with his face depending on what's needed, is the heart of this team. At 25 years old, he has played four years of junior in Saskatchewan and another four at Bemidji.
Another key senior is Huddy, whose 28 points and four power-play goals have been a big factor in the Beavers' success.
"Here's a kid who is doing an internship in a local county sheriff's office," said Serratore in admiration. "He goes to class, goes to practice, and then goes out with the sheriff's department. He takes off his uniform and puts on a bulletproof vest. He's been hardened by the experience, and that rubs off in the dressing room."
Twelve goals and 10 assists tell only part of the story. He has the game winning goals in both of Bemidji's back-to-back CHA titles. His next game will be his 140th as a Beaver.
Ryan Miller — no relation to the East Lansing hockey family of the same name — is the type of player you always know is on the ice and will be sorely missed when he departs. He's a player that brings out the energy of his linemates and teammates with unquestioned work ethic. Add to his Ken Linesman-type peskiness a scoring touch that has evolved over the past two seasons, and you have a Claude Lemieux type of player. A guy who can score, and be a monkey in the wrench.
So the question is, can the Beavers beat the Badgers? Two nasty little animals head-to-head in Green Bay?
Sometime soon, a No. 4 will KO a No. 1.
This could be the time.