Denver junior defenseman Matt Carle, Boston College senior forward Chris Collins and Wisconsin junior goaltender Brian Elliott make up the 2006 Hobey "Hat Trick," announced Wednesday by the Hobey Baker Foundation.
Carle, Collins and Elliott were selected from among the original list of 10 finalists announced two weeks ago; one will win the 2006 Hobey Baker Memorial Award, which will be presented Friday, April 7, at the Bradley Center in Milwaukee, Wis., during the Frozen Four festivities.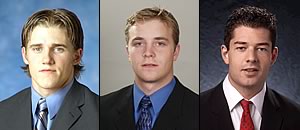 Carle, a native of Anchorage, Alaska, became the first player in WCHA history to be voted the league's Player of the Year and Defensive Player of the Year. A first-team All-WCHA selection for the second year in a row, Carle leads the nation in assists (42) and leads all NCAA defensemen in points (53). In conference games he led the WCHA in assists and finished second in points. Carle, who recently signed a professional contract with the NHL's San Jose Sharks, was a member of the 2004 and 2005 NCAA championship teams at Denver and was a co-captain of the Pioneers this year.
A real estate and construction management major, he carries a 3.30 grade-point average and was a WCHA All-Academic Team honoree. He participates annually in the "Skate with the Pioneers" event for terminally ill children, and has volunteered at the Alaska Food Drive and a holiday children's charity drive.
Collins, a native of Fairport, N.Y., was the Hockey East Player of the Year and a first-team All-Hockey East selection. An alternate captain, he has led Boston College to the NCAA Frozen Four, and heads to Milwaukee with 61 points in 40 games (31 goals, 30 assists). He had 39 points in conference play, six more than any other Hockey East player, and won the Walter Brown Award as the top American-born player in New England.
Collins ranks second nationally in points, points per game (1.52), goals and shorthanded goals (five). An NHL free agent, Collins is enrolled in BC's Carroll School of Management.
Elliott, a native of Newmarket, Ontario, leads the nation in nearly every goaltending category, including goals-against average (1.55), save percentage (.938), shutouts (eight), wins (25) and winning percentage (.803). Elliott has posted three consecutive shutouts to lead the Badgers to the NCAA Frozen Four, and was named Most Outstanding Player at the Midwest Regional last weekend.
The second-team All-WCHA goaltender, Elliott led the conference in goals-against average (1.80) and save percentage (.930). A business major with a 3.13 grade-point average, Elliott is in his first year of studies at the prestigious UW School of Business. He makes frequent visits to the UW Children's Hospital.
Ten finalists for the Hobey Baker Memorial Award are determined by vote of the nation's 59 Division I head coaches, along with the preliminary results of the online Vote for Hobey.
Joining Carle, Collins and Elliott in that group of finalists were Miami senior defenseman Andy Greene, Maine senior forward Greg Moore, Nebraska-Omaha junior forward Scott Parse, Minnesota junior forward Ryan Potulny, Colorado College senior forward Marty Sertich, Colorado College senior forward Brett Sterling and St. Lawrence senior forward T.J. Trevelyan.
The recipient is selected by the vote of a 25-member selection committee, along with the final voting results from Vote for Hobey. The presentation will be made at 6 p.m. CT (7 p.m. ET) at the Bradley Center in Milwaukee on Friday, April 7, and will be televised live on ESPNU.
The ceremony precedes the Hockey Humanitarian Award presentation and the inaugural NCAA Frozen Four Skills Challenge.