Last year when the Fighting Sioux returned to North Dakota after losing the NCAA championship game, assistant coach Cary Eades remarked, "We didn't win a championship, but we won a lot of respect."
For the second straight year, the Sioux are back in the Frozen Four with their sights set firmly on winning an eighth national championship. They're looking for more than respect this time, and they have two factors working in their favor:
1. Denver, the team that ended UND's season two straight years, has been out of the playoffs since March 12.
2. The amount of motivation the Sioux possess to avoid the disappointing endings that marred their past two seasons is roughly equivalent to the amount of water rushing down the flood-swollen Red River through Grand Forks on its way to Lake Winnipeg.
Junior defenseman and team captain Matt Smaby played on the 2004 UND team that was one game away from the Frozen Four when it lost 1-0 to Denver in the NCAA West Regional. And he played on last year's team that lost 4-1 to Denver in the national championship game.
"We've tasted a lot of defeat the past couple years at key points in the season, and we hate that," Smaby said. "It drives us to keep going and shooting for our main goal at the end of the year.
"It helps that there are guys in the locker room who've experienced what it feels like to end the season with a loss," he added. "It's not a good feeling, and there aren't lot of people who want to do it again. I think it's a huge driving point for us."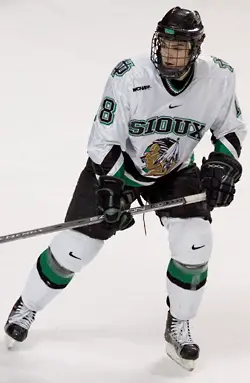 The greatest potential problem is that 10 of the Sioux players who will take to the ice at the Bradley Center in Milwaukee on Thursday against Boston College weren't on last year's team — because they're freshmen.
But don't try to tell defenseman Brian Lee, a WCHA All-Rookie selection, that it should matter. His Moorhead, Minn., high school team got into the state championship game two straight years and lost both times.
"Seeing the result of UND's season last year and then knowing that we had the same result the last two years in high school just leaves a sour taste in your mouth and a real hunger inside of you that you want to get the job done," Lee said. "I think we're all on the same page and we've got a little bit more to prove this year."
Junior forward Drew Stafford, UND's leading scorer, said, "All that we can control is to prepare ourselves as best we can and use the experience from the past couple of years. The guys in my class, we got shut out by Denver, and that was not a very good experience.
"We took that into last year — that same kind of feeling — and came up short again. We know what it feels like to lose on the big stage," he said. "We're going to try to take that in and share with the younger guys."
Getting the freshmen ready for the Frozen Four has been a season-long project for UND's coaching staff and the upperclassmen. That process began long before anyone knew that the Sioux would be one of the last four teams playing in April. It included acclimating new players to college life, as well as college hockey.
"There's a fine balance between playing hockey, going to school and being ready for the games," Smaby said. "It's a bit of an adjustment to find that happy medium of being a good student and being a good player. It takes a lot of focus.
"School's really important around here," he continued. "We send the message early about going to class and keeping your grades up. It's something we try to engrain in everyone's minds as soon as they get here."
Assistant captain Mike Prpich, one of only two seniors on the team, said that not only is it important for the upperclassmen to be role models for the incoming freshmen, but they also need to know how to dispense advice to the rookies.
"You have to lead by example and do the work yourself," he said. "You can't really preach if you're not going to put in the time and the effort yourself.
"You also have to be ready to talk, be personable and be approachable," Prpich noted. "If the younger players need help, you need to be one of the people they can come ask."
Now that the season-long goal of playing in the Frozen Four is a reality, the team leaders call on their playoff experience to keep everything in perspective.
"As older guys we have to approach it as just another game," Prpich explained. "The biggest thing is to deal with the media hype and all our fan support. You're playing on a bigger stage, and you have to be prepared to handle it. It comes with the territory now."
Prpich believes the experience of playing in the Xcel Energy Center during the WCHA Final Five before record-setting crowds will help the freshmen adjust quickly to the Frozen Four atmosphere.
"We're going to another neutral site where there will probably be a lot of pro-Wisconsin fans," he said. "The Final Five was a huge, huge help for us. It gave the freshmen a taste of what to expect with the large crowds, all the media, all the fan support. That will help when we go to Milwaukee."
Freshman forward T.J. Oshie agreed that winning the league tournament and the West Regional was good experience for the younger players.
"The Final Five and the regionals are different hockey from the beginning of the season," he said. "It's more intense. Everyone's playing for their season, and no one wants to go home early. You have to go all-out every shift."
If Oshie's fire and determination are any indication of what burns inside the other members of UND's freshman class, this year's Sioux team could return to Grand Forks with a championship trophy — and respect.
"I've definitely elevated my play, and I try to play every shift lately as hard as I can go," Oshie said. "I love this group of guys. I don't want our season to be any shorter than it has to be."