The big, punishing, veteran defensemen who carried North Dakota to the Frozen Four in 2005 are long gone.
According to some, the group replacing them is less physical, more finesse-oriented and too inexperienced to replace what UND lost last season. So if that's the case, why is this year's Sioux team giving up the exact same number of goals per game — 2.29 — as last year?
It's a startling statistic, given that this year's version of the Sioux has played the entire season with four freshman defensemen and a sophomore who saw limited ice time the previous season.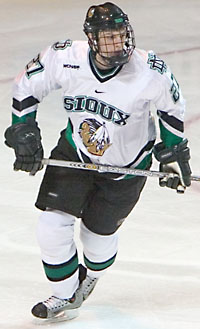 "It's a pleasant surprise to see how good we've become over the year," said junior defenseman and team captain Matt Smaby, a second-round draft choice of the Tampa Bay Lightning. "We've had our ups and downs. We've had our bad games. We do have a great goalie behind us, and that helps a lot."
Certainly the stellar play of junior goalie Jordan Parise (.933 save percentage, 2.08 GAA) has helped. But another part is Smaby himself, who provided associate head coach Brad Berry with a 6-5, 220-pound building block around which the defense could be reconstructed.
"Matt's evolved into a well-rounded player now, not only defensively, but he also gives you that an offensive element with a big, booming shot from the point," Berry said. "That comes from being here for a few years and learning from players who have gone before him. He's doing a great job for us."
Smaby not only took over as the physical force replacing big, bad Matt Greene, who left UND a year early to play with the Edmonton Oilers, but he also took over Greene's leadership role.
"This year, it's my job to lead and show the way," Smaby said. "That's what I tried to do right off the bat, show the younger guys what I'd learned. I could relate to what a lot of them went through coming right out of high school and jumping right into the college level. I just tried to share my experiences and help in whatever way I could."
Of course, it also helped that the incoming freshmen were high-caliber players. Brian Lee and Joe Finley are NHL first-round draft choices of the Ottawa Senators and Washington Capitals, respectively. Taylor Chorney is a second-round draft choice of the Edmonton Oilers.
Zach Jones, whose brother Matt played four years at UND before turning pro last year, is a product of the U.S. National Development Team. Sophomore Kyle Radke was the 2003-04 defenseman of the year in the Canadian Alberta Junior Hockey League.
"As a group, I think we have a lot of chemistry together," Smaby said. "We're able to work through things in the game and during practice. I think that helps a lot. Just having a good feeling around each other, it really boosts everyone's confidence."
Lee said that Smaby is the type of player who leads by example.
"It's not so much what he's says, it's just watching him out there on the ice," Lee explained. "He can close the gap quickly on somebody. He has great poise with the puck, coming up the ice and making breakout passes. You learn just by watching him compete because he's a great player."
While head coach Dave Hakstol spent much of the season juggling his lines to find the right chemistry between UND's forwards, Berry said a decision was made early in the season to keep the defensive pairs together.
"There was a little method to our madness as far as the defensive pairings," he said. "You have Smaby and Jones, who are very good defensively and very strong in their end of the rink. You have Chorney and Lee, who give you a little bit of offensive element, and yet they're very good defensively, too. We have Kyle Radke, who played last year and is a veteran, helping Joe Finley out.
"The good thing is that they were consistent all year, they've been together all year and they know the basic tendencies of what each player's going to do. I think it's very important that we did keep them together for most of the year," Berry said.
Smaby is in complete agreement with the coaching staff's reasoning.
"It's nice to know who you're playing with every game," he said. "It's a lot easier to adjust to their play when you know you're going to play with them for a long time. You can learn a lot about your partner right away and work together. It's been nice not having to change and adjust."
So will UND's young defensive corps be exposed by the high level of competition in the 2006 Frozen Four? Berry doesn't think so.
"I don't really hold them as freshmen at this time of year," he said. "They've been through a lot of wars, and they're ready to go."