Denver defenseman Matt Carle heads up the 2005-06 Division I men's All-USCHO awards, announced Monday. The junior, who led NCAA blueliners in scoring this season, is the recipient of USCHO.com national Player of the Year and Defensive Player of the Year honors.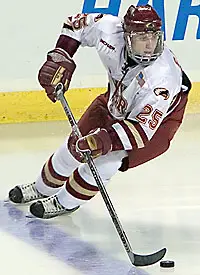 Carle, a junior from Anchorage, Alaska, totaled 11-42–53, the most points by any NCAA Division I men's defenseman in six seasons while posing a two-way threat on the ice for the Pioneers. Carle, the WCHA Player of the Year and a Hobey "Hat Trick" finalist, first made his presence felt as a key member of Denver's back-to-back NCAA titles, and this season led the nation in assists.
USCHO.com's national Coach of the Year is Miami's Enrico Blasi. Leading a team picked to finish sixth in the CCHA preseason coaches' poll, and coming off a season in which Miami was decimated by injury, Blasi saw his RedHawks run away with the CCHA regular-season championship while compiling an overall record of 26-9-4. The seven-year head coach has a career record of 130-116-23 at Miami, and is a three-time CCHA Coach of the Year.
Sharing Rookie of the Year honors are Minnesota forward Phil Kessel and Michigan State goaltender Jeff Lerg. The dual winners charted different courses to the award, with Kessel, a native of Madison, Wis., living up to preseason hype by tallying 18-33–51 for the Gophers, winning WCHA Rookie of the Year honors after entering college as the nation's most-talked-about recruit.
Lerg, meanwhile, won the Spartans' starting job in net and then racked up a 17-6-6 record with a 1.96 goals against average (third-best in the nation) as well as a .928 save percentage. The mighty mite from Livonia, Mich., backstopped the Spartans all the way to the East Regional final last weekend after earning the nod as the CCHA Rookie of the Year, and is also a third-team All-USCHO pick.
The Most Improved Player this season is Boston College forward Chris Collins. The Hockey East Player of the Year went beyond mere potential in 2005-06 by putting up a line of 31-30–61, scoring more points in his senior year than in his previous three seasons combined. The Fairport, N.Y., native is a first-team All-USCHO selection and leads Boston College into the Frozen Four this week.
2005-06's Unsung Hero is Michigan State junior forward and captain Drew Miller. Perhaps one of the least-known top-tier players in college hockey, Miller epitomizes leadership along with his on-ice skills, and is a finalist for the Hockey Humanitarian Award this season as well. A native of East Lansing, Mich., he comes from MSU's hockey-playing Miller family that includes former Hobey Baker Award winners Kip and Ryan.
USCHO.com's winner of the Sportsmanship Award is Holy Cross senior forward Tyler McGregor. The Atlantic Hockey Player of the Year and a third-team All-USCHO pick, McGregor took just two penalties for four minutes despite drawing the attention of opposing defenders all season.
Also named were three All-USCHO teams, as well as the All-Rookie team. The First Team All-USCHO included Carle and Miami captain Andy Greene on defense, with Collins, Minnesota's Ryan Potulny and Scott Parse of Nebraska-Omaha at forward and Wisconsin's Brian Elliott in net. Boston College led all teams with four total selections.
2005-06 All-USCHO Teams
First Team
F Ryan Potulny, Jr., Minnesota
F Chris Collins, Sr., Boston College
F Scott Parse, Jr., Nebraska-Omaha
D Matt Carle, Jr., Denver
D Andy Greene, Sr., Miami
G Brian Elliott, Jr., Wisconsin
Second Team
F Brett Sterling, Sr., Colorado College
F T.J. Hensick, Jr., Michigan
F Joe Pavelski, So., Wisconsin
D Peter Harrold, Sr., Boston College
D Brian Salcido, Jr., Colorado College
G Cory Schneider, So., Boston College
Third Team
F T.J. Trevelyan, Sr., St. Lawrence
F Tyler McGregor, Sr., Holy Cross
F Paul Stastny, So., Denver
D Reid Cashman, Jr., Quinnipiac
D Mitch Ganzak, So., Miami
G Jeff Lerg, Fr., Michigan State
Honorable Mention
F Daniel Winnik, New Hampshire; F Marty Sertich, Colorado College; F Greg Moore, Maine; F Brian Boyle, Boston College; D Alex Goligoski, Minnesota; D Dan Spang, Boston University; D Matt Davis, Miami; D Jamie Hunt, Mercyhurst; G Bobby Goepfert, St. Cloud State; G Jordan Parise, North Dakota
All-Rookie
F Phil Kessel, Minnesota
F Jonathan Toews, North Dakota
F T.J. Oshie, North Dakota
D Brett Motherwell, Boston College
D Jack Johnson, Michigan
G Jeff Lerg, Michigan State