On the eve of their NCAA semifinal contest with North Dakota, the Boston College Eagles are looking to the time-honored trio of goaltending, special teams and intangibles to get them past North Dakota and into the championship game.
Key Factor No. 1: Goaltending
"You're never here unless you have a hot goaltender," BC coach Jerry York says. "No matter how strong your club is, if you're trying to hide a flaw in the net you just don't advance. It's like a point guard in basketball or a quarterback in football; you need someone special."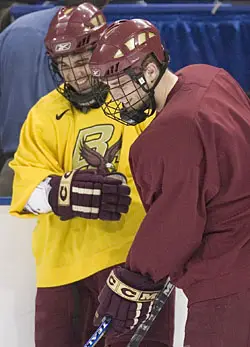 The Eagles certainly have someone special in Cory Schneider, an All-USCHO Second-Team selection who is coming off back-to-back shutouts in the Northeast Regional.
"You couldn't ask for a better goaltender," defenseman Peter Harrold says. "He has made games so much easier for us, especially the young guys who come into college and who sometimes play afraid to make a mistake.
"Nobody can play hockey that way. Playing in front of him, you know if you make a mistake he's probably going to make up for it."
Schneider had stellar statistics last year, but his performances this season have been much more impressive.
"Last year, we had a really solid defensive team," York says. "He was [seeing] maybe 15-18 shots a game and very few grade A opportunities against. This year he's been bombarded. Cory has the ability to make a save and really turn a game around."
Key Factor No. 2: Special Teams
BC's power play has been good, but its penalty kill has been great. The Eagles' penalty kill led all Hockey East schools with an 89.0 percent success rate and has been exceptionally hot of late, having killed all of its last 20 chances.
It got an extra boost in the Northeast Regional championship game when Joe Rooney scored two shorthanded goals to finish off Boston University. That gave BC four Eagles with goals on the PK: Chris Collins (five, tied for second in the country), Benn Ferriero (three), Rooney and Nathan Gerbe.
"[Our penalty kill] is based off a lot of pressure, speed and staying in shot lanes," Collins says. "One of the best parts about our penalty kill is that we have a lot of offensive guys that do it and are looking for that quick break to get a scoring chance."
Collins and Steve Gionta are an especially effective tandem in that group.
"I've played penalty kill with Steve Gionta since we were little kids," Collins says. "We can really read off each other really well. A lot of teams get down when they get penalties, but for us we get excited about it. The first thing is to keep the puck out of the net, but we're thinking offensively, too. It's a lot of fun penalty-killing."
Key Factor No. 3: The Intangibles Of Distractions
Intangibles may come in many forms, but at the Frozen Four they often come in the form of distractions.
"We met as a team four or five days ago and put on a board what possible distractions we could have," York says. "One of the players put up 'White House' because all of the players want to go to the White House. They talked about throwing out the first ball at a Red Sox game.
"You've got to be able to put that in the background and stay focused on winning the game and advancing to the championship game. But it's difficult to do. There are a lot of things swirling around here.
"The ability to stay calm and stay poised, whether it's [dealing with] ticket requests or NHL aspirations or that this is your last game to play as a collegiate, if you can do that you've got a better chance to win here."
One pleasant distraction, but a potential distraction nonetheless, is Collins' candidacy for the Hobey Baker Award, which will be bestowed on the winner on Friday.
"Brian Gionta talked a couple years ago about going to Albany to win one trophy," York says of the 2001 national championship season. "[Chris Collins] has that mindset. He's brought that up to the players.
"Everyone is secretly pulling for him. We'd love to see Chris win the Hobey. But he has said [what Brian] said, that he wants to win one trophy, the NCAA trophy."